They say that clothes make the man. And this becomes particularly relevant in the workplace, where what one wears is more often than not equated with who one is, both as a person and as an employee. Unless you work for an ultramodern tech start-up that encourages you to work in your PJs, it is imperative that you hone the art of the casual business attire, because it may make or mar your career. After all, if you do not look seriously fashionable, how will people take you seriously?
There was once a time when men would either wear uniforms or a Stresemann for work, change into a tailcoat for dinner or parties, and into pyjamas for a good night's sleep. All this changed with the advent of the casual wear; the T-shirts, the Hawaiian shirts, and the shorts. This confused the average office goer, but the likes of khakis, chinos and dress shirts have come to the rescue. If you find yourself unsure about what casual business attire is, keep reading.
1. Well-tailored Blazers
Blazers are always a good choice to sport at work. Consider darker shades such as navy or black, and both single-breasted and double-breasted varieties are good options. Sports coats could also work, as long as the color is not too gaudy, and the pattern is not too bold.
What about hoodies or jackets with your favorite sports team's logo emblazoned across them, you ask? Well, if you're asking this in an article about casual business attire, then have I got some bad news for you!
2. Crisp Shirts
When it comes to shirts, cotton is the ideal pick for the season. A pastel-colored or white Oxford shirt can go a long way in imprinting your credentials as a thoroughly professional office goer. Long sleeved dress shirts look chic as well, and button-down collar shirts also add to the aesthetic.
Since the clothes you wear can create an impression on your boss, your co-workers or your clients, you stand to gain by making that first impression the best one. And the simplest way to do that is to create a look for yourself that underscores the degree of your dedication to your job.
3. Dress Pants
Dress pants that are either pleated or flat front are the most effective casual business attire to go with your dress shirts. The color can be navy or charcoal, or even beige if your shirt is a bit darker. Chinos are comfortable during the summer and come winter, corduroy pants are the way to go. Khakis are always perennial.
Remember, you are going to your office to work, not sit by the beach and sip on piña coladas, or watch your favorite sports team trounce their arch-rivals. A bit of professionalism when it comes to dressing sense will help you stay motivated during work by wiring your mind to believe that it is work hour and not play hour.
4. Neckwear
Ties are undoubtedly a man's best friend. Choose minimally patterned ties that are either dark red or navy blue to go with your light colored shirts. Also, grenadine and knit ties are your best bet.
Wearing a tie, particularly to a job interview, always creates a better impression on others. And remember the golden rule, the length of the tie should never extend beneath your waist.
READ NEXT: How To Improve Your Communication Skills, Based On Your Zodiac Sign
5. Sweaters
Cardigans and turtle-neck sweaters are well suited for colder climes and are part of casual business attire only when worn under a blazer or a sports coat. V-necked sweater vests, on the other hand, are meant to be worn underneath a jacket and can help up your 'cool' quotient. Keeping yourself warm is as important as keeping business wear casual, right?
6. Accessories
Pocket squares in your blazer or coat pocket are a sure-fire way to add some glamour to your office wear. Cufflinks will also make an elegant addition to your ensemble.
Digital watches may look fancy and attractive, but a real gentleman prefers the old school, analog variety. The mere act of pulling up your shirt sleeve slightly to look at your watch is a classic move of the confident and competent office goer.
7. Sharp Footwear
Oxfords, brogues and loafers, you cannot go wrong as long as you choose one of these. And when it comes to the colors, black and brown are your only choices. Monk straps are also a safe bet, and if you are more of a boot lover, then Chelsea boots or balmorals are the way to go.
Sports shoes may be good for showing off to your colleagues how athletic and health-conscious you are, but they will look silly in a board meeting. Your leather shoes, on the other hand, put the 'business' in 'casual business attire.'
READ NEXT: How To Get Your Voice Heard At Work- 4 Easy But Effective Steps
8. Smart Bags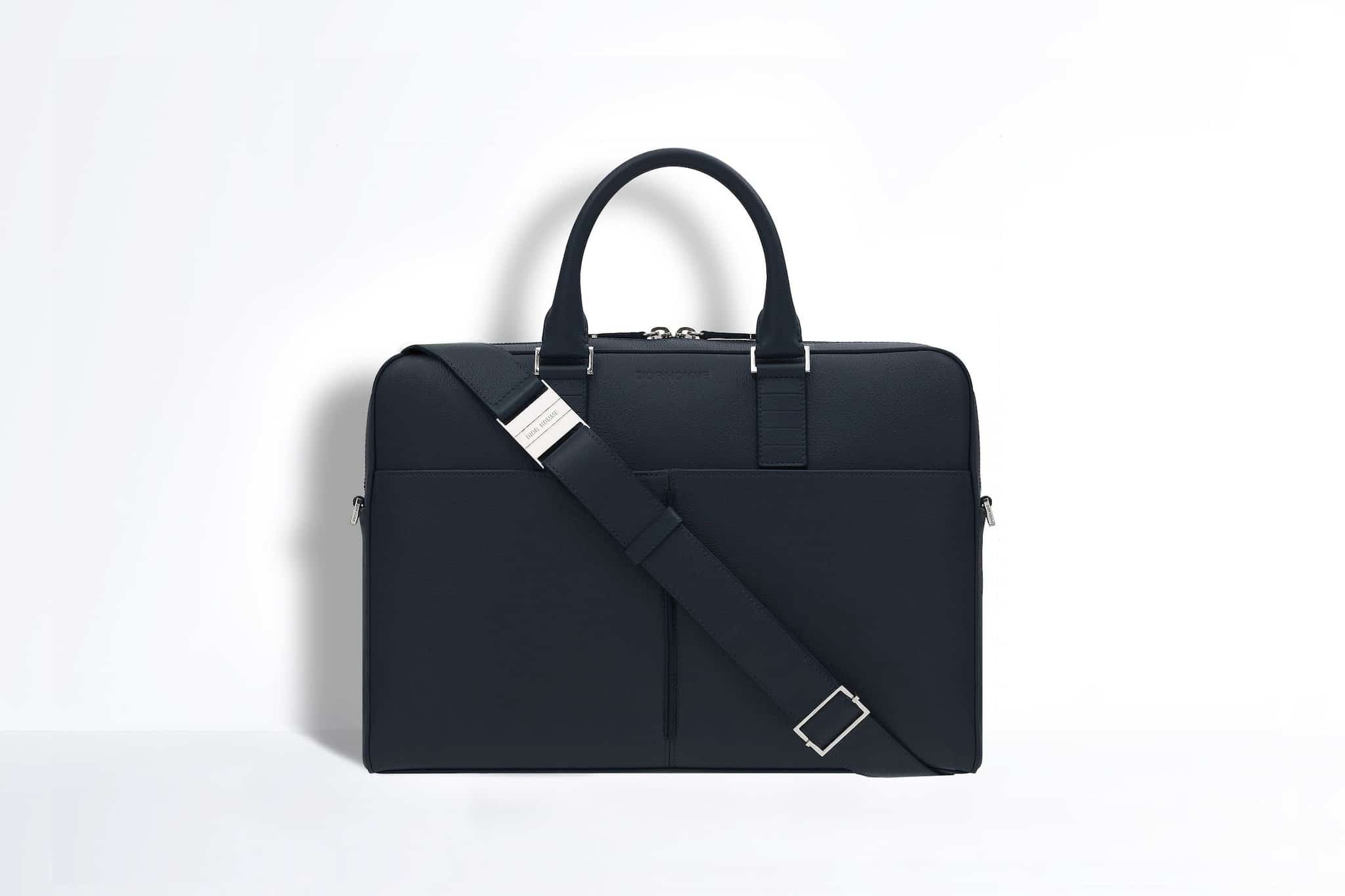 Ignore your inner college student, and opt for black or brown leather bags instead of backpacks. Canvas bags are also an option. Side-strap varieties and portfolio bags are also excellent choices, whereas the traditional briefcase can be a little too formal to be considered part of casual business attire.
With increasing reliance on technology, bags are now available with inbuilt chargers for your phone and laptop, so these can be tech-savvy alternatives too.
9. Outerwear
This is a preferred option for those who live in cold weather conditions, and also for those who want to arrive at work in style. First, there is the dashing trench coat made fashionable recently by the Sherlock TV series. Then, there is the shorter and more functional peacoat that will make heads turn as you enter your workplace.
10. Gloves & Scarves
Again, an option that caters to those cold-dwelling office goers. Leather gloves add that 'oomph' factor, whereas knitted mittens do not! A woolen scarf around your neck can go well with your sweater-and-dress pants combo. For those who always wish to stay 'in vogue,' try the paisley scarf to lend a bit of edge to your attire.
RELATED: How to Make The Most Of Your Workday, On Any Given Day
11. Overall Impressions
Light versions of colors as grey, blue, green and brown, along with the perennial favorite white, create a distinguished look. Formal patterns such as thin stripes and small chequered boxes are also agreeable. Plaid patterns are also all right.
A good combination of colors that makes sure that your shirts, pants and jacket gels well, and importantly, are not disconcerting to the viewer, will go a long way in establishing you as the 'cool' guy in your office.
And remember, no jeans, no turtleneck shirts, no T-shirts, no sports jerseys, no shorts, and definitely no Hawaiian shirts. And casual business attire has a strict 'no hats' policy!
CONCLUSION
Be it appearing for a job interview or trying to stay afloat on a hard career path, it is important to realize at an early stage the pros of knowing what, and more specifically, what not to wear to work. Anything that can distract others from their work or make you conscious of others' eyeballs peering at you is the exact opposite of what casual business attire actually is.
With all these tips on how to dress at work, you can find yourself feeling confident and prepared to meet the rigors of a demanding job, and by adding on to your power dressing skills, you will be on the right step on the ladder to success.