Spring has come bearing not only flowers but also the biggest fashion trends that you've been waiting for. The best thing about following the fashion trends is that you get to change your wardrobe every season. This spring, we go floral, we go sheer, and we go silk. Everything new you've wanted to try every spring will probably fit in one of the fashion trends you'll be introduced to shortly. Get ready to embrace all that is coming with 2018's springtide.
Here's a round-up of the biggest fashion trends of Spring 2018, inspired by Pinterest.
 1. Lavender
Spring has chosen the colour of the year and you're going to love it- Lavender. There is nothing that will scream Spring louder than you wearing Lavender this year. A-list celebs have already made a statement with this colour like Priyanka Chopra's light Lavender long skirt and Salma Hayek's Gucci Oscar dress. Wear it with the enchanting fragrance of Lavender and you'll be blooming everywhere you'll go.
 2. Dark Denim
With this decade coming to an end, nostalgia has decided to bring the twenty-ohs back to town. Yes, I'm talking about "The Noughties". Denim was big during the noughties, and it has come back bigger. And with maturity, it's gotten darker. The trick is simple, keep the details clever and the cuts sharp. You can pair floral blouses with dark denim or even opt for a full denim jumpsuit that's going to stand out this Spring.
 3. Belted Coats/ Trench Coats
Trench coats are the right choice for outerwear during spring/summer as they take you from desk to dinner effortlessly. Besides being stylish, trench coats are also functional because they protect you from the sultry summer heat. Add a belt to make your outerwear edgier. Scroll through the variety to find the one trench coat that was made just for you.
 4. Kitten Heels
If Lavender is screaming Spring, then Kitten Heels are singing it with every click they make. The fashion trends are feeling old school with footwear. Sling-back kitten heels are the perfect choice of shoes for two reasons, one- they don't make it seem like you're going all the way, they look decent and you can wear them anytime for any occasion. Two, they are open from the back and allow comfort during the warm weather. Embellished, floral, paired with sheer socks, there are so many attractive alternatives to opt from and keep it original even when following a fashion trend.
 5. Patterns: Checks, Plaid, Polka Dots and Stripes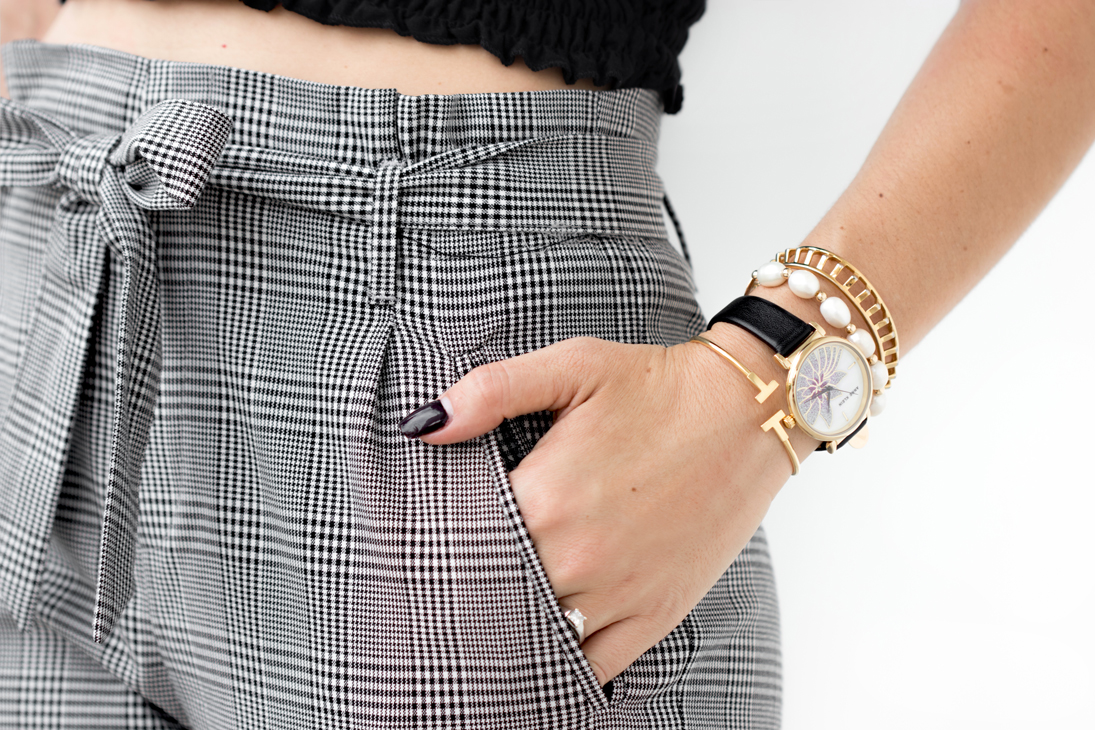 Tees are an obvious pick during the sultry summer heat. Make sure you're picking the right tees this season. This spring/summer patterns like checks, plaid, polka dots and stripes are in fashion, so you might as well swap your old-school basic tees with something edgier and more stylish.
 6. Fringes
Fringed jeans, blouses, and dresses are all in this season. Taylor Swift made that clear in her "Delicate" music video with fringes on her hair and fringes of her dress. Fashion designers have made fringe statements on the walkway by adding layers of chromatic fringes on top of each other or by simply carrying a fringed purse. Fun to play with and fun to wear, they're an imperative fashion trend for Spring 2018.
 7. Sheer Fabrics
Textured and patterned sheer fabrics are all over the runway this spring/summer. The ease with which sheer fabrics bring style and artistry to our wardrobe is remarkable. It's impossible to resist how sheer has made its way in the top fashion trends given the level of class you can reach with sheer fabrics. Sheer on sheer, patterned transparency and visible bra-lines is what people are proudly wearing and curiously talking about. Make sure you don't cross the thin line between "fashionable" and "cheap".
 8. High Waist Trousers
Wearing high waist trousers is the vintage fashion trend that never gets old. Mostly because they go with anything from crop tees, in shirts, blouses, to trench coats and kimonos. From dark denim high waist for casual to chiffon high waist pants for formal, you can have it all. They are so versatile and in trend, which was so obvious when we spotted model Gigi Hadid wearing them in the Tommy Hilfiger show at Milan's fashion week for Summer 2018.
 9. Open Toe Boots
Wearing boots all year long is every girl's secret dream and this season, we make your dream come true. Open toe or peep toe boots are the perfect options for summer as they go well with every outfit, be it a dress or formal culottes. Open toe boots are the footwear equivalent of letting one foot out of the blanket during summer so that you're warm enough and not cold either. Another good thing about them is that you can show off your cute toe nails and match the nailpaint with the rest of your outfit.
 10. Florals and Beach-Inspired Clothing
The season of flowers will indeed leave you wanting to feel like a blossom yourself. And you can be one by wearing florals ranging from rose print blouses to orchid print dresses and those irresistible flower scented perfumes to complete the feel. Bold coloured beach dresses with hats are also undoubtedly a spring/summer fashion trend. Combining two fashion trends will prove to be a good choice such as fringed or lavender beach dresses.
 11. Over The Top Earrings
Accessorizing this spring with asymmetrical designs or embellished ear cuffs is the runway rule for Spring/summer 2018. Spring runways demonstrated a variety of over the top earrings using abstract shapes made by bending metallic wires or moulded faces. Metal chain links are also a great pair with your classic black dresses. With earrings, feel free to think big and outside the box this year. It's about time to pull out your shoulder dusters and danglers and show them off. If you don't believe us, take a clue from A-list celebs like Kim Kardashian and Kendall Jenner who have been seen sporting this trend.
 12. Bumbags
With dark denim, logo t-shirts and kitten heels back in trend, guess who didn't want to miss out on making a comeback? Bum bags. Modernised and innovated, they're more fashionable than ever. Seen worn in many variations by models, the styles in which they're available are also vast. You can choose your favourite fabric as well, ranging from leather to nylon to velvet. Get ready to accessorize your waist, and here's a thought- fringed bum bags. Compatible trends- check.
 13. Mules & Slides
Another alternative to boots for seasonal transition are mules and slides. The colour range that you can pick from when it comes to mules is astonishing. If you're a colour perfectionist, you know that color synchronizing is to you what crème brulee is to a foodie. You can select dark mysterious colours for night and blooming pastels for the day. They're comfortable and delightful and won't make you think twice.
 14. Silk/Satin
Lustrous liquid dressing is the unexpected Spring trend this year and it's going to leave you wanting more. Seductive silky dresses that will make you appear like a shiny jewel are what you need in your wardrobe this summer. Satin or silk is the perfect alternative for shiny velvet during Spring as it is light and still offers the same sparkle you'd need to gloss up your wardrobe. From bomber jackets and blouses to sexy evening dresses, you can wear it in any form and pair them with kitten heels or peep toe boots to make your trend statement.