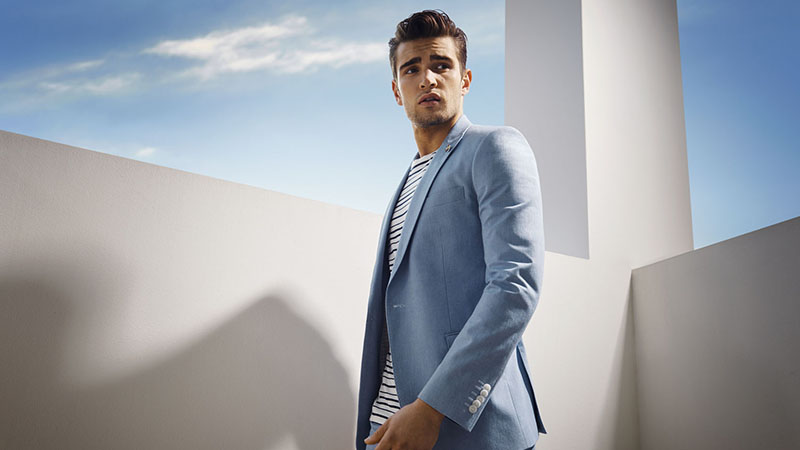 The perfect blazer often ties a formal look together. But the blazer is so much more versatile than it is given credit for- it adds an unmistakable sharpness to more informal outfits. In fact, it pulls together just about any style, for just about any occasion, especially at this time of the year when the air is getting crisp again, and fall is just around the corner. Here are a few suggestions on how you can rock the causal blazer effortlessly.
The Blazer – History
The key to really rock a blazer with confidence is to understand what this oft-misunderstood item of clothing really is. So, before delving into the nitty-gritty of styling, lets first delineate what a blazer is.
Originally worn by the dapper men of the British Navy, it dates back to around the early nineteenth century. Very similar to the suit jacket without the matching pants, the blazer is just a type of jacket, traditionally considered suitable for formal occasions only. It is often less structured around the shoulders than the suit jacket. Teaming any outfit with a blazer is a great style move, allowing anyone to heighten texture and detail in an otherwise ordinary look.
How To Wear A Blazer Casually

There are so many blazer styles to choose from- in terms of structure, material, and color. The key to wearing a blazer casually is choosing a relaxed style. Light fabrics like linen and casual silhouettes can help with an effortless look. For the bottom, chinos, jeans, and shorts work perfectly.
Men's Blazer Types
With so many options in terms of style, fitting, and fabric, it can be overwhelming to pick just the right blazer for the best ensemble. Some blazers are great for formal occasions, while others complete informal looks seamlessly. You just need to figure out which ones are ideal for when.
1. Cotton Blazers
Cotton blazers are a great indispensable for the summer months. They work best for casual looks, as the light body of the fabric sits well on anybody and creates the right balance between a relaxed yet smart look. Though you can pick one up in nearly any color, Harvey Specter is a proof that the classic tones leave the best impression. Muted blues or smoldering greys, both work perfectly to dress a gentleman. They will take your tee and ripped jeans look to another level, entirely. Oh, and don't forget to put on your trendiest sneakers.
2. Wool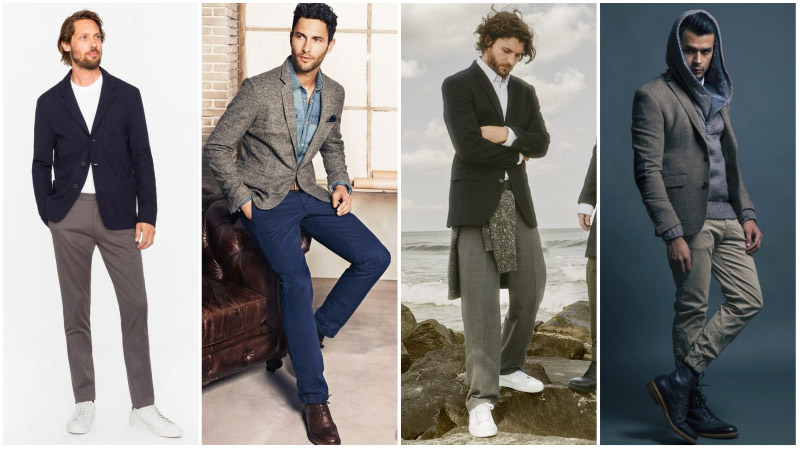 Wrap up the year in style, as you wrap yourself in smart, snug wool/wool-blend blazers. With these, don't stray too far from the darker shades for easy maintenance. Experiment with cuts and designs, until you find the perfect fit. Being heavier, in terms of the material used, they sit in clean silhouettes and will exude a formal sophistication. Once you've picked the right blazer, go crazy with your looks. Pair the blazer with chinos and boots for an edgy and fun look.
3. Linen

A blessing for our tropical summers, the linen blazer is cool, lightweight, and comfy, too. Unstructured styles work best with this type of blazer, and they allow you to be cool (literally and figuratively) even through the hottest days of the year! Wear them casually, and style them in a minimalistic fashion for the best, most comfortable looks. Earth tones look lovely, as does white. Don't go overboard with the styling- simple shorts, chinos, or rolled up denim with cool shirts will be just fine. Avoid clunky footwear like sneakers, and go for sandals instead.
4. Tweed
Stay warm and feel cool in tweed blazers, which are your go-to for winter outfits. These classic jackets can really put a lovely spin to the normal winter evening look, for an informal occasion. An old world charm, teamed with a contemporary aesthetic, this is one look you must wear- pair subtle tones, with dark jeans and solid shirts in muted hues. Checks on gentle white ones are a great way to go as well. A monochrome might work too, for a relatively moodier look.
5. Structured/Unstructured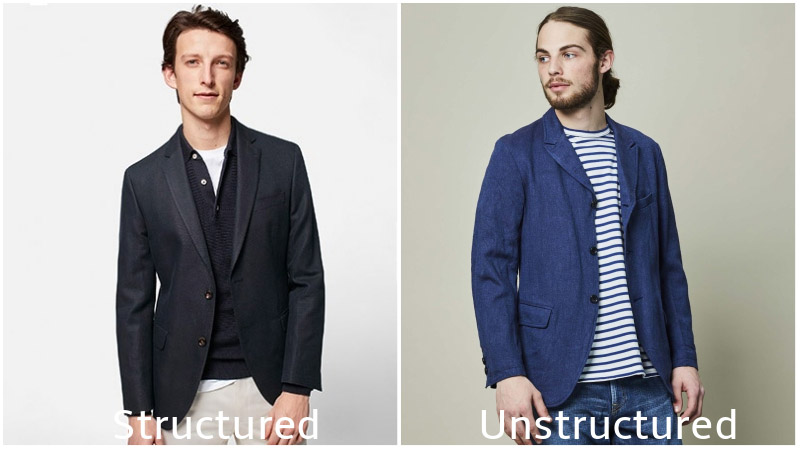 You'll find that you have so many choices to make before you can buy the blazer that is best for you. In terms of design, you can opt for either a structured or unstructured style.
Structured blazers are sharp. They have clean silhouettes and shoulder pads and are best for formal occasions. Unstructured ones are relaxed, more flexible and can be worn for informal occasions.
Men's Blazer Styles
Apart from design, you have choices of style, too. Apart from the blazer, you can sport a suit jacket or the sports coat. Each one has its own distinctive character and adds a different drama to outfits. The biggest difference between the three is that the suit jacket is rather formal, while the sports coat isn't.
1. Sports coats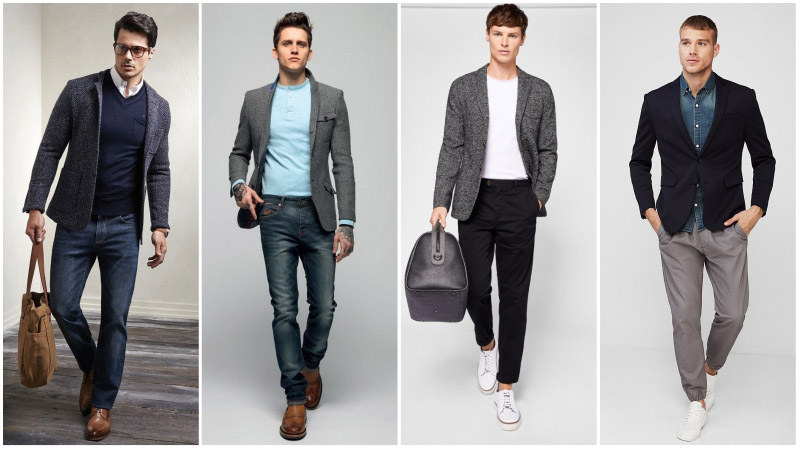 The sports coat, though similar in cut and length to the blazer or the suit jacket, is often a more casual, more unstructured clothing item. Tweed and flannel are popular fabrics for sports coats as they were originally used for outdoor sports. Unlike suit jackets, their loose fit also allows for plenty of layering, for the chillier days outdoors.
2. Suit jackets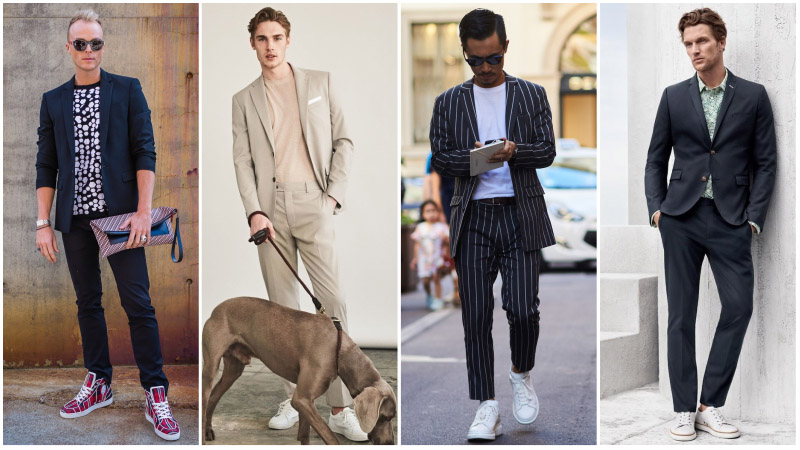 They ooze oomph and class, and they come with a matching pair of trousers. Suit jackets are more formal than the everyday wear standard blazer. And they are hardly ideal for more casual looks. Yet, unstructured suit jacket styles can be teamed with tees and sneakers, with the suit pants for an ultra cool, uber fashion-forward look.
Casual Blazer Outfits
1. Blazer with jeans
Aspiring for the perfect business casual look? Ideal for social dos, this comfy, and easy to wear combo is easy to put together, and great to look at. Simply pair a casual muted blazer with denim of your choice for a modern James Dean look.
READ: 10 Best Workouts To Achieve Your Desired Body
2. Blazer With Chinos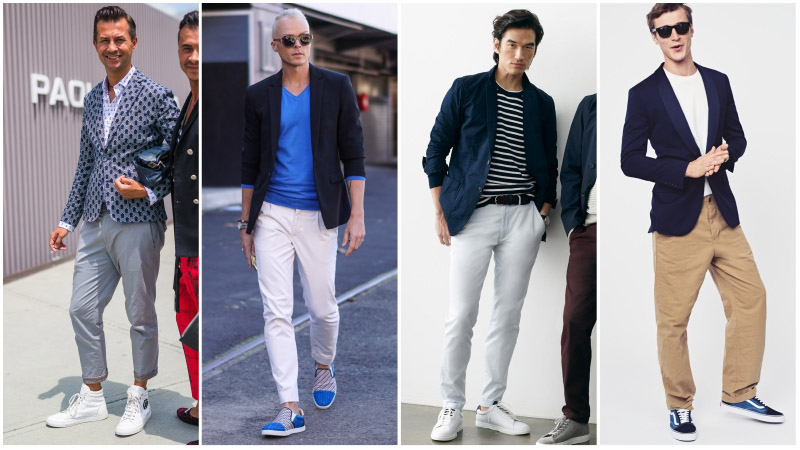 Fun day planned? Having trouble deciding what to wear? Ditch the denim, and simply pair a blazer with chinos. This relaxed style can take you from boardroom to ballroom effortlessly. Go for a simple T-shirt, statement sneakers, your fave chinos, and a blazer for that touch of grace. In fact, for a day at the beach, try pairing a blue blazer with white chinos for a cool nautical look.
3. Blazers with shorts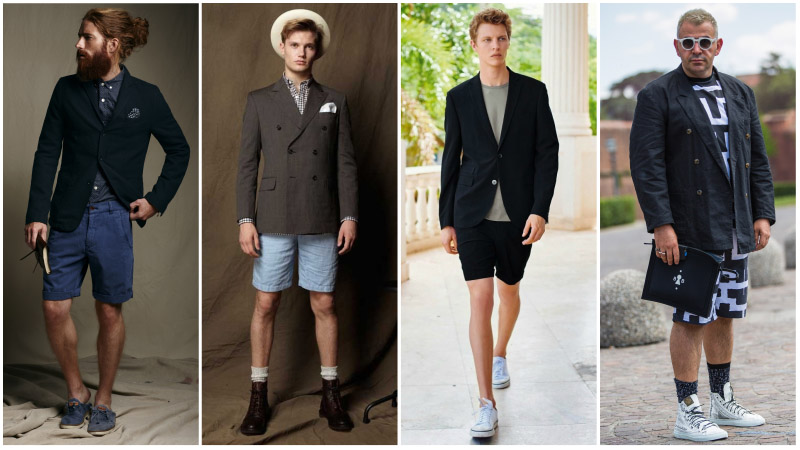 For some edgy vibes, go for shorts and blazer look. A playful twist, this would be a perfect summer style. Match chino shorts and the color of your blazer, and finish with a contrasting T-shirt.
4. Blazer with a T-shirt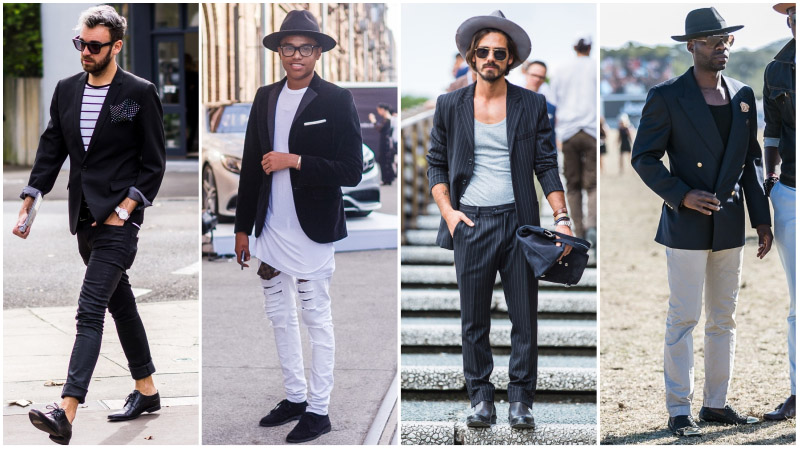 The suave style that this look exudes is unmistakable. Choose a slim fit shirt and a fitted blazer. For the bottoms, pick your favorite slim fit denim, or chinos. Make sure to keep to neutral colors for a classic look. Fit for a bunch of informal and semi-formal occasions, this look is a winner everywhere!
5. Blazer with a polo shirt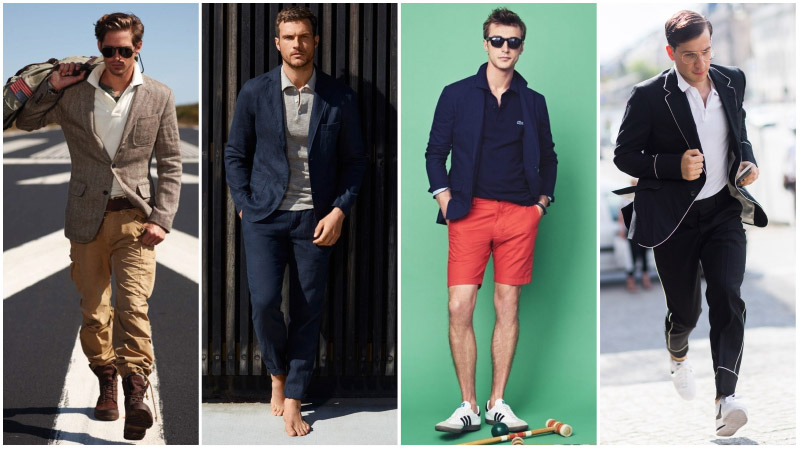 Sporting a polo shirt with a blazer makes for an impeccable casual outfit. The smart style of the shirt will exude sportiness, while still not being totally informal. Wear this look with shorts or full-length pants, just be sure to put on your sneakers to finish.
READ: The 10 Best Productivity Tools And Apps To Add More Hours To Your Work Day
Quick Tips
1. For casual outfits, go for unstructured styles.
2. In the summer months, lightweight fabrics work the best. In winters, opt for heavier material, like wool and tweed.
3. Don't only wear casual outerwear with formal trousers. For a laidback aesthetic, simply team your blazer with jeans or chinos, or even shorts. Style your torso with a T-shirt or polo shirt. Finally, for the feet- casual items like loafers, sandals, or sneakers are your best friends.