Juggling between files, tasks, and sticky notes? We've got your back! Here's a round-up of 10 best productivity tools and apps that will let you add more hours to your workday, on any given day.
1. Canva
Founded in: January 2012
What it does: Melanie Perkins, founder of Fusion Books, started this graphic designing website in Australia which is now used by millions of designing professionals and sometimes by non-professionals too. This tool is one of the best productivity tools created for graphic designing (even if it is a web mockup). It helps in creating marvelous designs from scratch with a simple drag and drop tool. There are several features which will not only pave a much easier way for your next creative collage project but also make it look stunning.  Some of them are–
Straighten your photo to an angle you think is appropriate.
Crop your photos for a near-to-perfect composition.
Add your storyline to your image.
Insert speech bubbles.
2. Airtable
Founded in: 2012
What it does: Howie Liu, Andrew Ofstad, and Emmett Nicholas are the founders of this cloud collaboration service. It amalgamates all the features of a database and provides a user-friendly approach to usage of those features in spreadsheets. There are six fundamental components of Airtable and those are – Bases, Tables, Views, Fields, Records, and Team. Some of the prime attributes are – (sounds like the best productivity tool to synthesize spreadsheets and databases, isn't it?)
Link records by linking tables.
Collaborate with another user to enhance productivity in the workplace.
You can collect data in the structure of forms from colleagues, client etc.
Use the Zapier platform to connect the unique dots of around 400 applications and websites.
Take snapshots of your Bases.
3. Slack
Founded in: August 2013
What it does: Stewart Butterfield founded the "Searchable Log of All Conversation and Knowledge", in short, Slack. It caters to various chat rooms which are divided on the basis of topics, private groups and if you want, then direct messaging too. The content catalog of Slack has only grown wider beyond the horizon and everything is searchable. This can be the winner of best productivity tool easily because of the concept behind its working. It lets you save time by letting you do the following tasks –
Unite different communities by being a simple communication channel.
One point of access to all tools, services and your team.
Secured data.
4. Later
Founded in: 2014
What it does: Later was initially known as Lattergramme but with time, both name and status have undergone a complete evolution. It was the first Instagram scheduler when launched in 2014 and now it has another 1.80 million users who find this in their list as one of the best productivity tools in terms of planning and scheduling beforehand. This marketing podium has features like:
Visual content calendar.
Plan a week of your feed.
Auto-publish option.
Increase the number of followers by engaging them to your posts.
Track the sale of your products.
5. Join Me
Founded in: Early 2011
What it does: Worried about planning and setting up your next meeting? Join.Me app is an integral component of LogMeIn lineage. This affordable cost-effective application offers features like –
Video conference (you can choose from two distinctly reasonable plans)
Modern interface and easy to handle.
People doing the main presentation of the meeting can share screens and record. Also, extra points for being one of the easy to use and best productivity tool in the arena
10 video feeds at the same time. (Where else will you get this feature?)
READ: How To Get Your Voice Heard At Work- 4 Easy But Effective Steps
6. Evernote
Founded in: Android version in October 2017, Blackberry version in October 2015, Windows version in September 2017, the iOS version in September 2017.
What it does: If you are wondering how to manage and organize all the information you receive and perceive, then you have stopped scrolling at the right position. Let us highlight its key features that will help you minimize the load of work by staying completely organized –
If you are someone who is used to make handwritten notes and lose the sheets because your organization capabilities are unclear to even yourself. Then, use Evernote to upload images of the notes you have taken throughout the day and keep it safe in a folder.
Drag and place your PDFs, spreadsheets, audio files and many more into one new document so that you don't have to look around with confused eyes whenever and if required.
Use the Evernote's clipper to add your forever important emails to your safe haven, that is, your document in the app.
An additional advantage is that crucial documents can be saved in offline mode so that you don't need to depend on an internet connection for accessibility.
Legitimately, this should be in the top 10 best productivity tools for your daily work-life.
7. Flipboard
Founded in: July 2010
What it does: Mike McCue and Evan Doll are the founders of Flipboard which accumulates all news, social media and other websites into one application in a magazine format which allows users to flip through the pages (hence, the name) and experience virtual reading in almost 21 languages. That too, free of cost. Few of the perks which make this app one of the best productivity tools are –
Endless availability of content.
Easy navigation.
Collect and save photos, news with people who share similar interests or just keep your collection to yourself. It all depends on your preferences.
Create as many Flipboard magazines as you want.
You will also get recommended readings. So, why wait for your friends to suggest the next movie, book, article when you can get it on your own?
8. Mint
Founded in: 2006
What it does: Aaron Patzer, the founder of Mint has sifted our focus back to the bigger picture of financial life, that is, expenditure and savings. This free finance app helps you manage your expenses and is easily one of the unbeatable and best productivity tools in matters of money. Few of the functions are –
Keep a track of your bank accounts.
Wrap your head around loan, properties etc. rationally.
There is no need to manually create categories for your financial situations because Mint does it for you.
Productive budgeting tool, but with two grappling drawbacks.
9. Hootsuite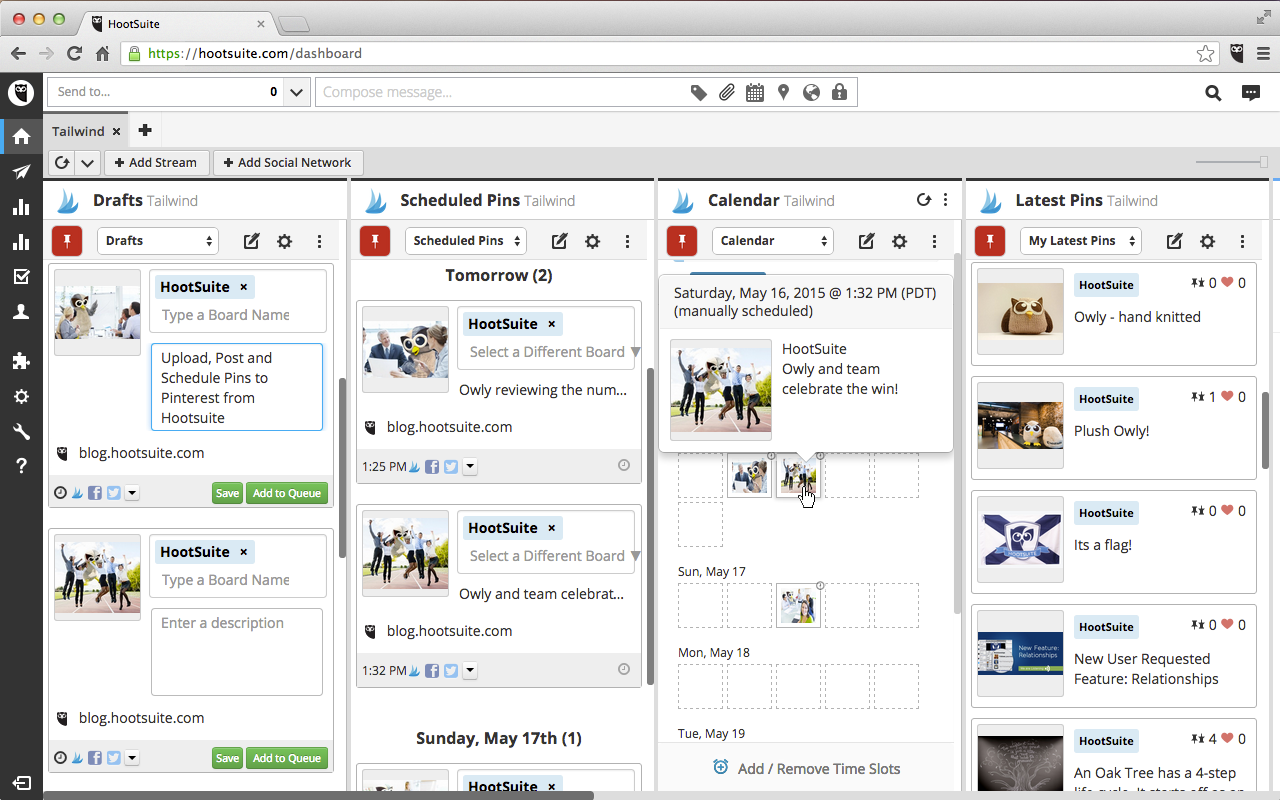 Founded in: 2008
What it does: Ryan Holmes, the founder of Hootsuite has integrated all the major social media applications like Twitter, Facebook, Instagram, YouTube etc. into one platform which has benefitted about 130-150 million users all over the world. You don't want to miss the chance of using this app because it can be your one of the best productivity tools on any given day. Reasons are –
HBO, Panasonic, Martha Stewart Media and many more renowned organizations are famous for this Hootsuite.
You can take your pick from full and lite versions.
Your own team will manage your integrated social media dashboard.
It is the best tool for managing customer service on Twitter.
Cross-platform isn't easy to provide but this app does it and does it well.
Get your daily reports delivered to your email address.
READ: How These Female Leaders Spend Their First Hour At Work
10. Asana
Founded in: 2008
What it does: Dustin Moskovitz and Justin Rosenstein are the founders of Asana which specifically simplifies work management and hence has found a position in 10 best productivity tools and apps that would add more hours to your workday. Do you want to work your way up the ladder of success? Yes, definitely yes. Then, one of the first and foremost instructions is to manage the frizzy workload and balance your priorities. Give enough time to each chore and hit your aim like an Alpha male/female. Few functions are:
Visualize where you stand in your deadlines and practices.
Find everything you need (files, emails) in one place.
Easily avoid scramble and last-minute hiccups by making quick adjustments.
Task management, work execution, project presentation are very necessary if you want to avoid chaos and minimize the chances of being a failure. Get rid of uncertainties and make magic with the help of brilliant features of these tools. Share your experience in the comments below.