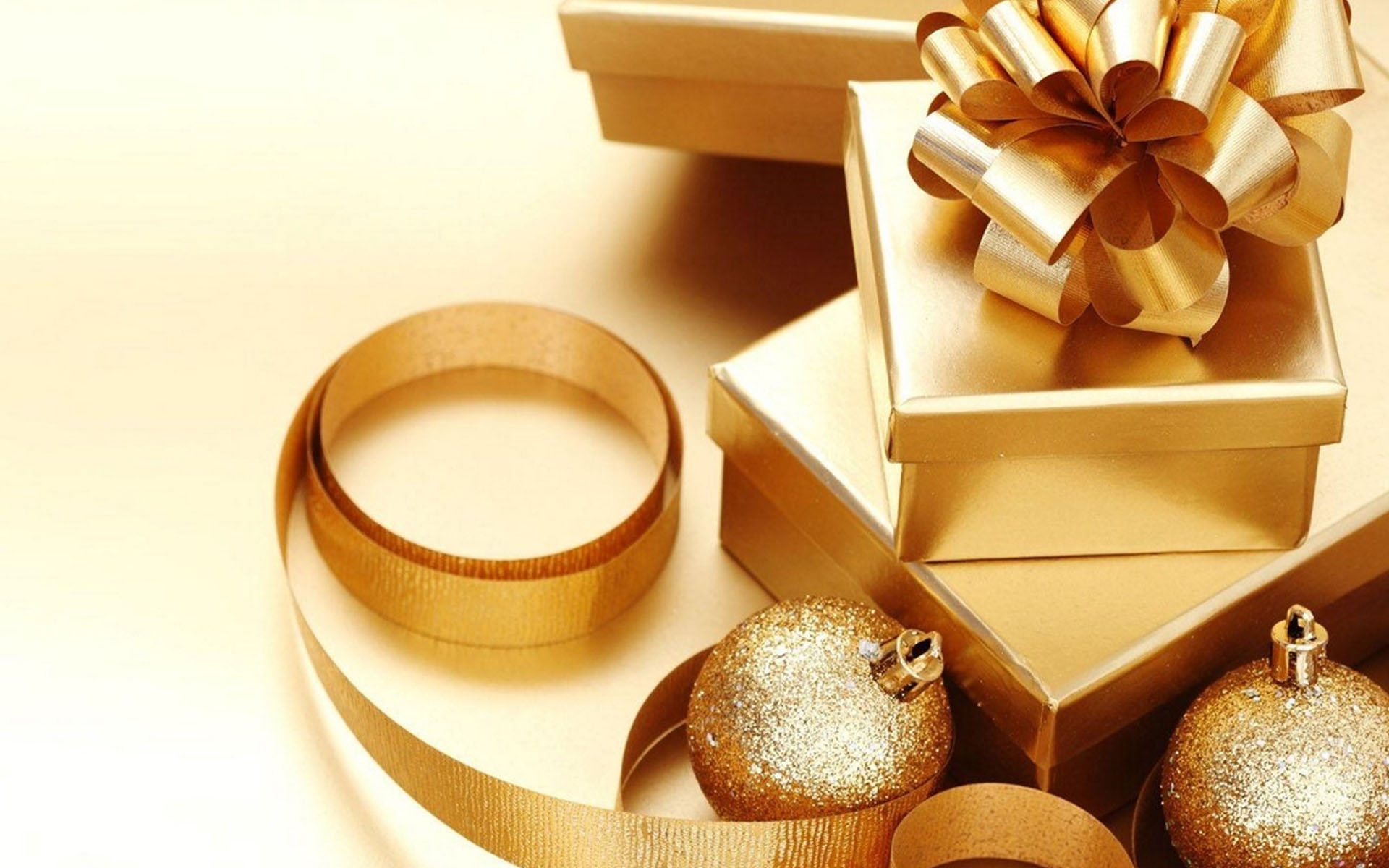 There is something magical about a yearly occasion that summons fond childhood memories – and makes us eager to honour its traditions as adults. From lively decor to decadent desserts and festive wardrobe, the Diwali season is as mesmerizing as it gets. With the festive mood filling the air, it's time to shop gifts for your loved ones. After all, nothing says 'I appreciate you' like a present to remember.
To put it straight, foil-wrapped almonds and last season's China won't make the cut this year. Instead, charm your friends and family with luxurious fine dining experiences, festive gift boxes, handcrafted jewellery, customized home decor and more. Bookmark the most-curated gifting guide of Jaipur – probably the only list you'll need this season.
This Diwali, become a part of our initiative #MindfulDiwali by lighting a spark of love, and not crackers. Do your bit by encouraging your friends and family to celebrate an eco-friendly Diwali. Remember, every big revolution starts at home.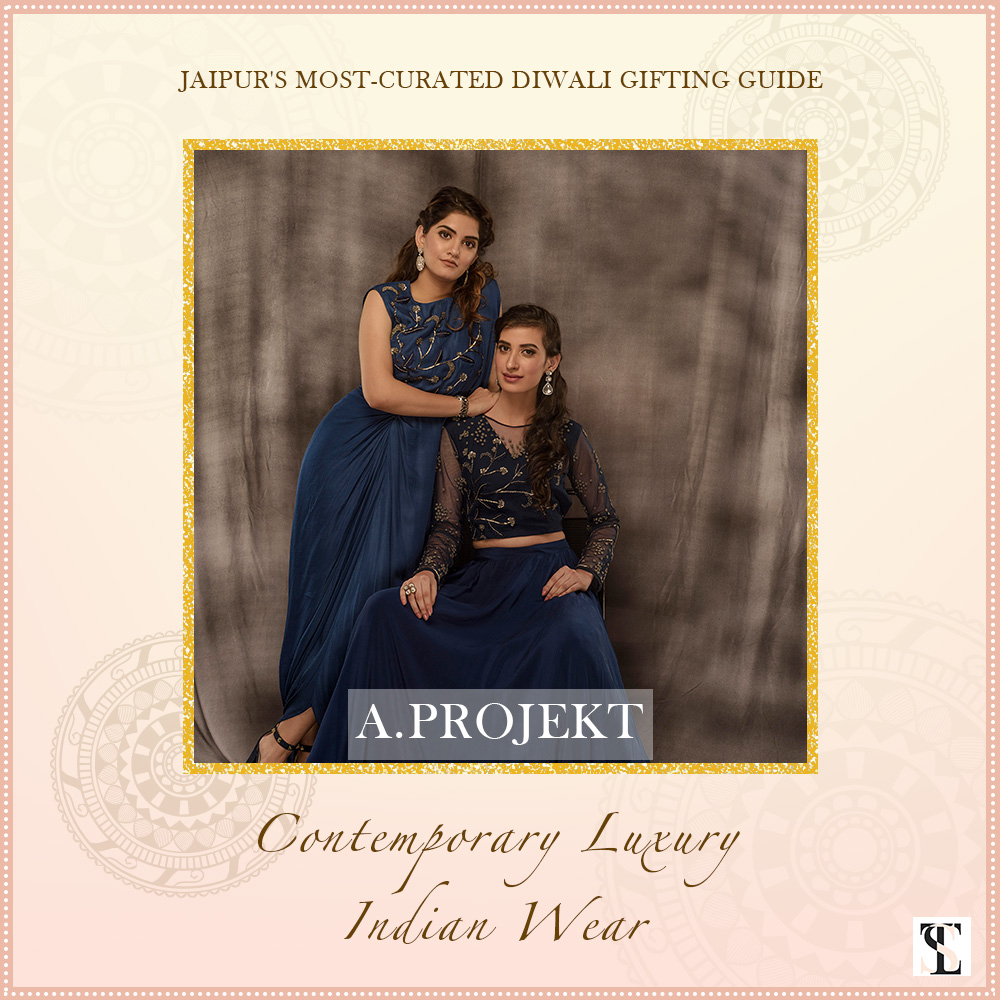 Nothing says chic like an embellished gown or a stunning lehenga that embodies the best of Indian craftsmanship and western aesthetics. This contemporary luxury Indian wear from A.projekt will surely be the perfect addition to your fashion-savvy friend's wardrobe.
A subtle but stunning number, this date night dress from Alter Ego is ideal for those post-Diwali weekend parties and celebrations. Let your girlfriends know how much you love them by surprising them with a festively fashionable look. Brownie points if you accompany it with a side note.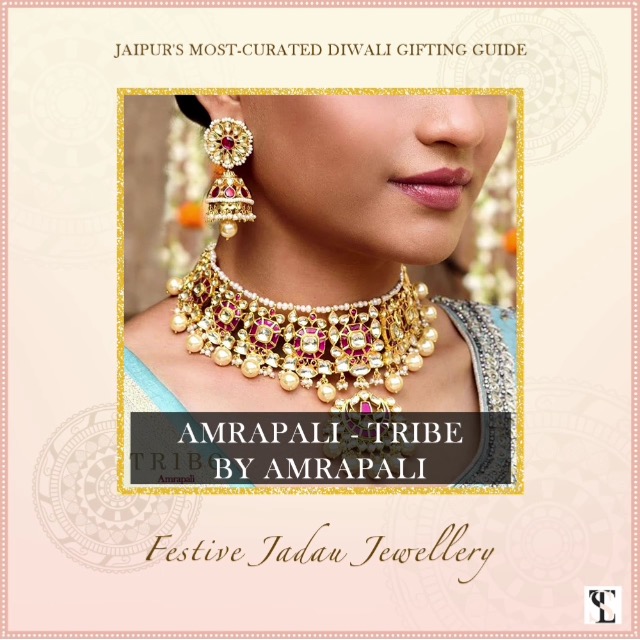 Radiating timeless elegance, a set of stunning jadau jewellery from Tribe by Amrapali is the perfect addition to every festive celebration. Charm the lady in your life with sophisticated jewels shaped in elegant constituents, personifying the heritage of India with a modern eclectic twist.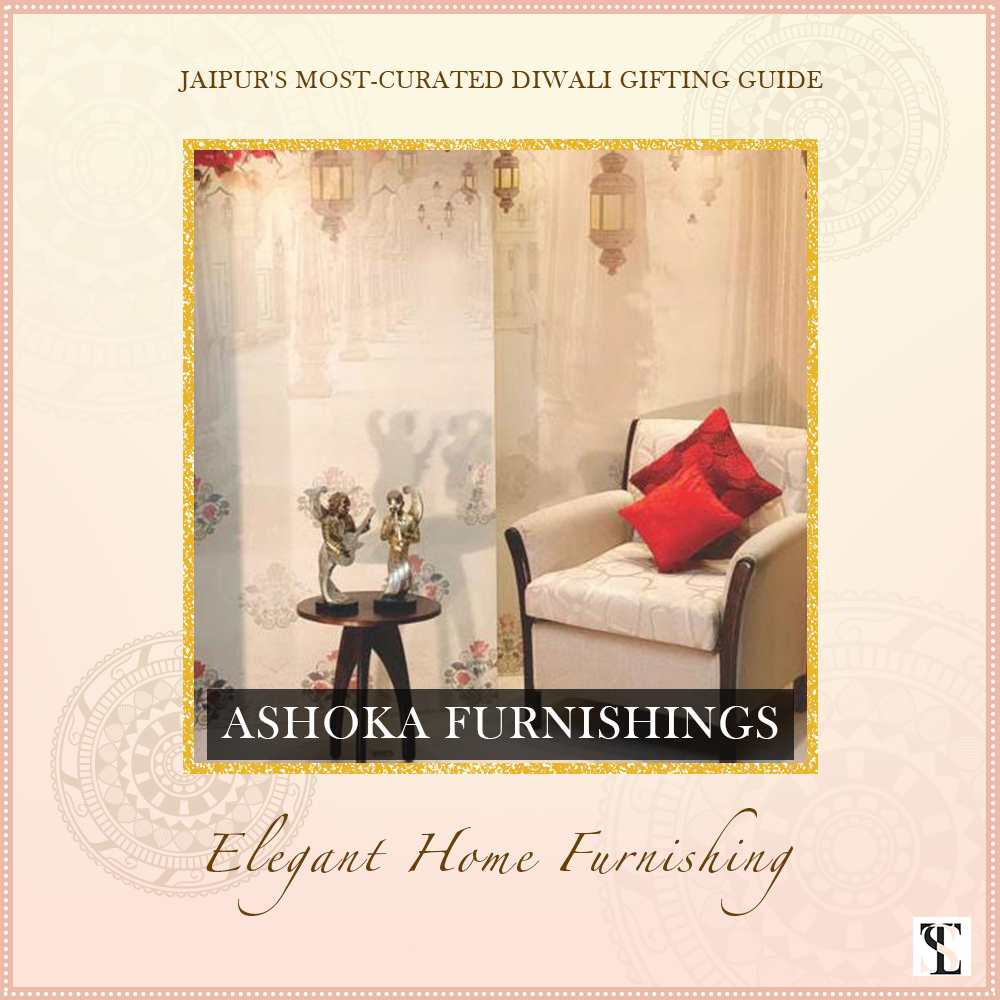 Gift your loved ones the long-due décor makeover by shuffling through the range of gorgeous upholstery, luxury bedding, stylish artifacts and other home décor essentials curated by Ashoka Furnishings – a leading pioneer in home décor.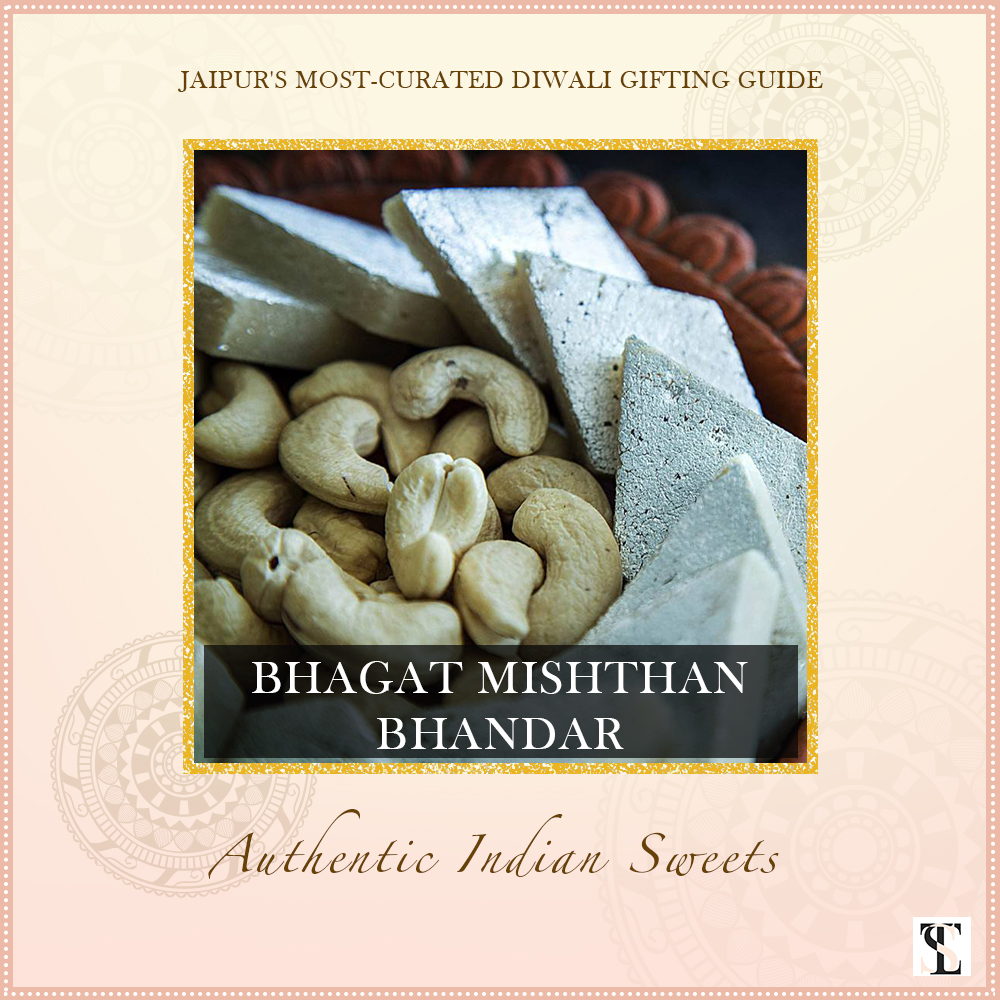 No Indian celebration is complete without a box of flavourful Indian sweets. An invincible part of Jaipur's festivities, Bhagat Mishthan Bhandar is known for its sumptuous laddu and other sweets like Bengali sweets, Dry fruit sweets, Desi Ghee Sweets and more.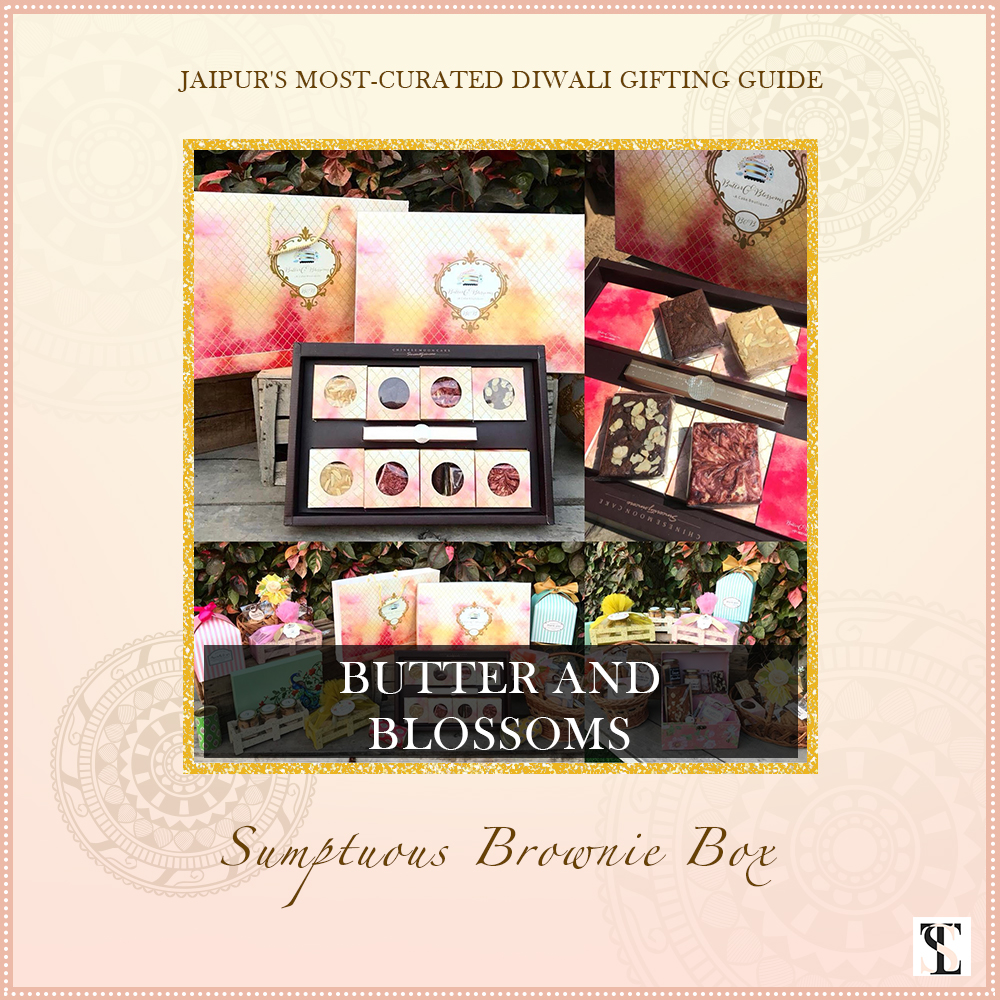 For the bakery enthusiast in your life, no present can do justice as well as a sumptuous brownie box from Butter and Blossoms. With a festive cover and an irresistible feel, this gift hamper will surely make you the star gifter of the night. The box contains 4 different brownie flavours- butter scotch, dark chocolate, red velvet, and choco-almond, along with a surprise in the center!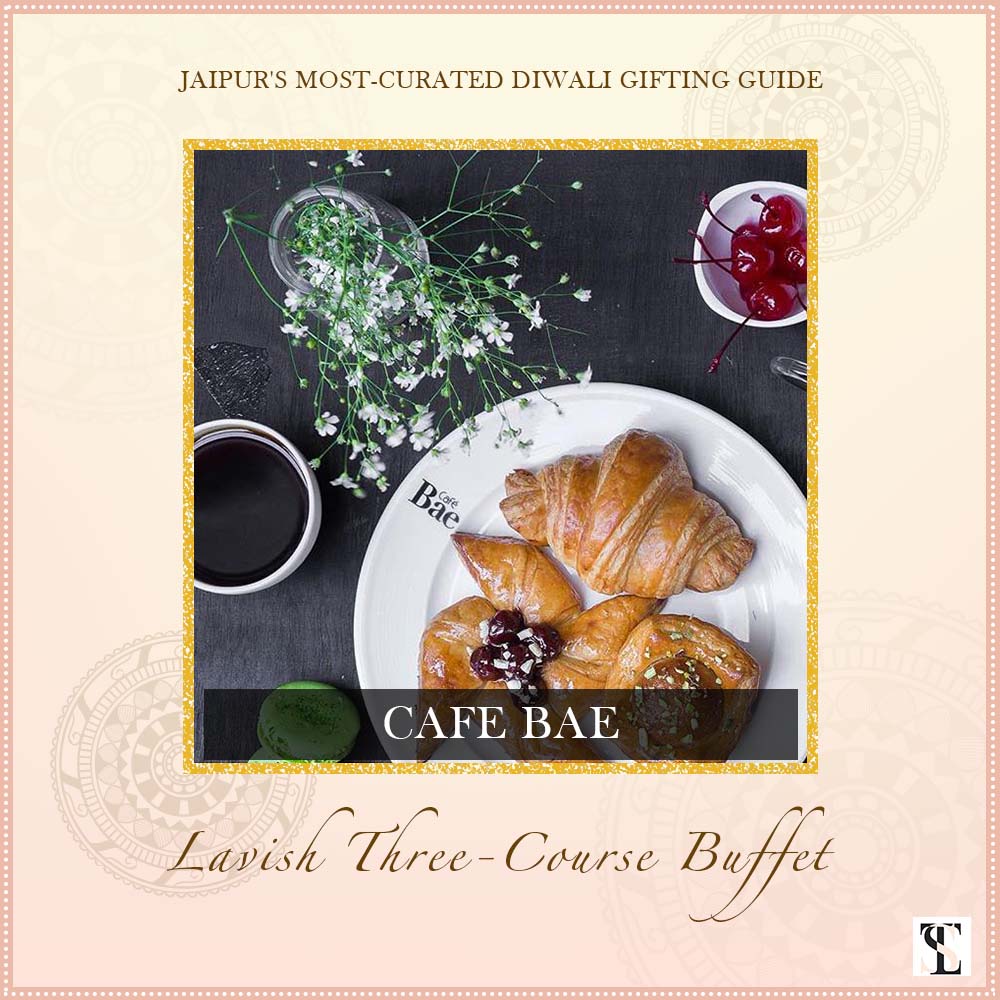 Nothing says indulgence better than a lavish three-course buffet date on a festive weekend. Treat your loved ones to the city's best buffet hosted by Cafe Bae, alongside an ambiance that lifts you up, and soft music that tugs at your heartstrings.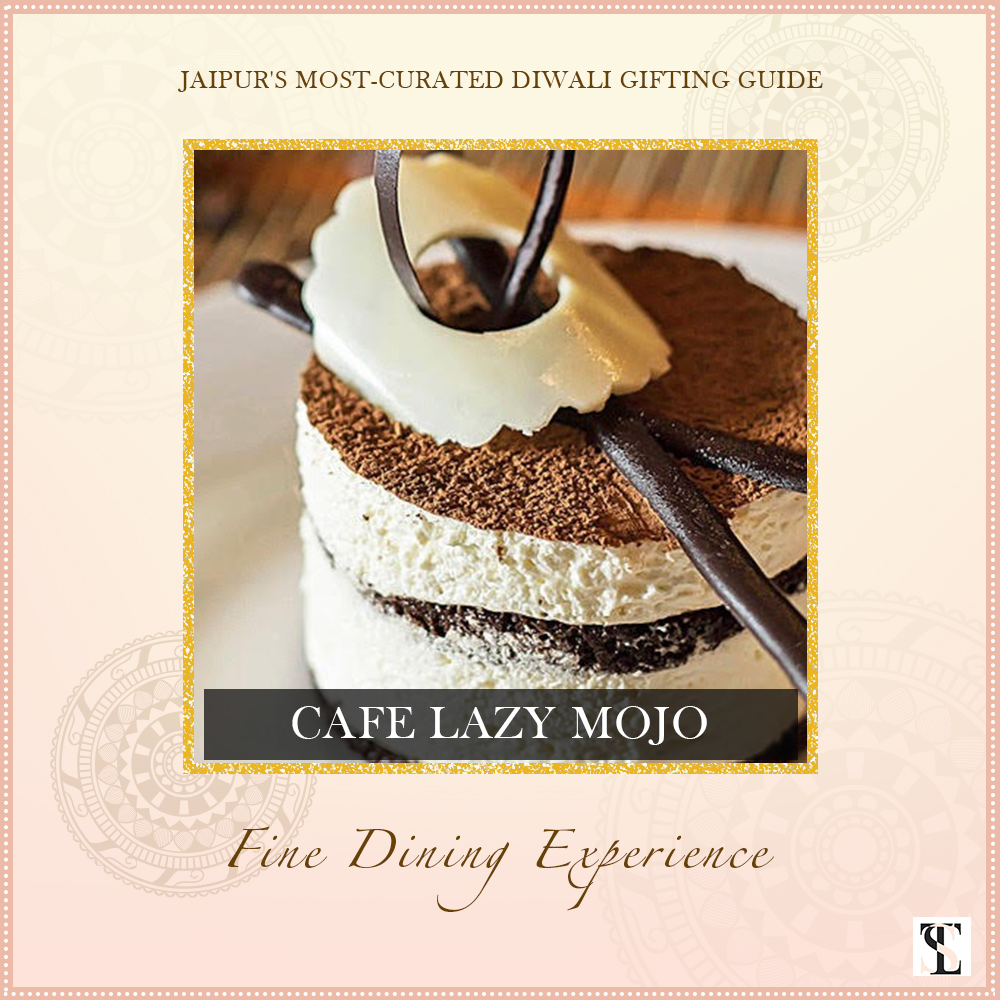 With farm fresh ingredients and earthy aromas, Café Lazy Mojo brews palatable delicacies that pamper your taste buds. This festive season, let your family dive into the aromatic freshness of Lazy mojo and fall in love with food all over again.
READ: 15 Most Powerful Young Women Of Jaipur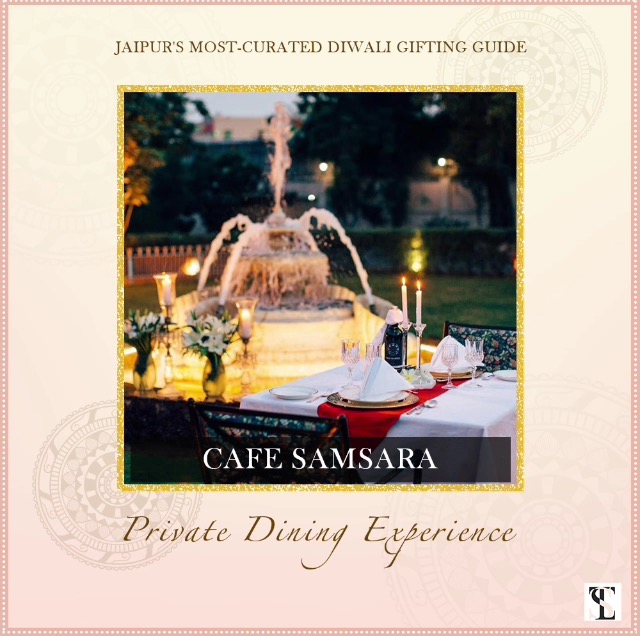 Done up with gorgeous interiors and a soulful vibe, Café Samsara hosts a line-up of indulgent delicacies, mocktails, and desserts. Nestled in a lush green aura, the private dining experience at this contemporary café is enlivened with artsy lightings and a blissful vibe – sure to make you connect deeper with your friends and family, this Diwali. The café is also offering an exclusive gift hamper – a basket full of love & goodness!
A decadent Indian dessert that your sweet tooth will love, this Raspberry Mishri Mawa by Cauldron Sisters is an upgrade of the typical mishri mawa. What makes this gift standout is that it's curated with the goodness of homemade ingredients and a flavourful recipe.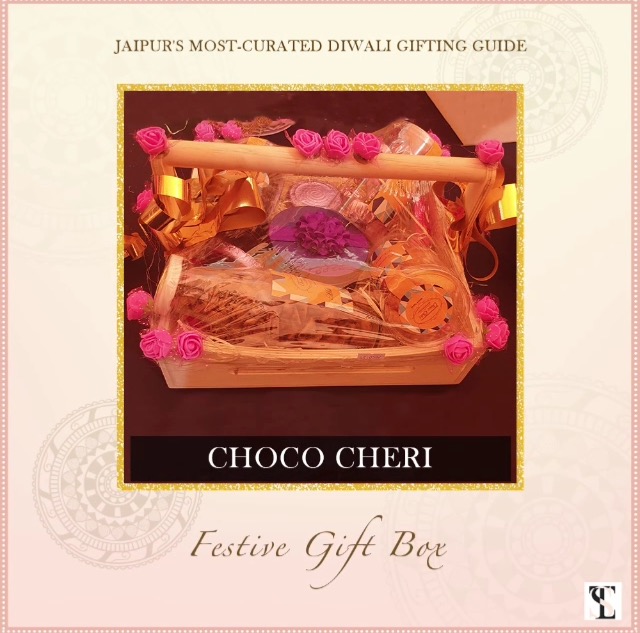 Blasé of the same old Indian sweets? Take festive gifting to the next level with a gift hamper as gorgeous (and sumptuous) as this. A curated box of cupcakes, brownies, cookies and other sweet treats, this gift basket Choco Cheri can definitely lighten up your friends' Diwali galas.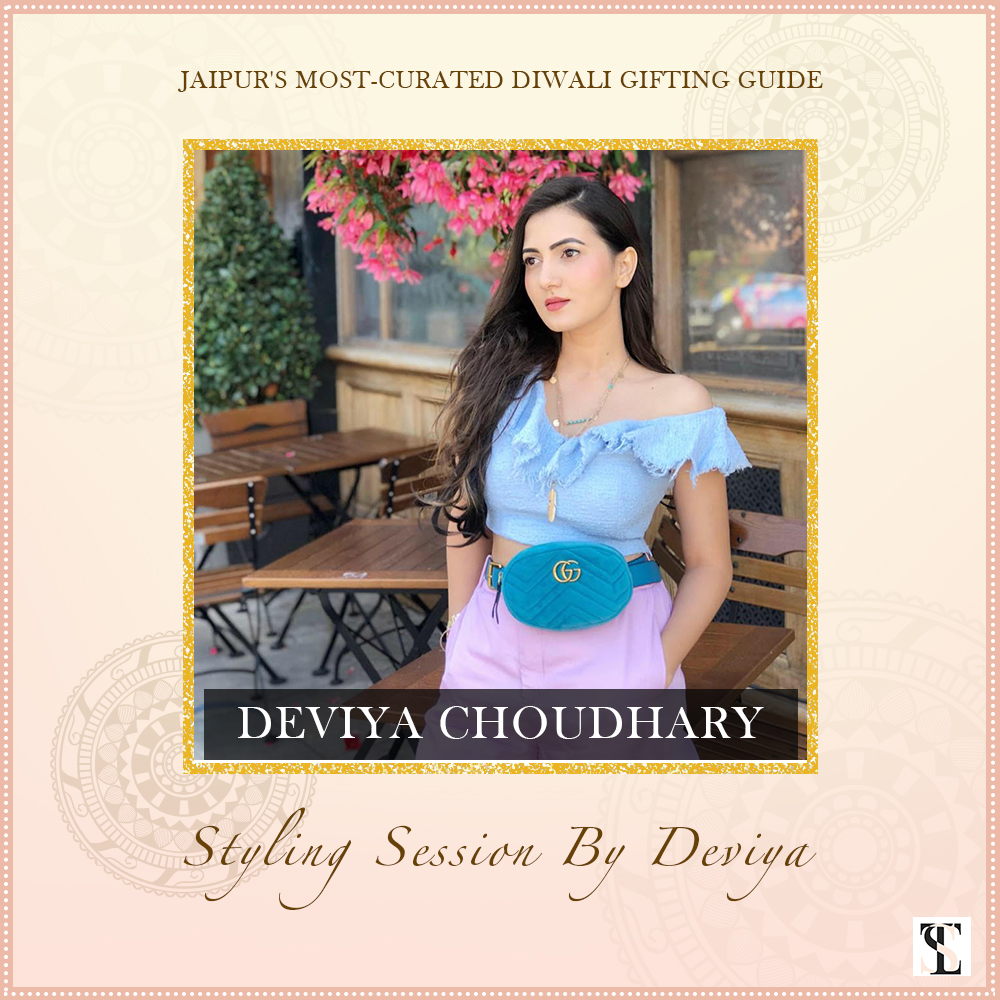 With an immaculate dressing sense and a major in aesthetics, Deviya Choudhary has aced the fashion map of the city. Gift a styling session by Deviya this Diwali and let the lady in your life stay ahead of the fashion curve.
With traditional motifs and modern sensibilities, this recent luxury store launched in Jaipur curates a range of lifestyle and home furnishing products that can transform any space and infuse a vibe of contemporary comfort. Ranging right from their cotton fitted quilts to the bed sheets, dining table essentials and more, everything is crafted with luscious fabrics in subtle shades – making it the ideal gifting option this Diwali.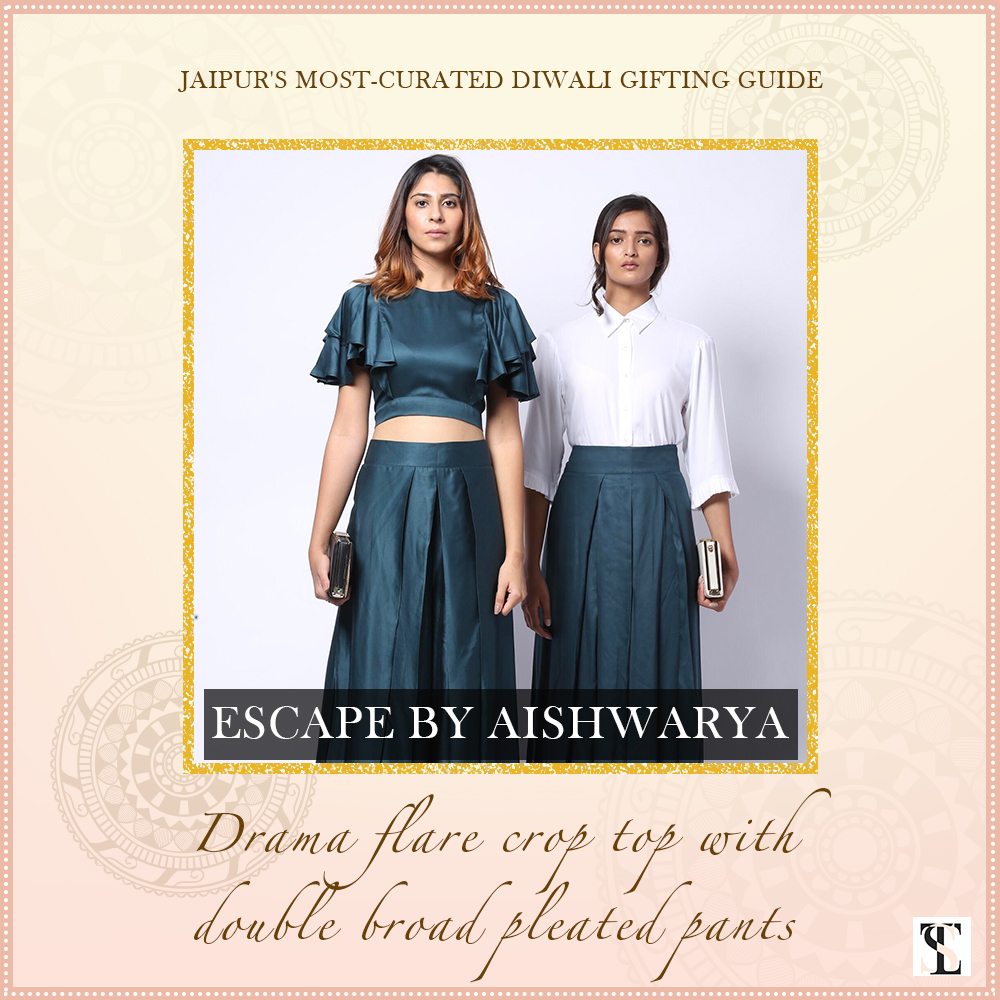 Whether you're gifting your sister, a friend or a special someone, let them upgrade their fashion sense with a minimal yet chic crop top and pants set from Escape by Aishwarya. Aimed at delivering fine, classy garments that redefine fashion and style, this design will surely add drama and glamour to any wardrobe.
Stunning accessories, especially embellished clutches, make for the most celebrated gift essentials during Diwali. With gotta, zari, and embroidery detailing, these evening clutches from Feza can instantly glamorize any outfit and easily transition into the best gift of the season.
If you're looking for the most thoughtful gifting idea this Diwali, then search no further. A diet counselling session by Dietician Rajat Jain can provide quality information to help your closed ones transform their lifestyle. With over five years of practical experience and numerous certificates, Dietician Rajat Jain is unquestionably one of the best fitness and health counsellors in the city.
Housing contemporary home décor designed to fit into every space, Hermosa is a modern concept store launched recently in Jaipur. This Diwali, celebrate living by gifting luxurious home décor essentials – an addition that can easily infuse grandeur into any lifestyle.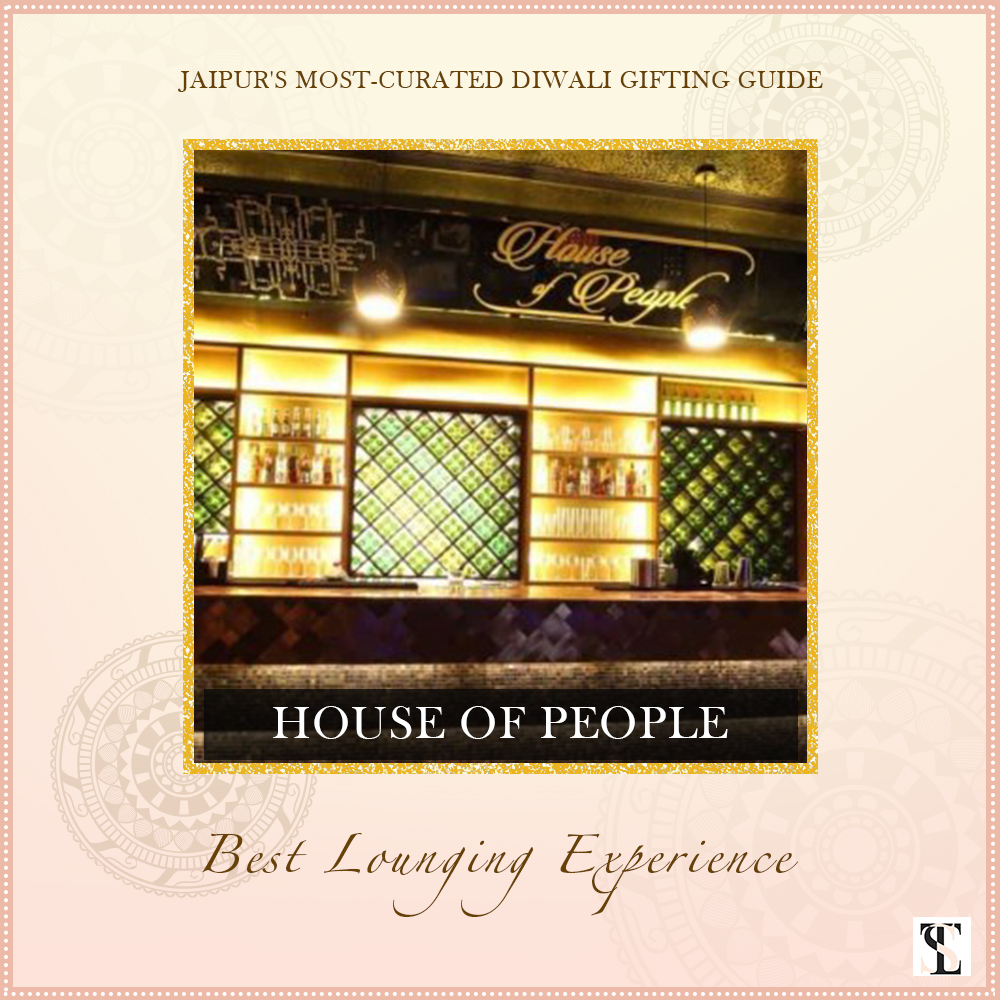 With pulsating energy and excitement, House of People can easily conclude a festive week on a happening note. The whole clubbing experience at this lounge is surreal, combined with trending music and a relaxed luxurious vibe.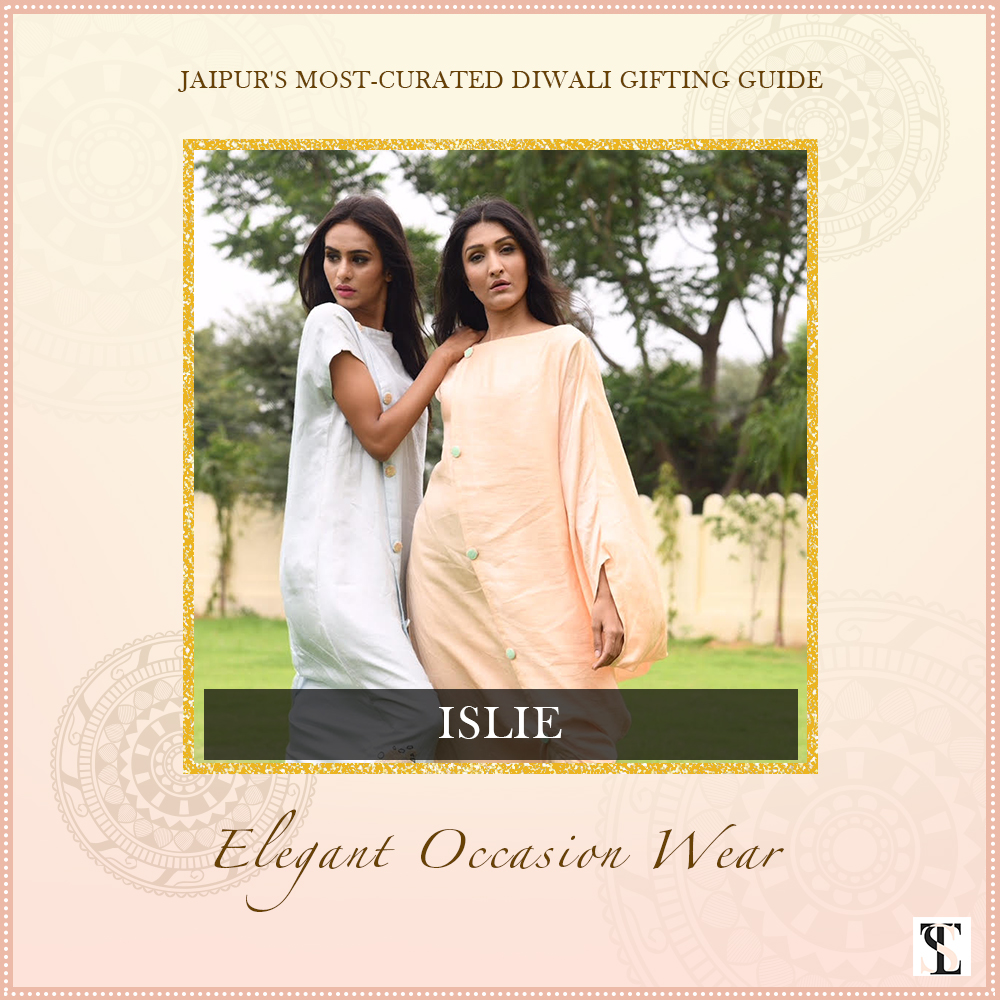 With a chic, effortless vibe, the designer collection at Islie can easily transition someone from work meetings to a festive celebration. Curated by Priya Jain, the traditional and festive collection at Islie is elegant, customized, and offers a unique design, making it the ideal gift of the season.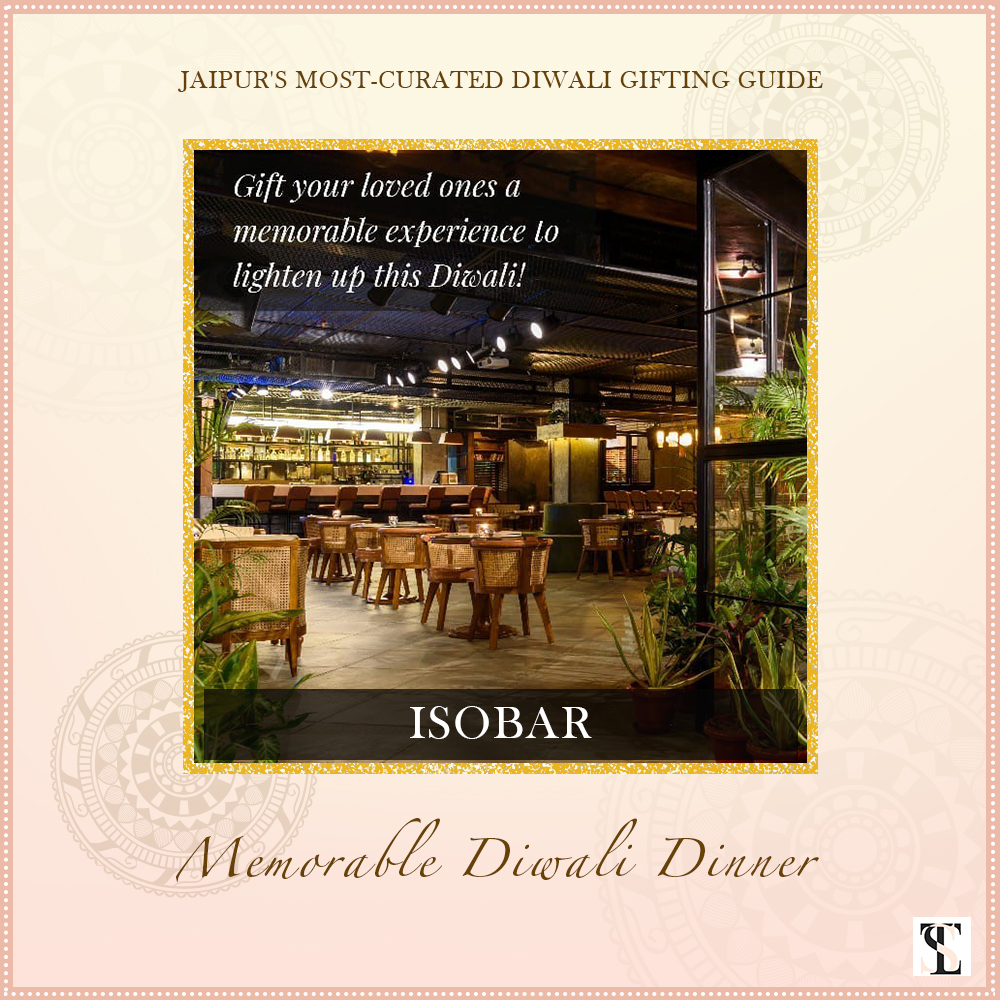 A coffee bar and cocktail house, Isobar reinvents and reinvigorates Indian food hidden behind modest digs. Sit back and unwind – A heady list of cocktails, lovingly blended coffee brews & delectable indo-fusion cuisine – it's all there to make your festive family dinner all the more celebratory!
A genius with her accessories, Astha Jagwani curates a gorgeous melange of European silhouettes with Indian techniques and vice versa. Her range of stunning costume body jewellery, including haath phools, head pieces and jhumkis, makes for the most elegant gift essential this Diwali. If a graceful east-meets-west jewellery range is what you're searching for, then look no further!
Exuding timeless grace, this handcrafted masterpiece by Sanskriti Khandelwal narrates a story or two about the rich cultural heritage of Jaipur, perfectly complimenting every festive celebration. With intricate detailing and subtle shades of pink, this handcrafted chandbaali easily escalates as the best gift for your bridesmaids, girlfriends, and family.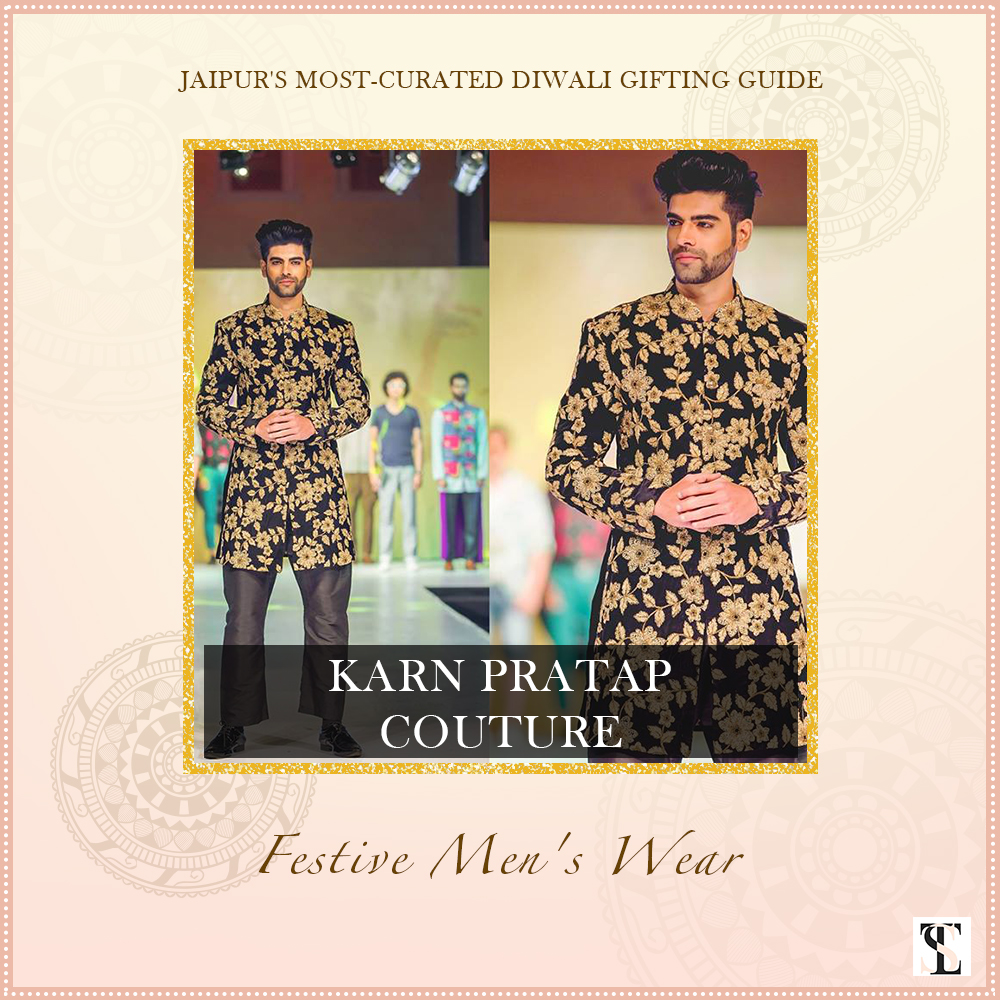 Blending modern sensibilities with traditional Indian prints and embroideries, the festive collection by Karn Pratap Couture is ideal for dressing up your man to the nines. Effortless style comes alive with bespoke designs, making it the ideal gift for a dapper man.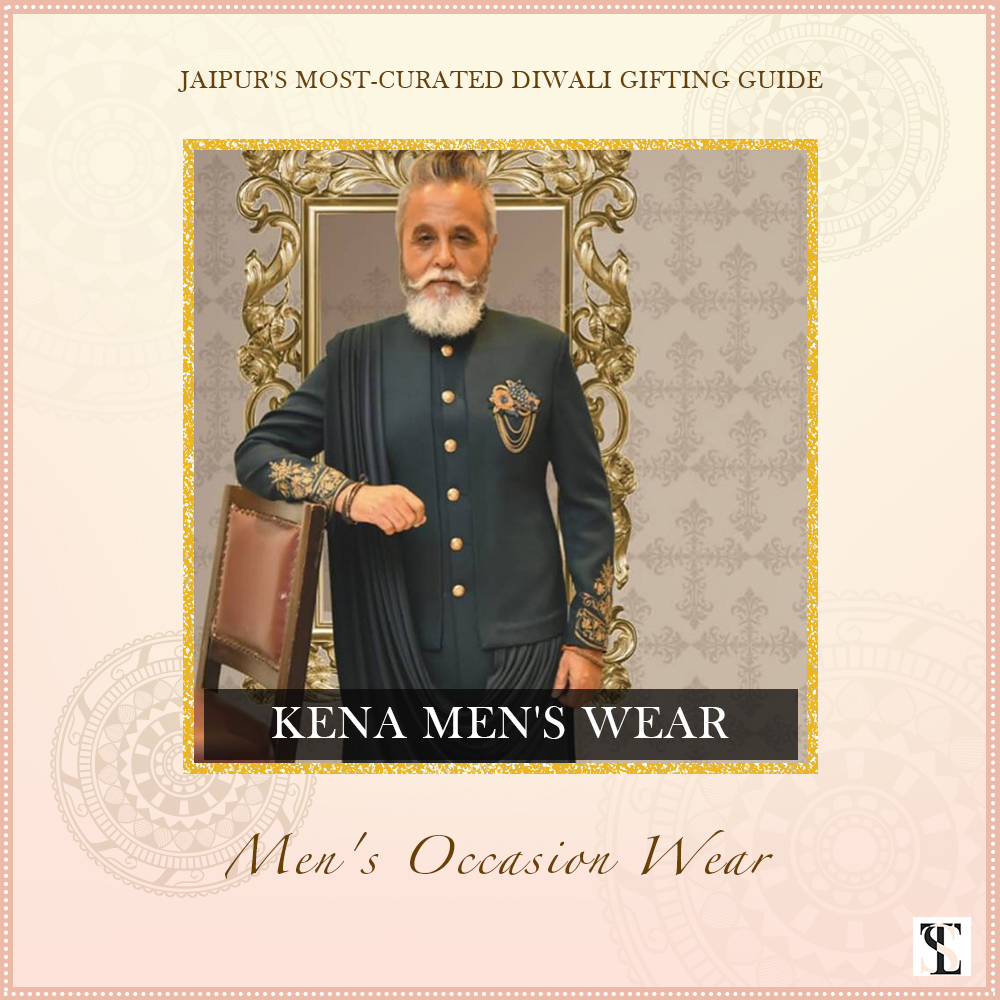 Presenting sophisticated finesse with clean silhouettes, Kena Men's collection houses a range of designer shirts, jackets, sherwanis, pants and more. A luxurious touch and minimal detailing complete Kena's collection as the most steal-worthy gifting range.
Italian delicacies, curated cocktails, French vibes, and a relaxed setting, need we say more? Sign up for the most sumptuous Italian dining experience in a chic resort vibe only at La Palma. You can also avail their exclusive Sunday brunch.
Celebratory and lively, Maison Shefali presents a range inspired by the vibrant heritage of Jaipur. This gulaal sharara set is ideal for women who wish to look festive while feeling all easy-breezy and comfortable. If you're looking for a feminine, chic, lift-me-up dressing range, then search no further!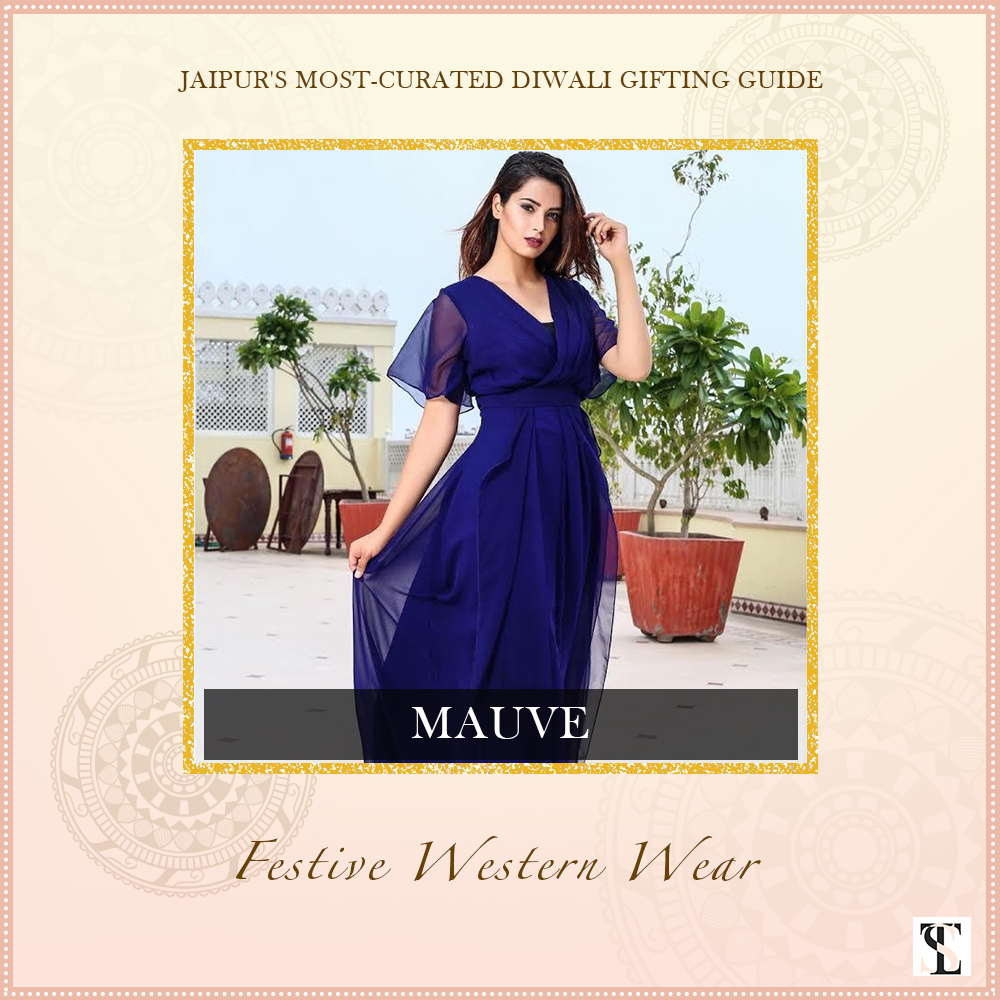 For all those post Diwali celebrations and late night parties, your girl gang needs outfits that are both chic yet festive. Show your special ladies how much you care for their style statement by gifting them this minimally elegant dress from Mauve.
Ranging from gorgeous lamps to tableware, Indian idols, animals, boxes, tea cups and more, the pure silver collection at Miss India is made to beautify and accentuate Indian festivities. If you're looking to gift something extraordinarily beautiful this Diwali, then pick your favourites from the extensive silver line-up at Miss India.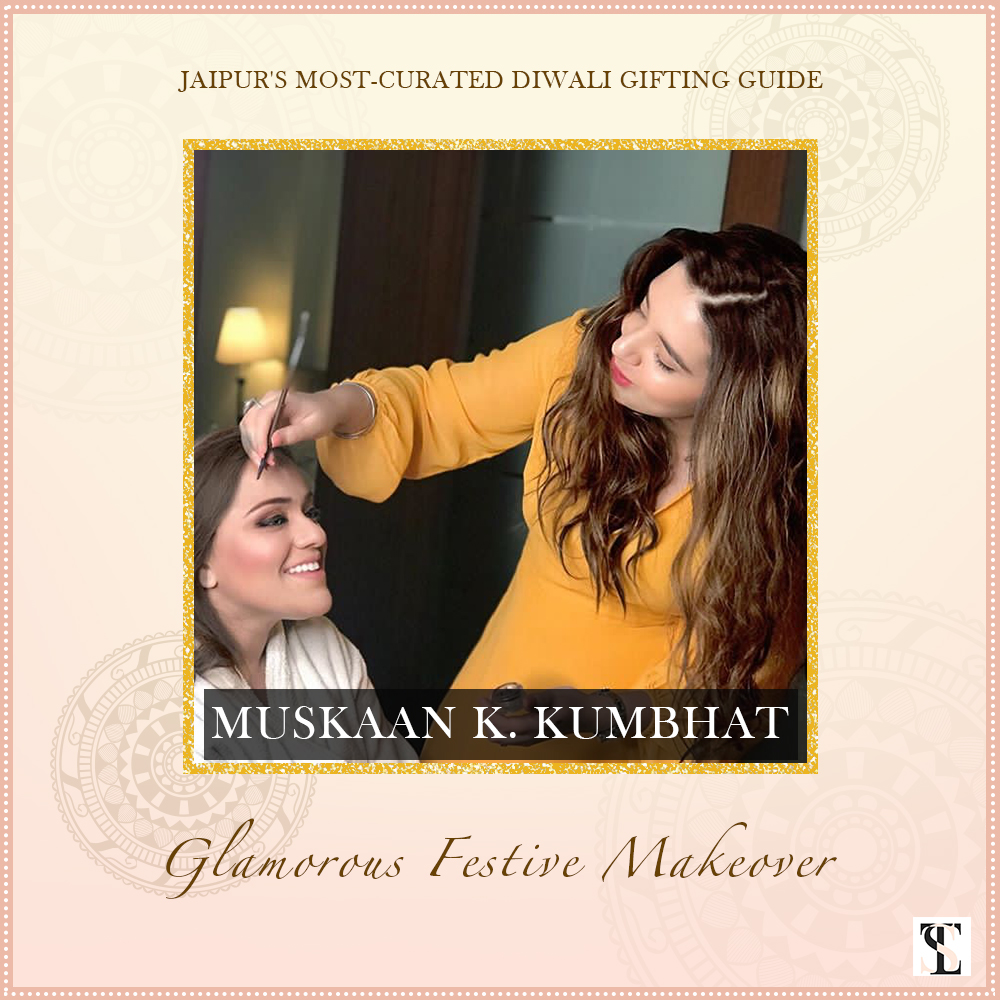 Beautifying numerous women in the city and believing in the power of her brush, Muskaan has a fine flair of curating immaculate makeup looks, ranging from subtle, earthly tones to deep pinks and contrasting hues. One of the few makeup artists who approach a face as if it's a canvas, Muskaan's Instagram feed is lush with some serious beauty inspo for makeup & beauty enthusiasts. This festive season, gift a makeup session by Muskaan Kumbhat and we bet, your surprise will stand out from the crowd.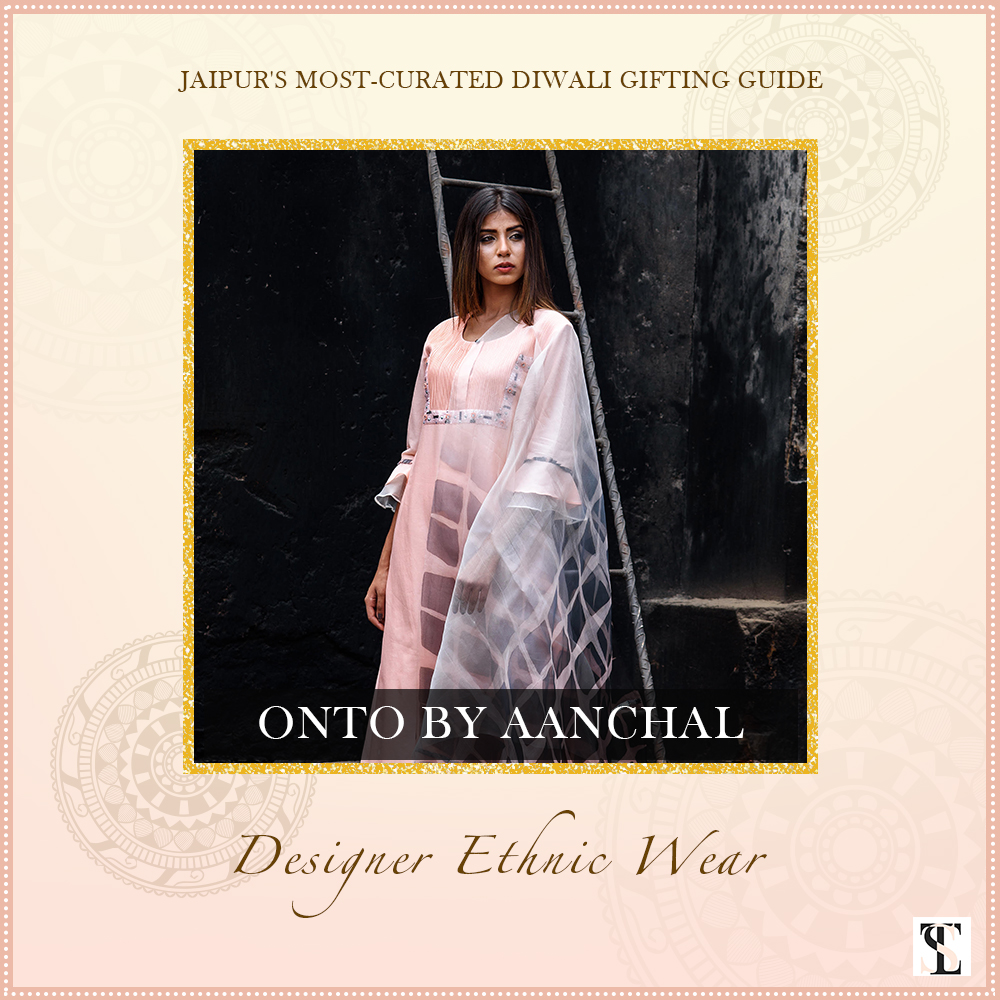 Presenting a designer range of ethnic Indian wear, Onto by Aanchal effortlessly combines the best of the contemporary colors and prints with Indian silhouettes. This gorgeous flared-sleeves dress is ideal for the daytime festivities and can easily transform the wearer's style quotient.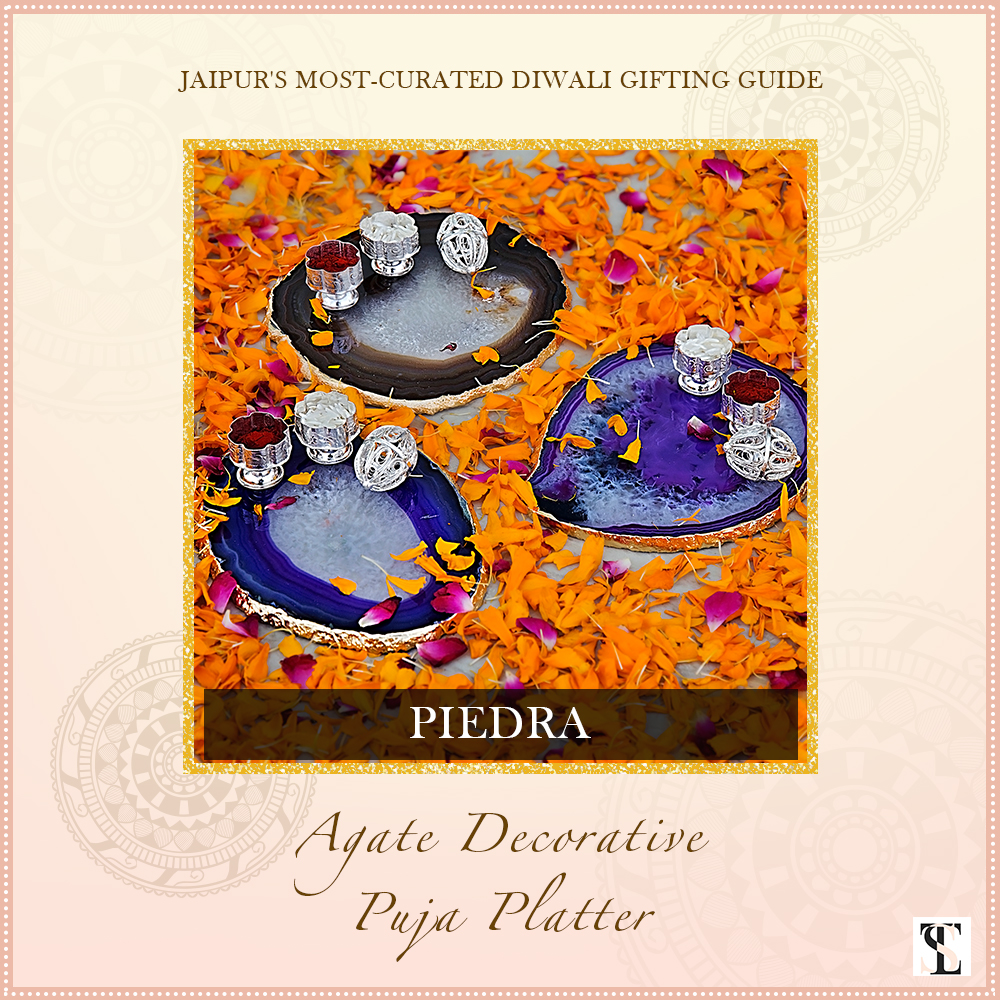 There's nothing more charming than a house accentuated with festive essentials during Diwali. Take things up a notch this year and gift a beautiful agate decorative puja platter from Piedra. With a golden border and a luxurious appeal, this gift will effortlessly win the most thoughtful label.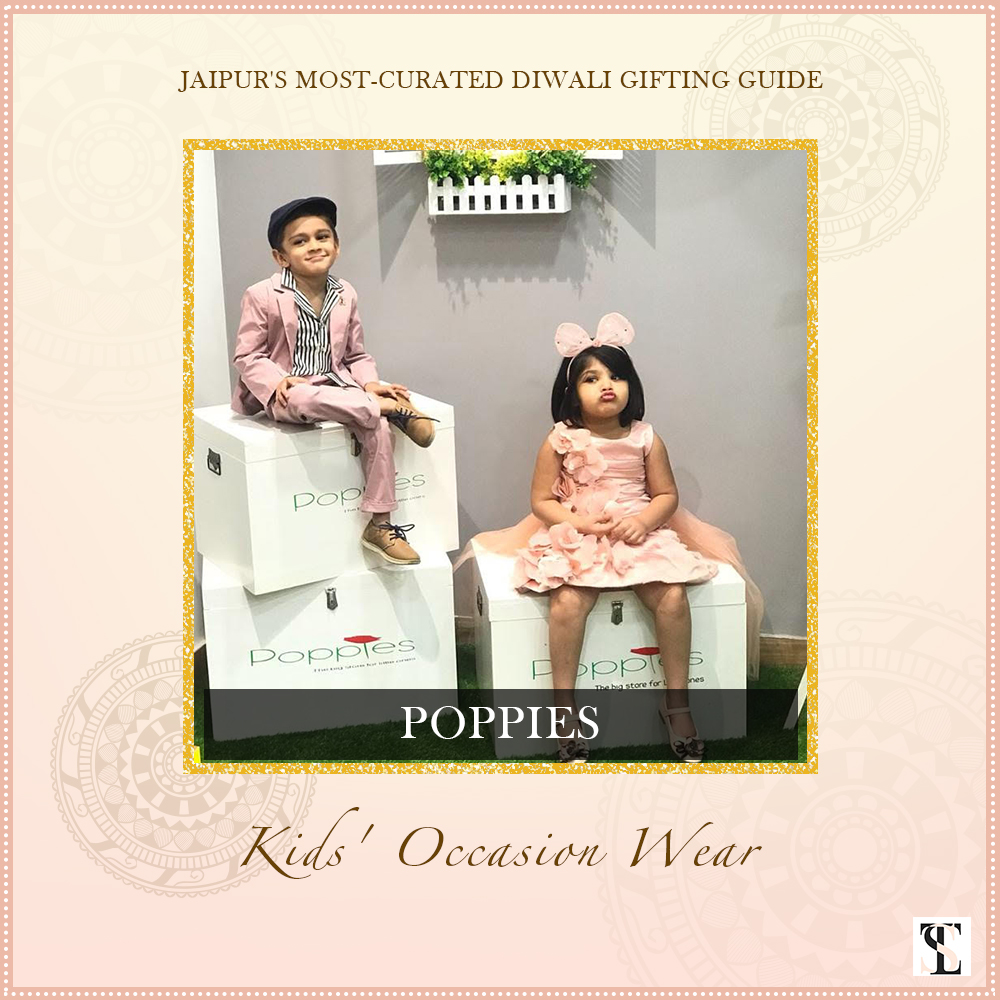 Let your little ones revel in the festivities and dress up to the nines with the adorable and whimsical kids' range curated by Poppies. The entire collection is divided into three sections – cotton wear, designer ethnic wear, and smart casual clothing.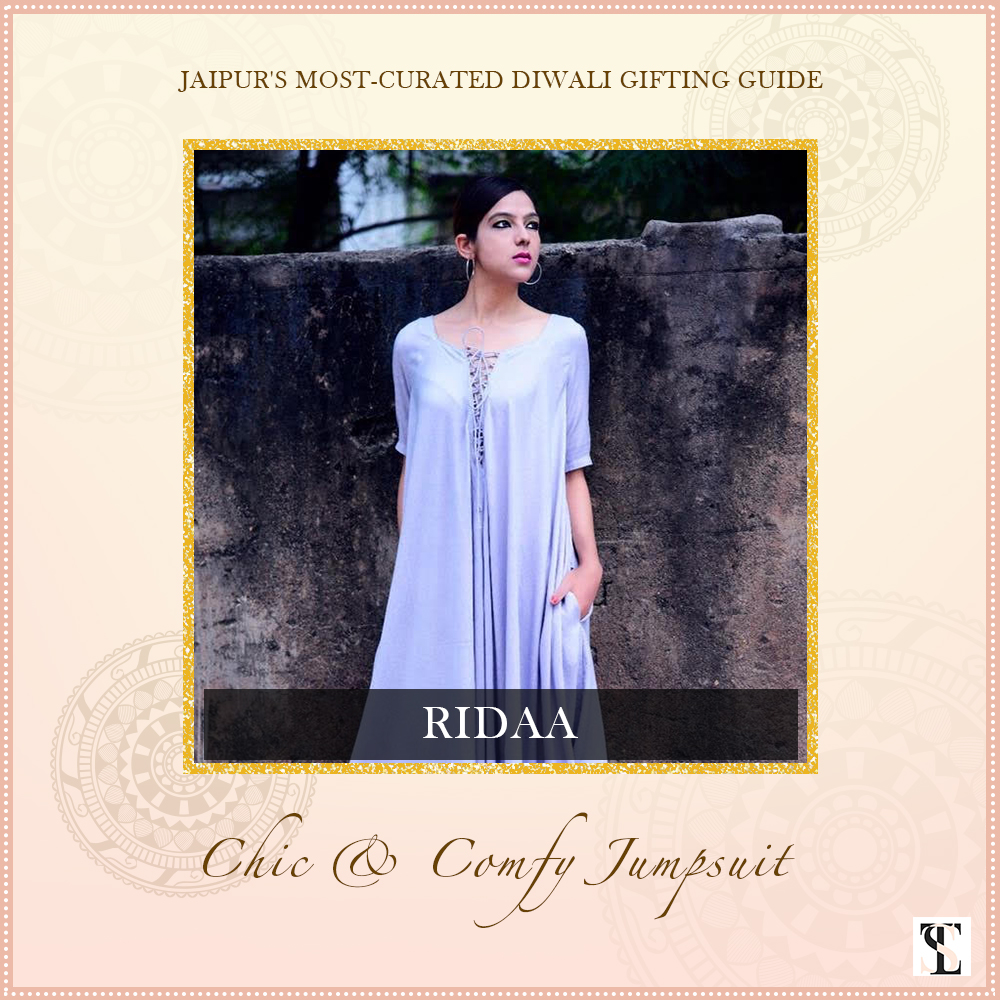 Let feminine pastels and effortless designs upgrade the festive wardrobe of your loved ones this Diwali. This chic and comfy jumpsuit by Ridaa is the perfect gift idea for the modern Indian woman who aspires to look and feel confident while radiating a festive vibe this Diwali.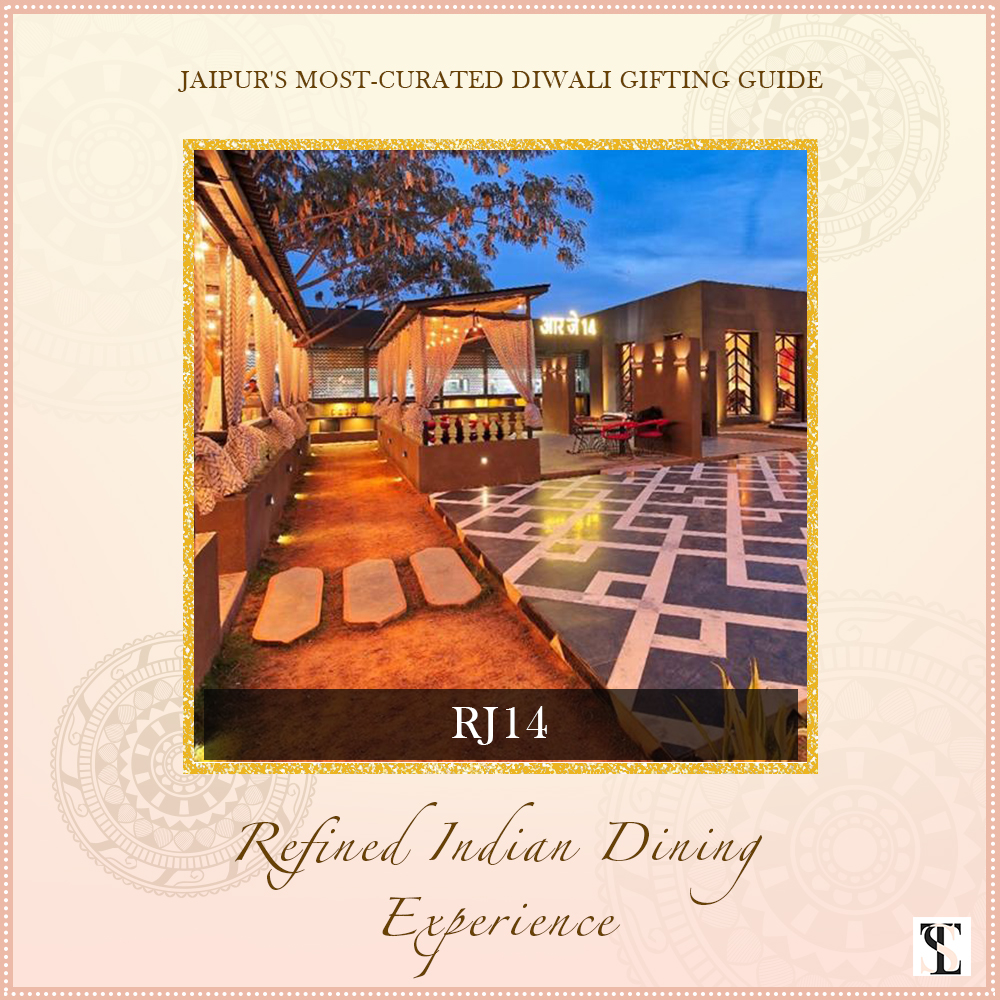 With a quirky décor and refined aesthetics, RJ14 has evolved into the most chic family dining restaurant in Jaipur. With sumptuous delicacies and a lively ambiance, a family dining experience at RJ14 will leave you with countless memories this Diwali.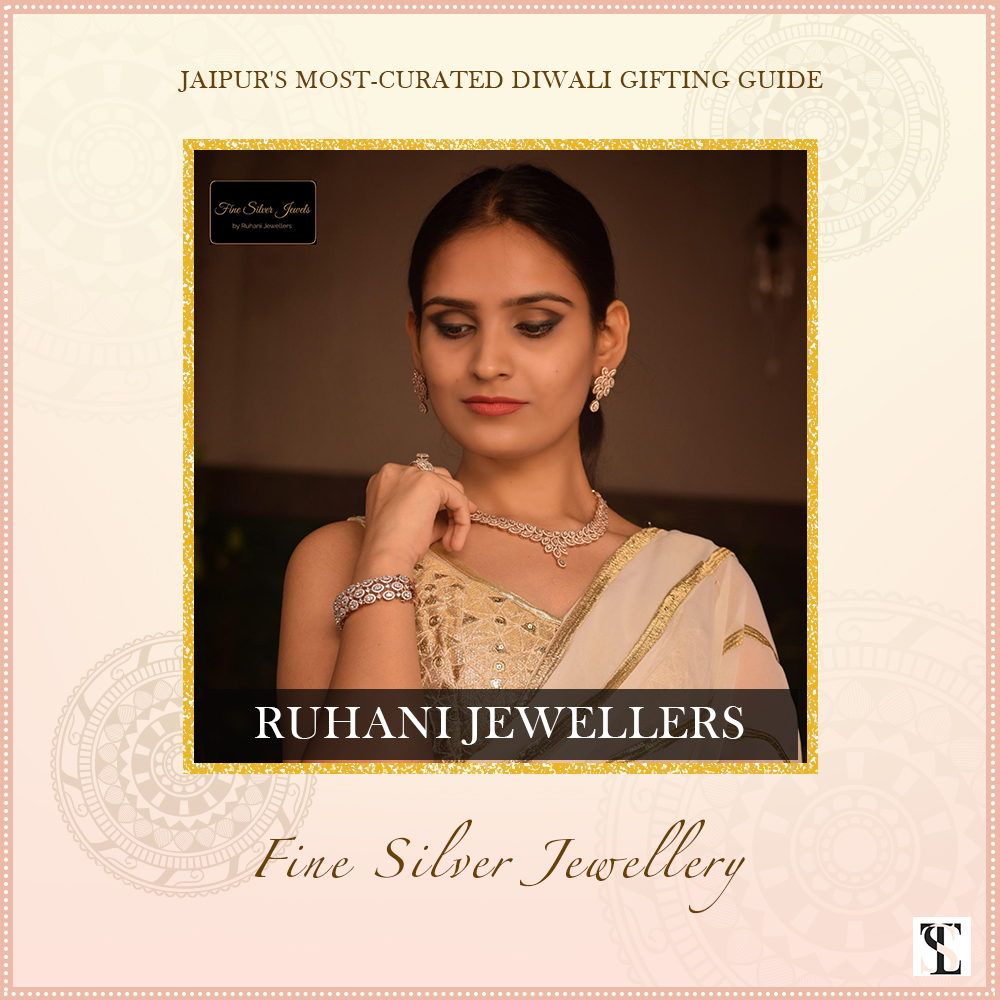 Exclusive quality with elegant designs, the fine silver jewellery range at Ruhani Jewellers is curated for the contemporary Indian woman who is close to her roots. The gorgeous range of earrings, necklaces, bracelets and more can easily accentuate your special lady this Diwali while letting you charm your way into her heart, all over again.
Crafted with a conscious emphasis on design and aesthetics, the stunning range of Diamond jewellery at Samsara is a timeless gift your special someone will cherish for years to come. Transforming fine gemstones into wearable art, Samsara's gorgeous jewellery is an epitome of luxury, elegance, and grace.
Presenting a muted hue with an effortless silhouette, this blazer top and pleated skirt set by Shiksha Bhansali is for the power barrage who has places to go and things to accomplish, while also looking her elegant best this festive season. What makes this travel collection stand out is the fact that it is consciously crafted with a keen emphasis on fabric, comfort, and style.
An extensive menu with a stunning rooftop backdrop is what greets you at Skyfall by Replay. It is just the ideal place for a happening nightout post the Diwali celebrations. The generous Italian and Mexican fare served at Skyfall is quite the rage to keep your energy levels high through the night.
A signature jewellery brand from Jaipur, Sunita Shekhawat's collection features timeless masterpieces crafted based on the traditional practice of 'Meenakari' with a refined modern aesthetic. A tribute to Rajasthan's fine culture and craftsmanship, these masterpieces are priceless and can never be reproduced again, quintessentially transitioning as the most exclusive gifts this Diwali.
An insightful tarot session by Sanchita Lekhi can help your loved ones find practical answers to their questions and evolve better. Her range of valuable guidance such as angel therapy, tea cup reading, past life therapy, numerology, and more can easily be tagged as the most exceptional gift this festive season.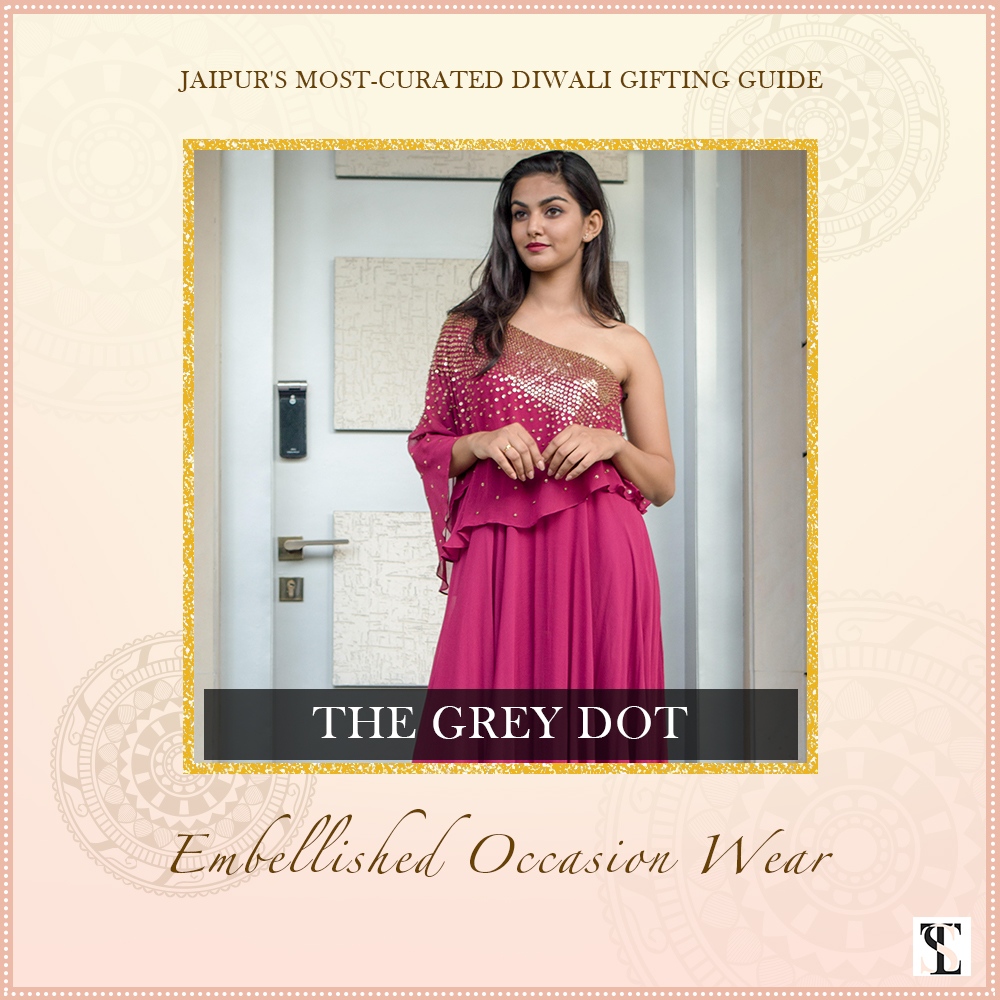 A covetable blend of grace and style, this embellished dress by The Grey Dot can easily transition anyone from the Diwali celebrations to an exciting after party. Let your girls keep it effortlessly chic with the festive collection from The Grey Dot.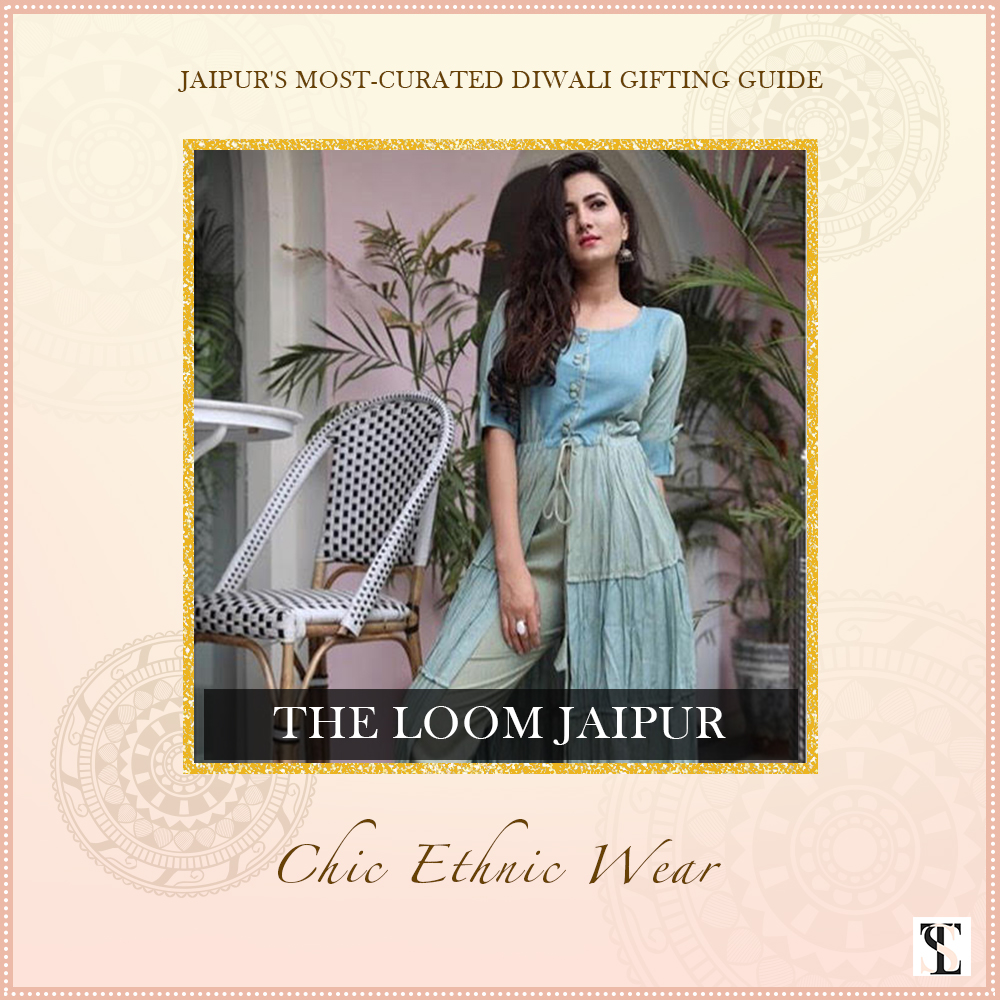 A two-piece flaired kurta with sophisticated pants is the only upgrade your girls need this Diwali. Twirl around in this easy-breezy style curated in a pastel hue and inspired from the traditional Indian sensibilities. Shuffle through the other range of chic and stylish ethnic wear available at The Loom Jaipur.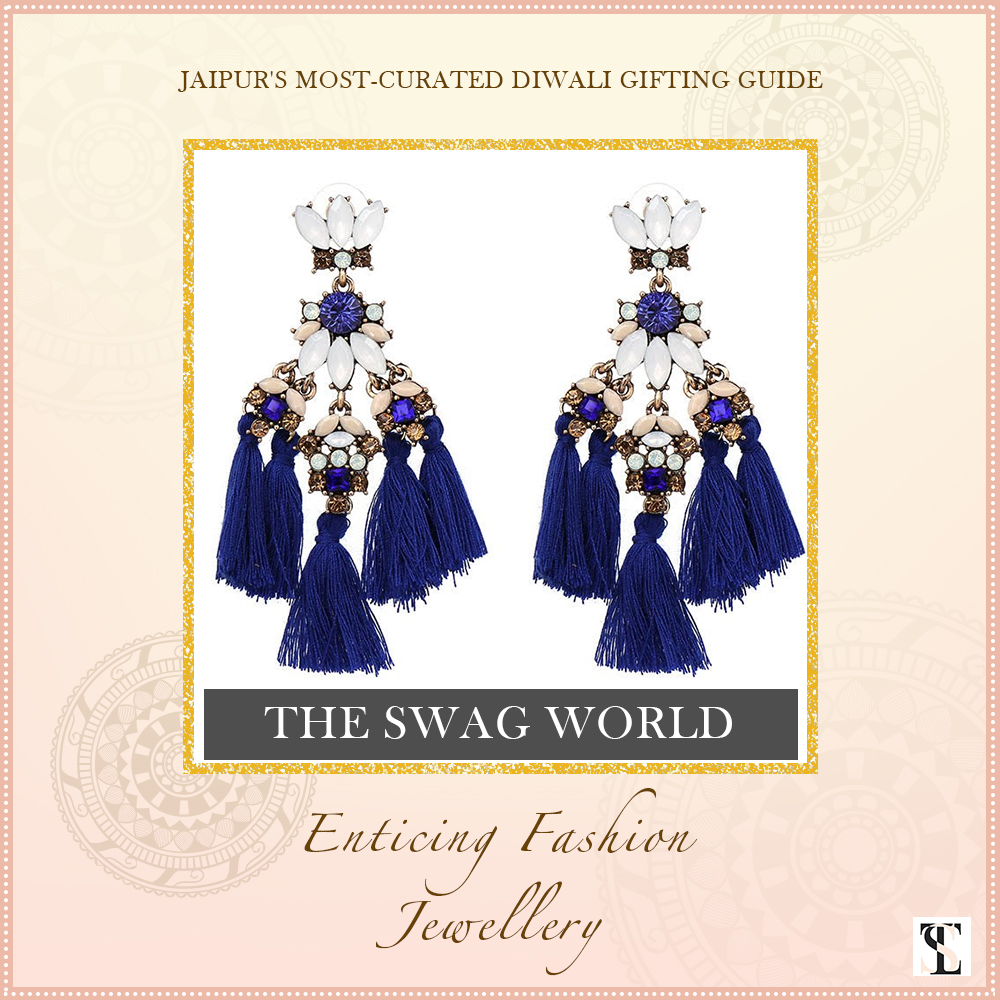 With a gorgeous tassel design and rhinestone detailing, this stunning jewellery from The Swag World can easily charm the special women in your life. A stunning gift like this will effortlessly accentuate and enhance any Indian outfit. Don't forget to check out their monthly subscription boxes if you wish to incessantly surprise your loved ones.
A brand of high class and refined aesthetics, the collection at Vaibhav Patni Studio perfectly infuses intricacy, delicacy, and craftsmanship are infused to bring together a cocktail of contemporary and comfort. The men's festive collection is a reflection of excellence and grandeur, perfectly complimenting the rich Indian celebrations.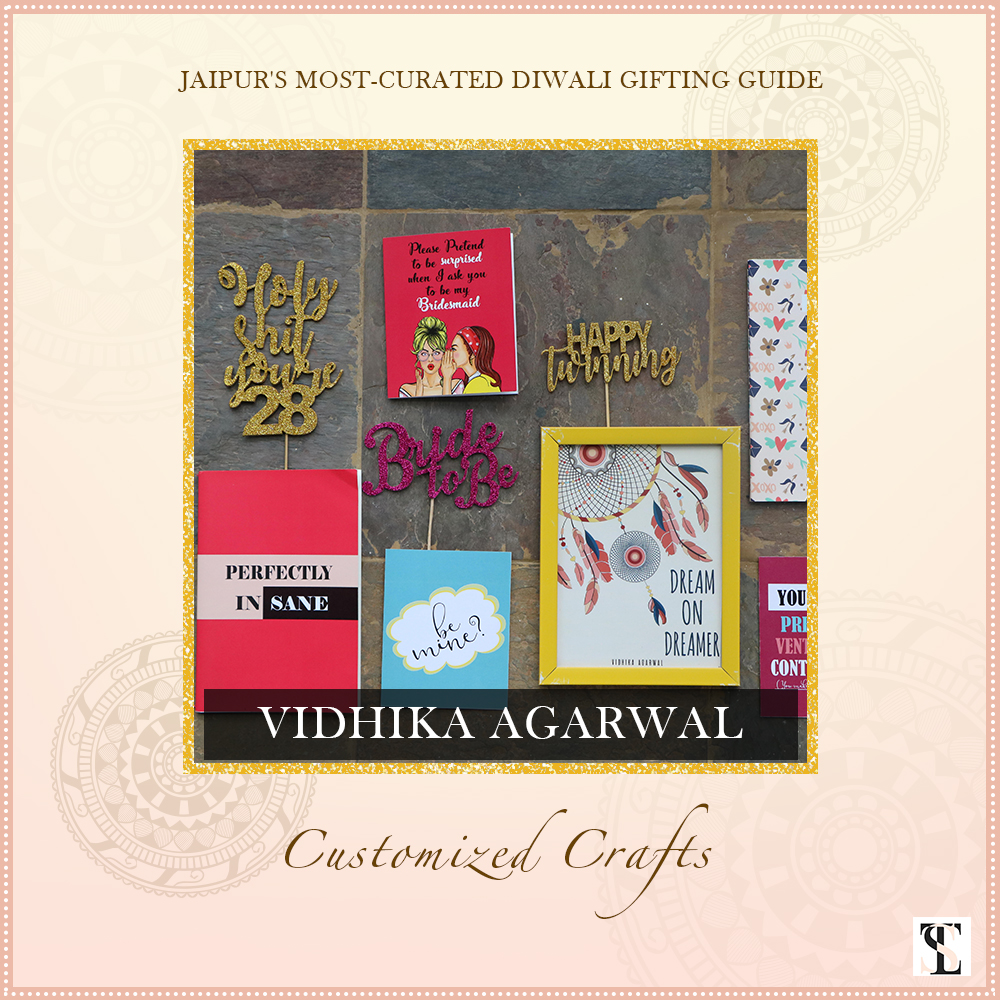 The perfect concoction of whimsical and colourful, the customized crafts by Vidhika Agarwal can charm your friends and family this Diwali. Shuffle through her range of handmade cards, elegant cake toppers, stunning diaries and more.
With our compilation of Jaipur's best gift ideas, you're sure to please your friends and family this Diwali. Let your love for them radiate through these worthwhile presents that can be cherished for years to come.