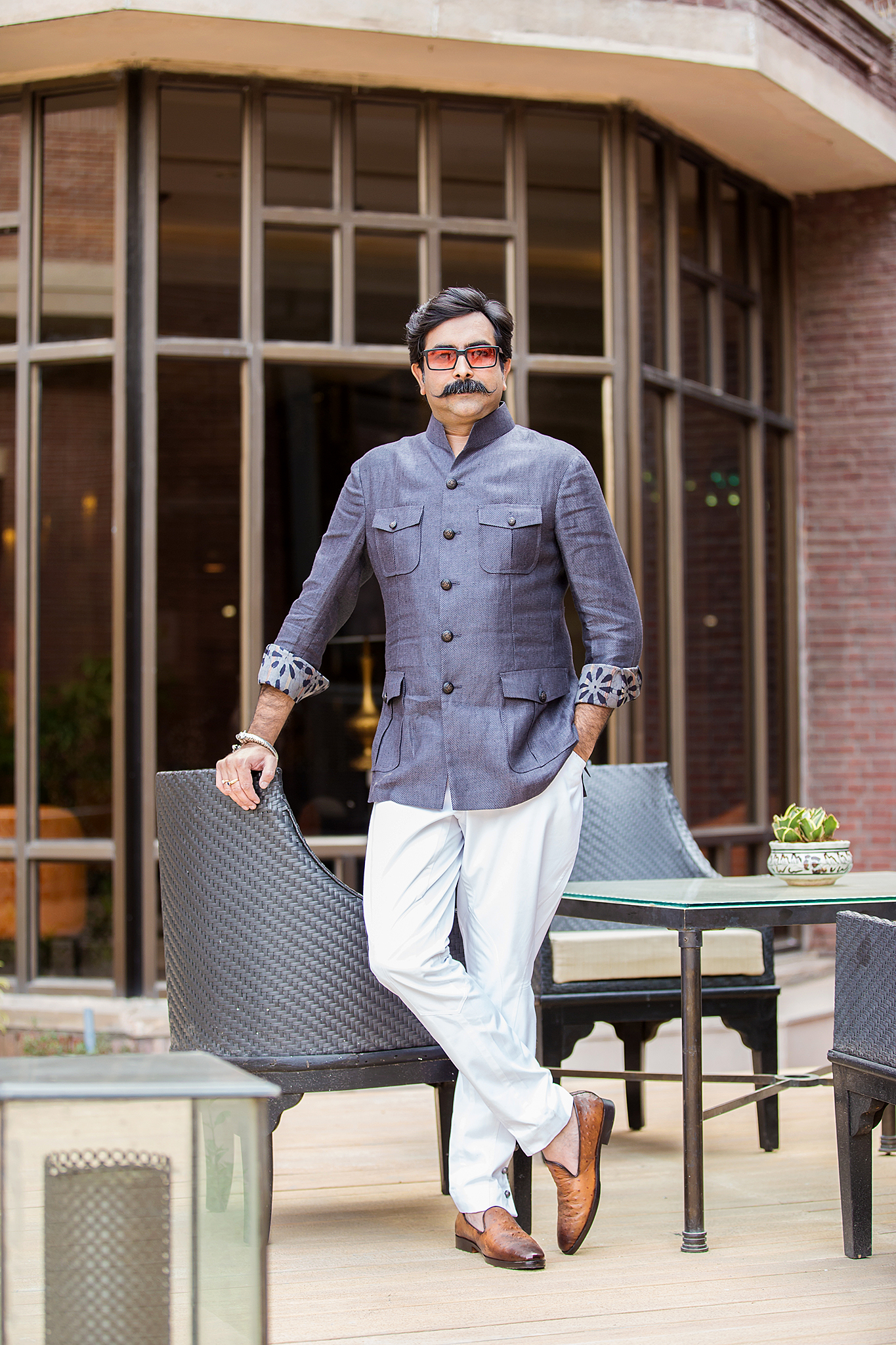 There's something about a self-made man who voyages into the unknown, treading on his own paths and embarking on humble beginnings. One such super-successful, self-made man is the Jaipur based fashion designer, Rohit Kamra, who has dressed numerous celebs and continues to enjoy dizzying heights of success.
Starting from scratch, Rohit came from a modest background and landed his first shot at fashion when his brother told him about an opportunity to design costumes for the Taj Group of Hotels who were coming up with a hotel at Gwalior with Priya Raje Scindia's family.
"On meeting Priya Raje Scindia, she was impressed by the outfit I was wearing and the way I carried myself. I always designed my own clothes so it helped me realize the requirements. I sent her the sample which was appreciated," he recollects.
His second encounter with fashion took place when he decided to attend Lakme Fashion Week as an audience. "I was astonished when I saw what was happening on the ramp in terms of Men's wear. I thought if this is on the ramp, then I can do better", Rohit reminisces. That resolve and aspiration to succeed took Rohit Kamra forward and he found a mentor who gave him a break in serious fashion. Landing his first ramp show at Lakme India Fashion Week 2007, inch by inch, Rohit continued to walk in the direction of his dreams and gradually a designer was born.
Retaining the humble spirit till date, he owes his success to his family and Buddhism. Taking the world by the storm, one step at a time, Rohit Kamra continues to rule the fashion map with his avant-garde designs for men. In an exciting conversation with the man himself, we delved into the secrets and soirées that went behind the making of Rohit Kamra.
What sparked your interest in Fashion?
Well, to be honest, there was no eureka moment. Fashion had always been with me in the sense that I used to design my own clothes. I was always particular about the way I dressed; this penchant for fashion gradually manifested in my life and over the years a designer was born.
Tell us about your designs. Do you have any signatures?
I was always fascinated by polo and the royals. The way royals lived always inspired me. A fact that I observed with them was they were shifting away from heritage and since I was always drawn towards heritage, I decided to bring it back to the fashion scene by curating designs that reflect the perfect blend of heritage and contemporary.
How is the men's fashion scene in Jaipur evolving?
We've come a long way. Clothing has grown from a bare minimum necessity to a lifestyle trend; fashion has now become a way of living. Men's fashion wear in Jaipur has evolved drastically over the years and there's still a long way to go.
What stereotypes do you face in the world of fashion?
I think I'm done with the stereotypical devotion towards white shirt and blue denim. In my opinion, if you play safe, you're not really doing fashion. You need to draw a line between minimal and safe. While minimalistic fashion is a thing, there cannot be a thing like "safe" fashion.
There has always been a distinction between creative fashion and commercial fashion, so how do you balance creativity with commerce?
I have an enthusiastic team who works for me and brings my imagination to first paper and then reality so I like to keep it forty percent creative fashion and sixty percent commercial fashion. With some of my designs, you will also find elements of both creativity and commerce infused in them, thus making them ideal for both runway and a common man.
Who is the Rohit Kamra man?
The Rohit Kamra man is someone who feels royal from within, no matter whether he belongs to a royal background or not.  He is a man who has substance within and carries an aura that exudes royalty.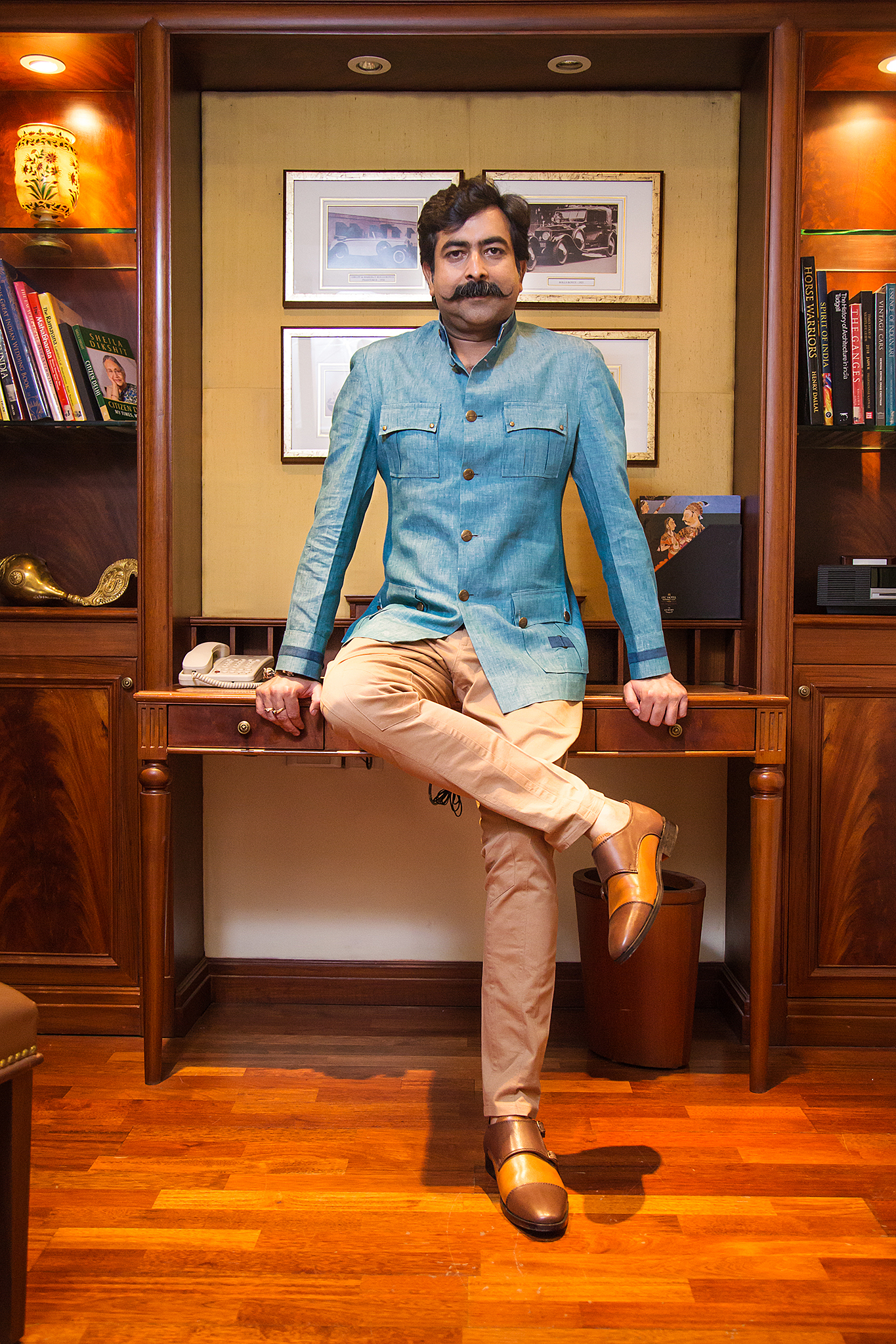 Like there's a creative window for writers, is there a creative window for designers as well?
Yes, of course, there are some hours which bring out the best in you. Since I am not much of a morning person, my creative hours are usually at night. All of my best designs are the ones I created post 8.
How do influences from Jaipur find their way into your work?
As mentioned earlier, I have always been inspired by Jaipur and the royals. A part of my work is eternally indebted to Jaipur as well as India for the heritage designs and maneuvers. Modern Maharaja remains to be the soul of my design sensibilities.
One trend you're completely over?
Distressed denims, I have never owned them and I do not understand the point of having one.
Do you think the future is handmade or is it really just written in the stars?
I am an ardent follower and practitioner of the Buddhism philosophy wherein we believe that the future is what you make it. You can win the greatest feats if you desire and work towards it. So you might have all the good fortune and everything but you need to put in the effort to live to see the results.
There's so much pressure for aspiring designers to infuse some freshness into their work, to come up with something new season after season. With all of this hustle, what advice would you give to the aspiring designers who are just starting out and hoping to make it big in the industry?
It's important to stay true to your work and learn the distinction between 'inspiration' and 'copying'. To make your own mark, you have to stay original, and to stay original you require creativity. Now here's the thing about creativity, it requires patience to manifest itself. So stay patient and keep going. It will take time but it will be worth the while.