You might be someone who always admires Rachel Green's fashion statements; yet this time, you can never get enough of Jennifer Aniston's spotlight looks. Being one of the best leading fashionistas, her fashion staples define a complete generation in them. Her approach towards her wardrobe and her timeless picks are indeed a great inspiration in the fashion world to stand out among all.
She keeps it uncluttered, casual and feminine to her best. 2018 has been a complete roller coaster journey in the fashion peek for her, from elegant silhouettes to simple mules, she has given women and ideal list to pair up their wardrobe with. The actress believes in pairing her outfits with simple accessories and clear defined footwear which probably by now have become some of the bold statements in the fashion world.
Here are the top 10 pairs of shoes worn by Jennifer Aniston, giving us some clear-cut, bold inspiration this season.
1. Double-Strap, Crystal-Studded Sandals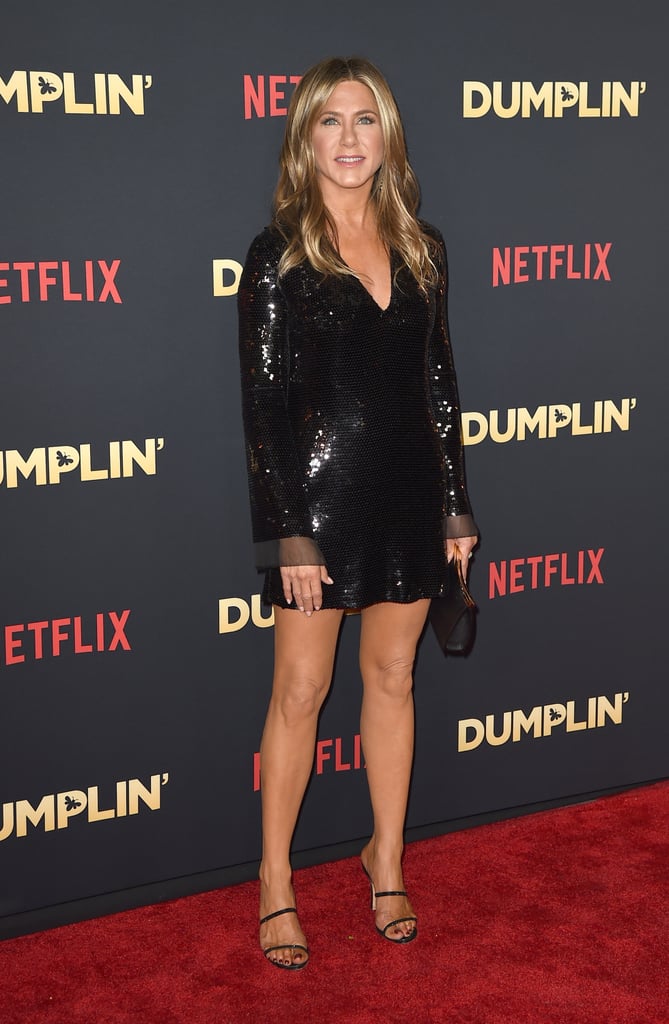 Aniston wore a pair of strappy, crystal studded simple pair of heels at the Dumplin' premiere in December. Matching it with her sequined Stella McCartney black dress, she looked absolutely stunning and comfortable with her simple clear bold look.
2. Leather Combats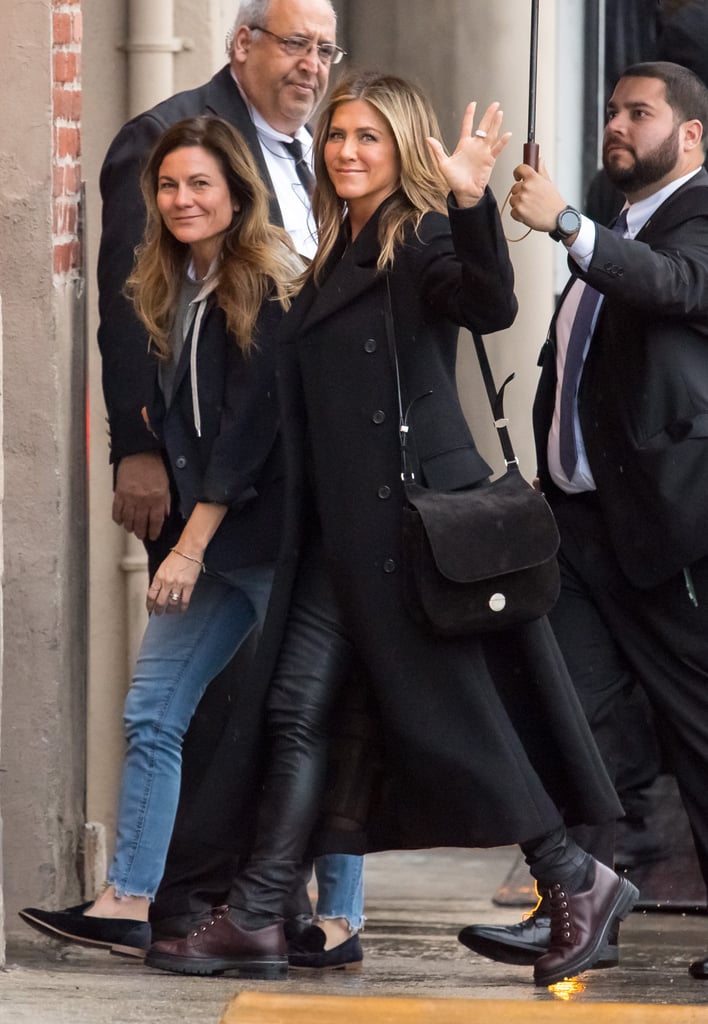 You might ignore those terrifically bold leather boots thinking it to be a typical retro pick but, Aniston tried it with a different look and changed the whole perspective of these vintage combats. The diva wore oxblood Gianvito Rossi leather boots with an ink black outfit for her appearance on Jimmy Kimmel in December. Jen's revival of retro combats in this season have become extremely popular and favorite amongst the winter trends. So this winter, fashion's all about getting something extra and new in your wardrobe.
3. Copper Sandals
Copper is the evergreen pick for every lady out there. It's beautiful and easy to match with any outfit. Jen mesmerized everyone with her glamorous looks at the InStyle Awards held back in October. She looked absolutely stunning in her black dress and neutralized copper sandals. A perfect bold look for the fall season.
READ: 7 Statement Sleeves Ruling The Fashion Map This Season
4. Braided Sandals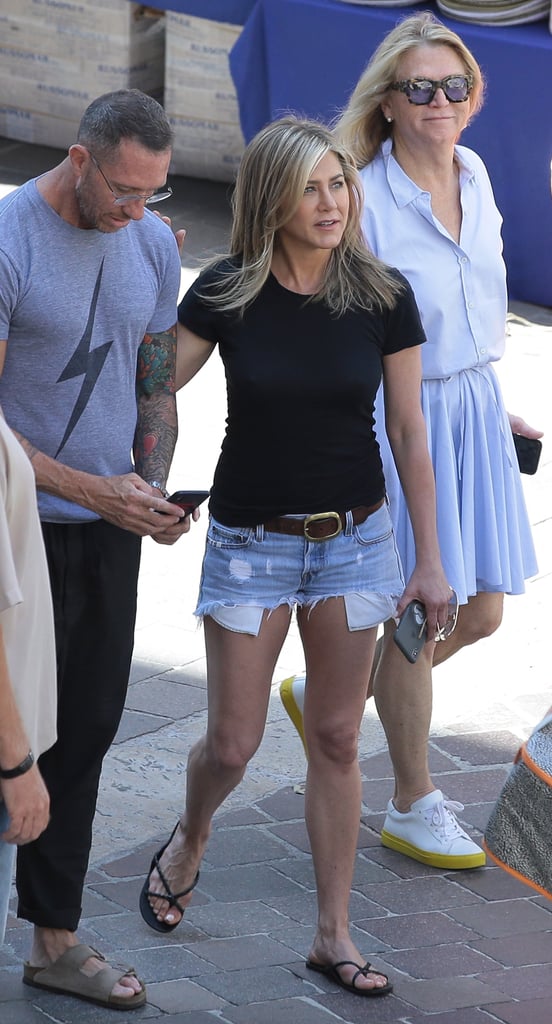 Jennifer proved it that you need not necessarily have a perfect pair of footwear to highlight yourself with any informal outfit. When most of the time you spot girls matching their cutoffs and tees with some solid or semi-solid pair of sneakers or the converse, Aniston came with a new change breaking all the outfit rules. She wore a pair of strappy braided flat sandals along with a blue-black cutoff and tee while she was in Italy in the month of July. A perfect definition of comfort and style to carry yourself in summers!
5. Satin Power Pumps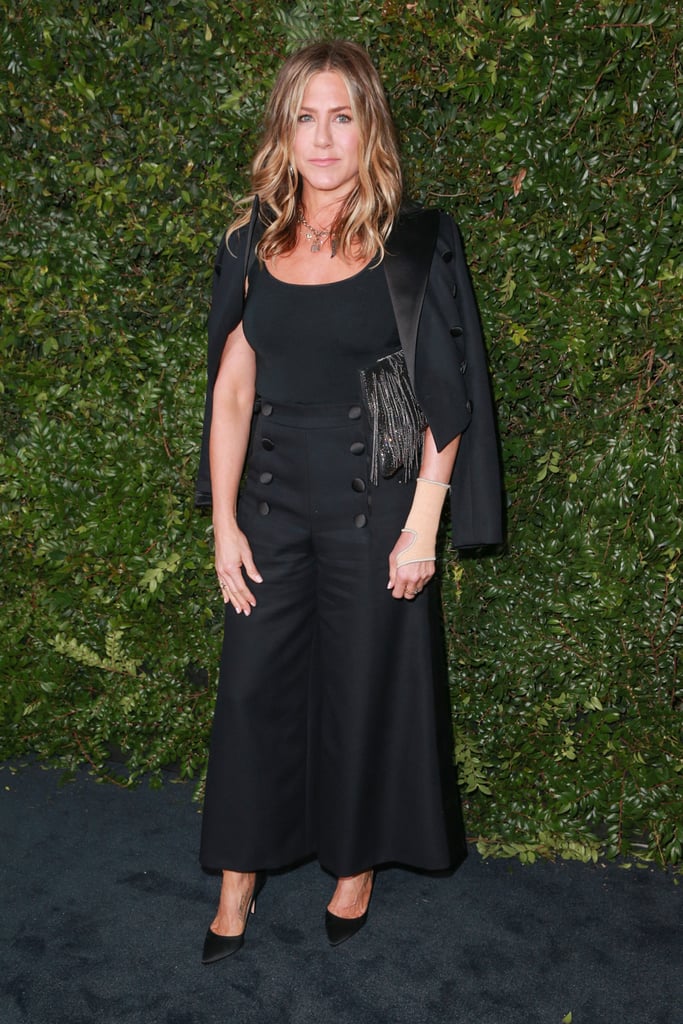 In June, Jennifer Aniston was seen defining her new exotic style with the power pumps and coordinated blazer which she wore during a Chanel dinner in Malibu. Her button front trousers complimented very well with the satin pumps perfectly, highlighting her toned waists and beautiful body shape. With a pointed toe, she stood tall and beautiful among the crowd in the event.
6. White Sneakers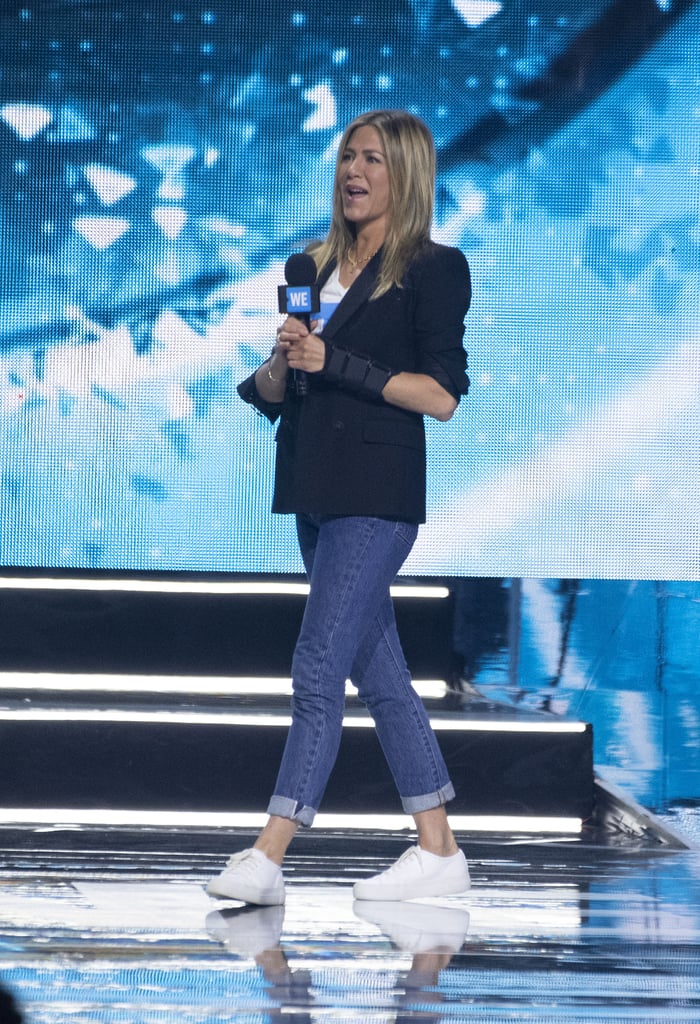 Who says sneakers are just good to go with on informal occasions or casual days? Jennifer carried herself with white sneakers, blue Levis and a black blazer on the platform of WE Day 2018. She looked casual as well as clean, defined with her simple yet amazing bold looks at the event. The lady set a remarkable example for all those who claim that fashion and trend can never go along with comfort.
READ: 10 Luxury Fashion Designers In Jaipur Who Will Make You Fall In Love With Occasion Wear
7. Black Heeled Sandals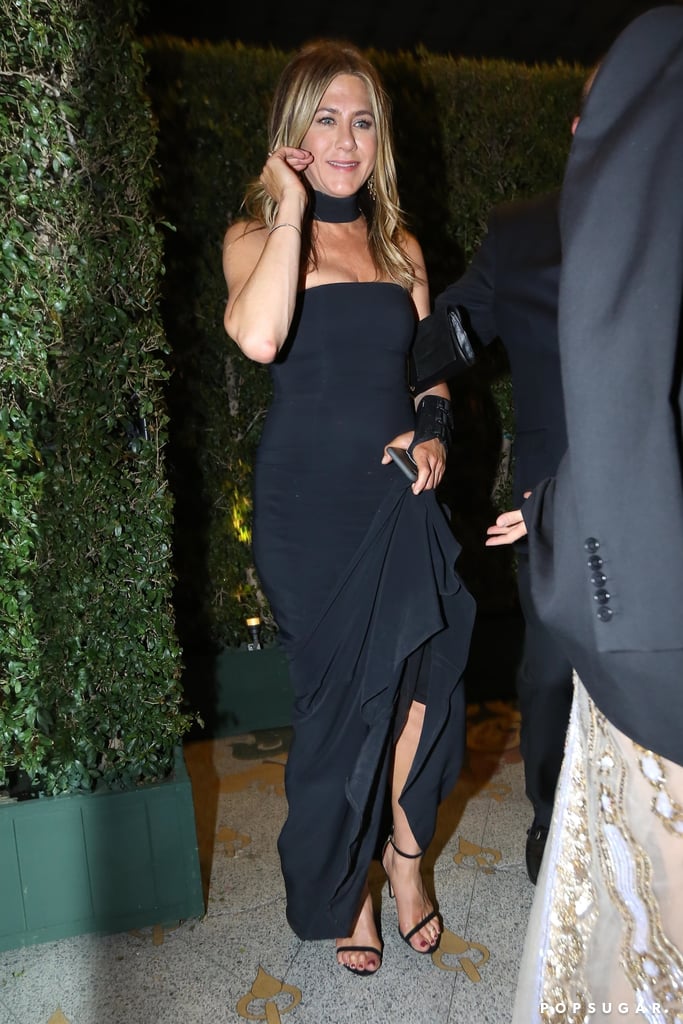 Aniston proved it once again that anything worn with gratitude and charm can be carried as a style. She threw a dead gorgeous black dress from Michael Kors Collection with a pair of classic nudist sandals at the Gwyneth Paltrow's engagement celebrations and stunned everyone with her captivating looks. The thin simple straps of the heels complimented very well with her royal black outfit for the night. It seems she's all set to do a mix match of royalty with some easy simple accessories and footwear to break the outbounds of fashion statements.
8. Brown Suede Wedge Boots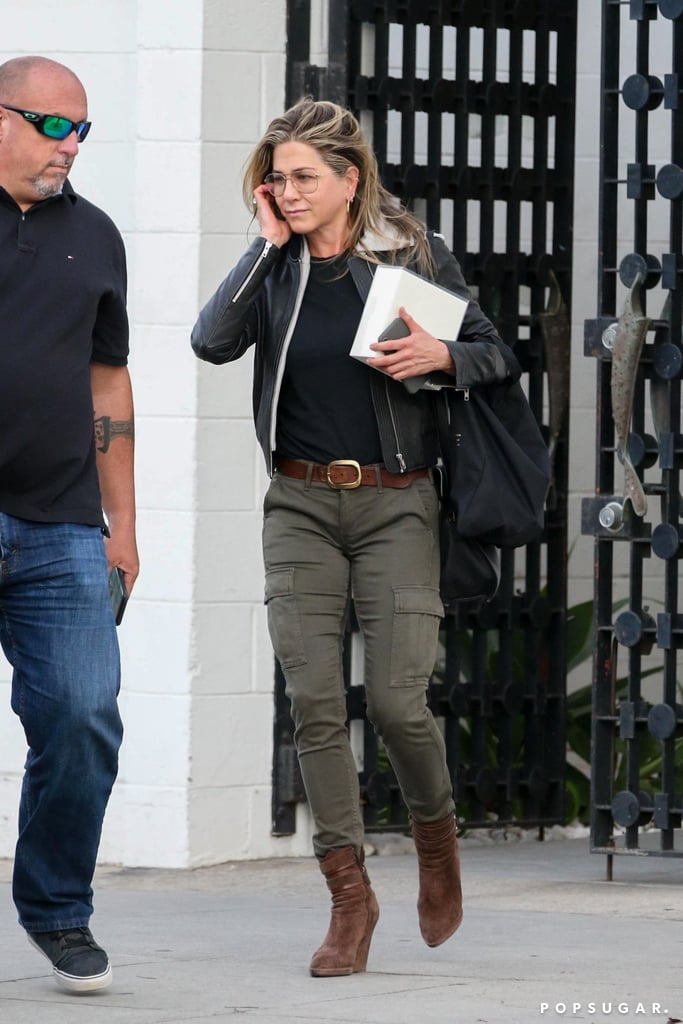 Who says boots are just for winters? Jennifer was spotted out in Beverly Hills in the month of April wearing suede boots that covered her mid-calf with cargo pants and snug leather jacket. As an overall compliment, she looked absolutely perfect with her choice. To be honest, boots are indeed very comfortable and stylish to wear on in any season. Try and see it yourself!
9. Lace-Up Booties With a Stiletto Heel
View this post on Instagram
Stilettos can never get outdated in a girl's wardrobe. But, trying it out with a blend of something sharp and bold can make it look more gorgeous and favorite among the list. Aniston was spotted wearing a pair of lace-up boot stiletto which was at least three and a half inches high in length. These stilettos have become a bold statement this season as they are the most super stylish, classy and pointy pick to match with almost all the outfits in your wardrobe.
10. Gucci Mules
View this post on Instagram

No matter how much you stick to the idea of heels or wedges, ultimately having a pair of comfortable flats is a must for every woman. Jennifer knows very well how to carry herself in style and comfort. Her smart loafers from Gucci have become an absolute favorite this season for the fashion enthusiasts. From tattered jeans to jeggings, these mules suit all of them and are comfortable to wear on.
Does this article inspire you? Don't forget to share your view below.