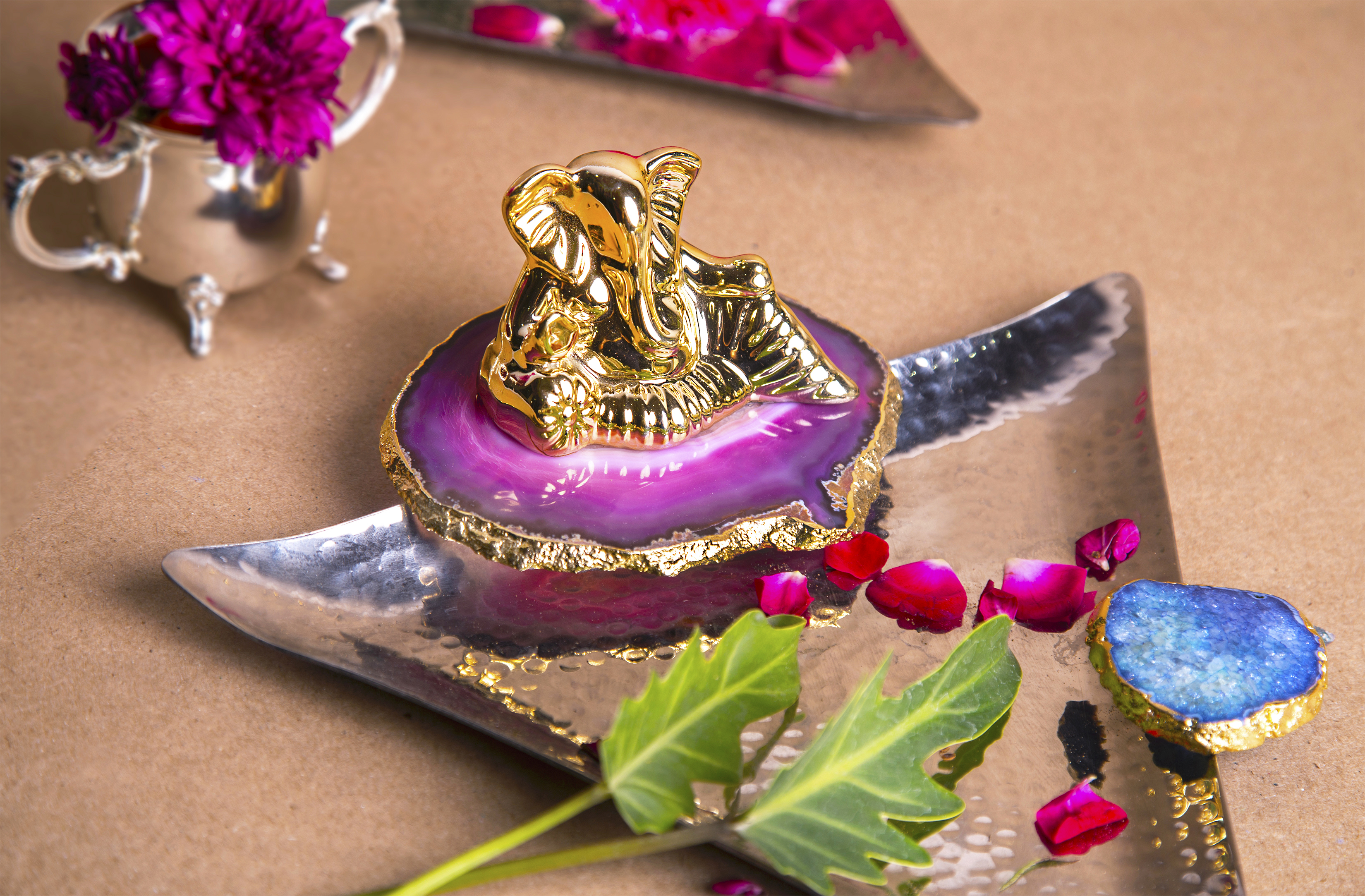 With larger-than-life decorations and splendid couture, Indian weddings are undoubtedly a myriad of colors and rituals. The wedding season brings with itself a line-up of dressy and inviting gifts. But let's get this straight, traditional porcelain and garlands won't make the cut this year. If you aspire for you and your gift to be recognized and remembered, present something purposeful and thoughtful that would add to the married life of the couple.
Redefining work and home spaces, the Jaipur based brand Piedra houses a range of fine home décor, which they rightly call 'home jewels'. Their entire collection is intricately designed and curated with the use of semi-precious stones. Their mantra, #piedrapositiva is all about creating an aura of authenticity and positivity with a touch of uniqueness in every article that they bring into existence. The marvelous attention to detail and the minimalism of the product line is truly spell-bounding.
To get you started, here's a compilation of nine home décor products from Piedra that you'll want to shop right away.
1. Agate Assorted Coasters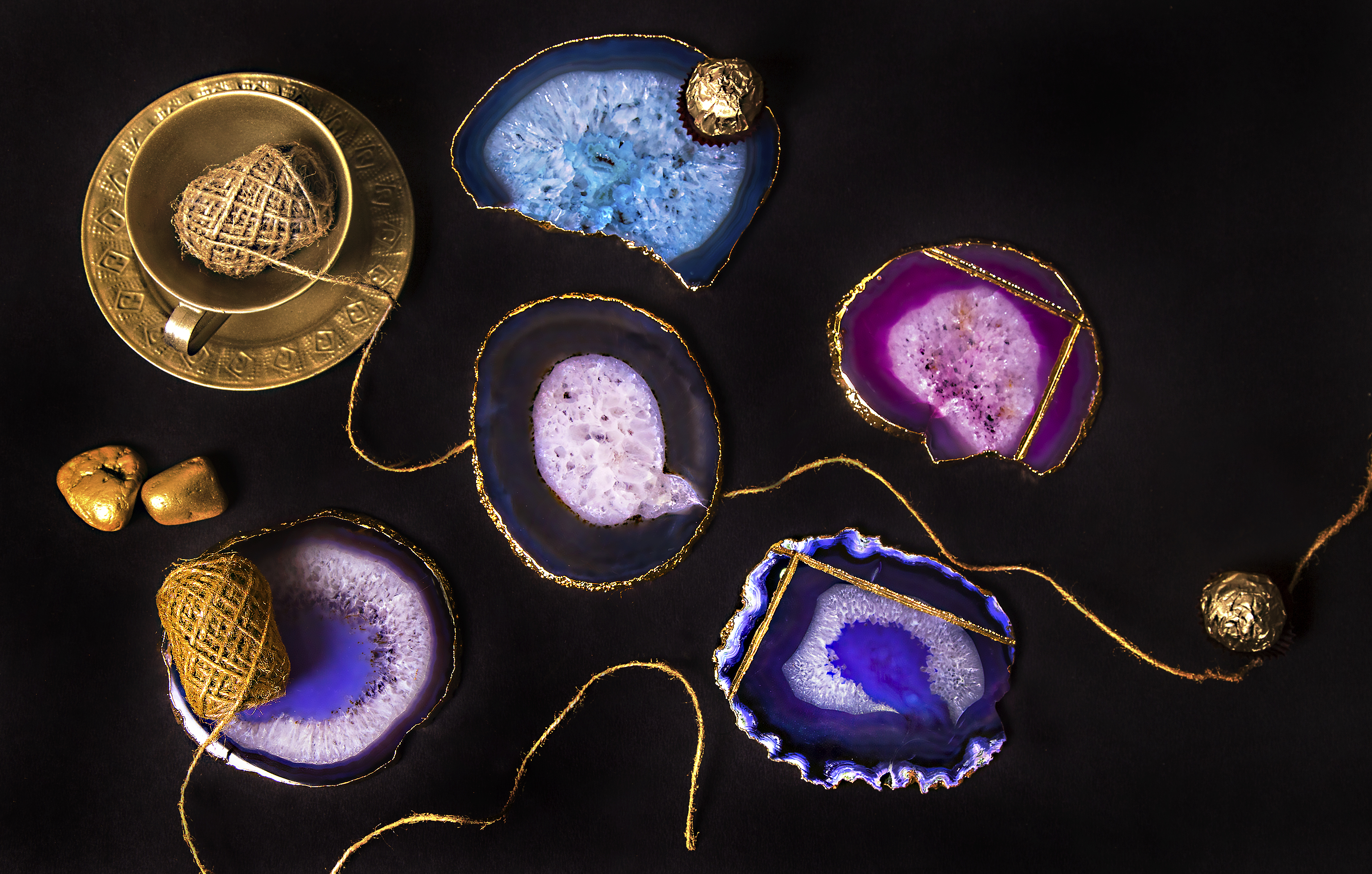 A 'never-seen-before' beauty, the agate coasters look like authentic crystals as they feature a multitude of hues with extraordinary textures that can make any dining space stand out. The classic gold detailing on the edges adds a refined touch to the coasters. A combination of these coasters will make for an ideal gift and will definitely fetch you the spotlight this wedding season.
2. Agate Silver Tealight
Candles are an essential part of every home and what better than a subtle tealight with a sleek stand to gift the newly-wed couple to match their vibe? Continuing their fashion of décor, Piedra has curated these simplistic yet extremely eye-catching tealights on a silver metal stand enhanced with a semi-precious stone in the center. The metal looks stunning with the light of the candle reflecting on it and the piece is a very easy way to ace your décor.
3. Agate Decorative Puja Platter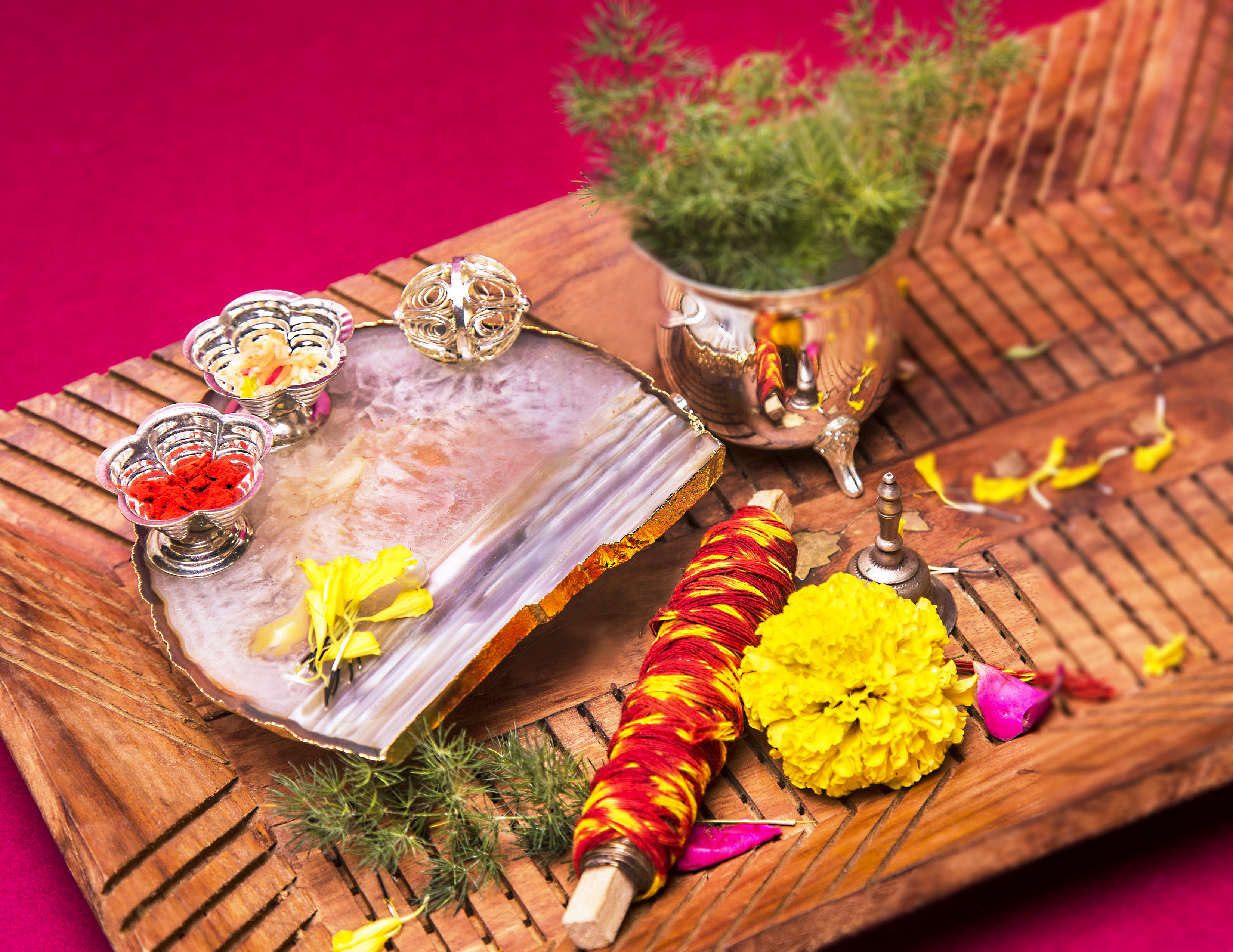 You know it's the wedding season when you start seeing a lot of celebratory items. One such wedding season must-have is the agate decorative puja platter from Piedra. This extravagant item features a stunning agate base beautified with a gold border and embellished with puja essentials.
4. Agate Napkin Rings
The newest of accessories are these gorgeous napkin rings which are an excellent way to make your dinner table look exceptionally attractive when you're hosting one. A delicate gold base topped with a varied range of stones looks extremely rich and is sure to fetch you a lot of compliments. A set of 6 napkin rings delicately placed in an elegant grey box will make for a very contemporary gifting item.
5. Agate Ganesh Ji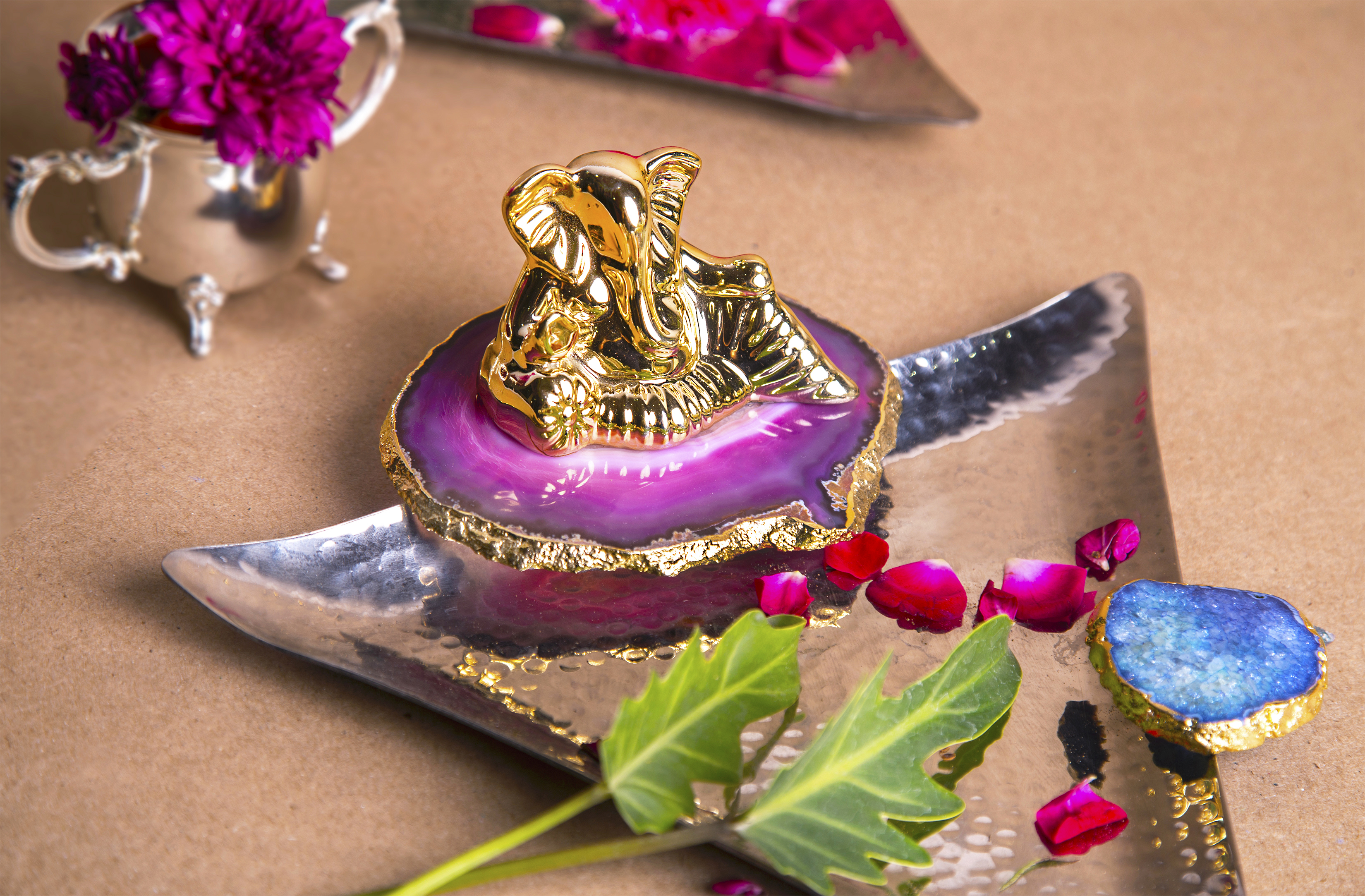 Lord Ganesh is symbolic of affluence, fortune, and new beginnings – an indispensable part of every Indian celebration. With a stunning agate base, this golden Ganesh idol from Piedra makes the ultimate gift to present to the bride and grooms' parents.
6. Agate Lotus Tealight
The agate lotus tealight is yet another outstanding addition to the décor collection of Piedra. A little light never goes wrong, and when the light emanates from such delicate and beautiful pieces of contemporary art, it adds wonders to the look of a place. The intricate gold border paired together with the lotus flower speaks all things rich and wow. Let this light of positivity shine in your loved ones' lives too by gifting them these beauties this wedding season.
7. Agate Metal Stand Table Clock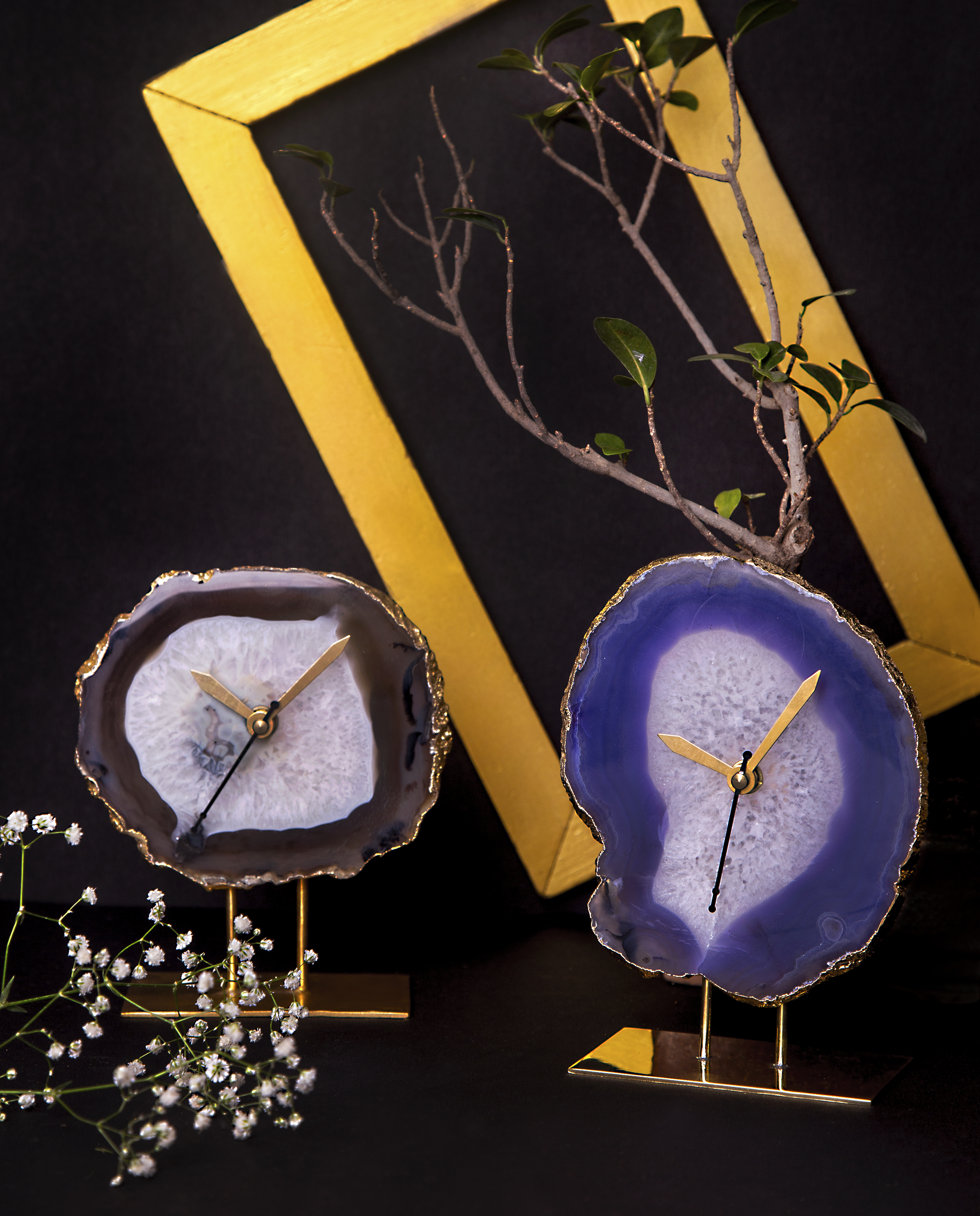 Clocks are a staple piece of décor in every home and can effortlessly amp up the look of any living space. These table clocks from Piedra look very stylish and are a sight for the sore eyes with the ornamental gold detailing on the stone structure. The metal stand especially looks very minimalistic and intricate. The variety of hues and textures make for a variety of options to choose from. This gift will undoubtedly leave your friends completely mesmerized.
8. Customized Gift Hamper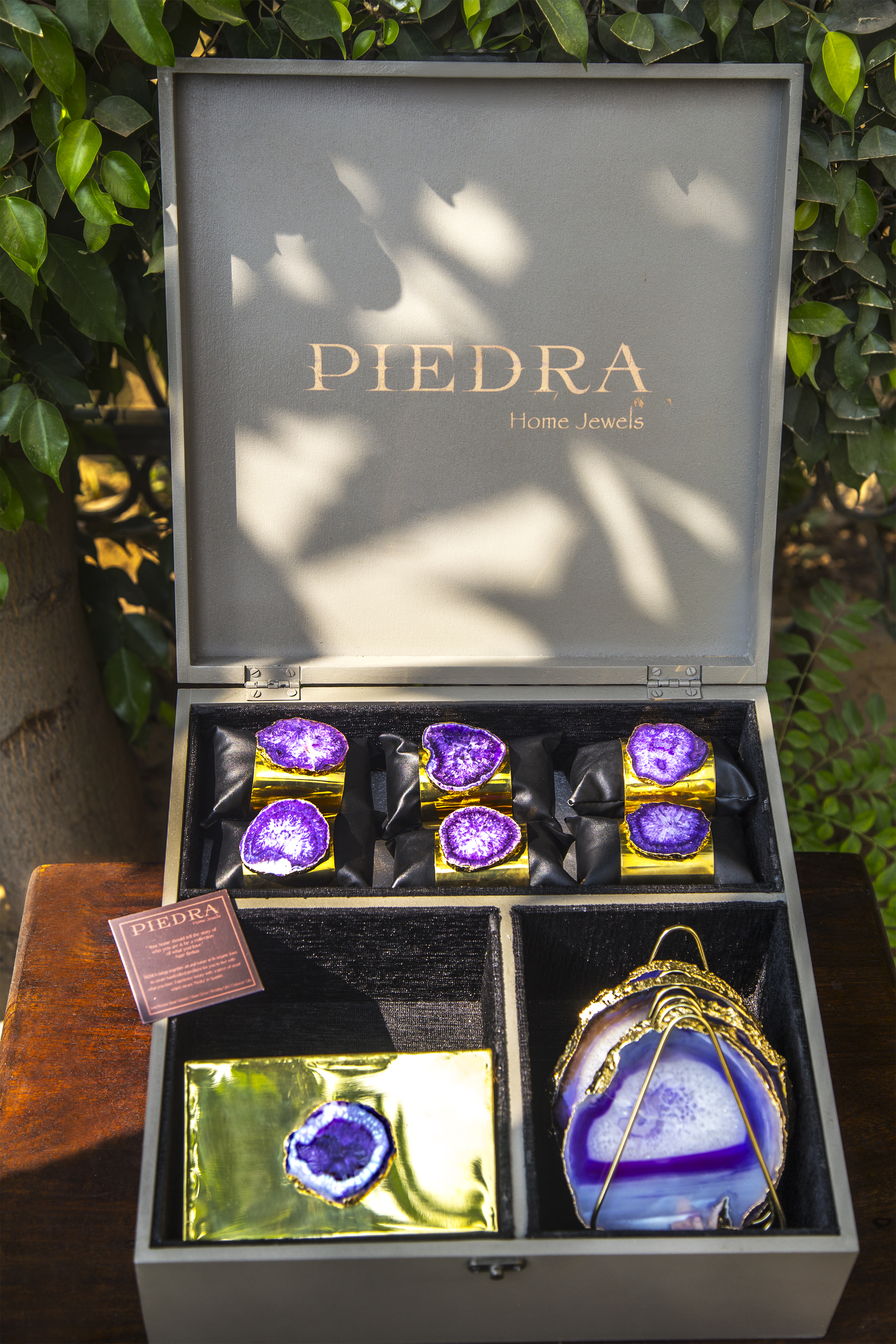 Nothing screams 'thoughtful' better than a customized gift hamper curated with all the pieces you love. Featuring napkin rings, agate coasters and more, this elaborate set from Piedra will be totally adored by the newly-weds. Brownie points if you pair the gift with a hand-written note.
That brings us to the end of our compilation of wedding season gift ideas from Piedra which are sure to leave the newly-weds stunned by the intricacy and modernity of the products. Go ahead and gift some of the finest pieces of home jewels which they will cherish for a lifetime.