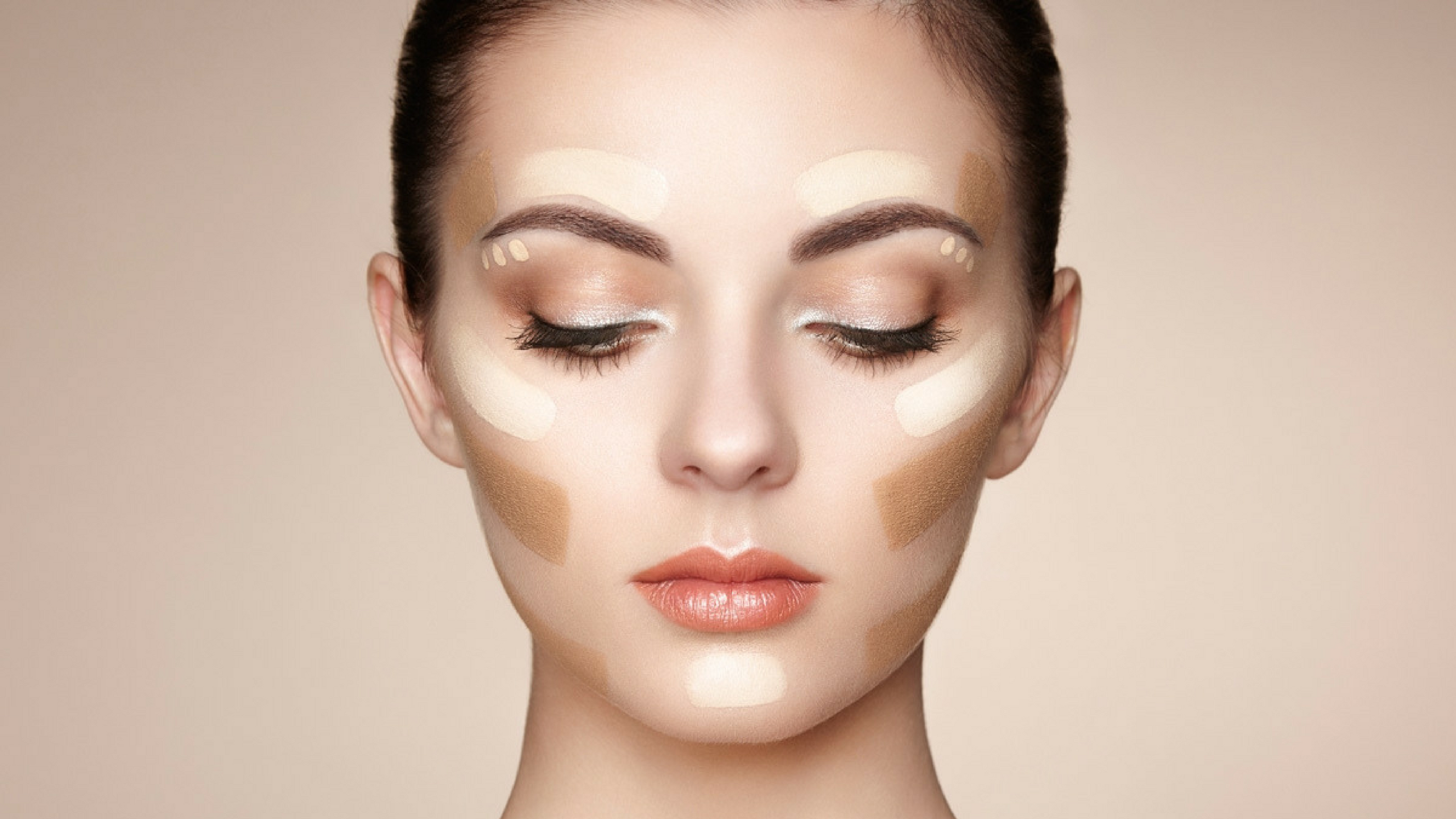 Contouring your face isn't simply a part of the makeup routine, it's an art that helps you bring your best facial features into focus. If you've ever wondered how every celeb is born with perfectly chiselled jaw and cheekbones, then trust us, it's not a faraway dream either. The best part? Contouring is no magic and you don't have to be born with superpowers to learn this trick. Besides, the power of contouring in giving you an Instagram-worthy, sculpted look is simply indescribable.
All you have to do is find the right product for your skin-type and skin-color and say 'Abracadabra' with your blending wand.
Here's a round-up of 11 contouring products that will help you up your makeup game.
1. L'Oreal Paris Infallible Pro Contour Palette
The Infallible Pro Contour Palette by L'Oreal Paris is designed as the perfect formula for highlighting and contouring simultaneously. The applicator is specially fashioned which sits on your cheekbones effortlessly, highlighting the upper part and contouring the lower.
Pros
Applicator brush included which comes in a unique mermaid shape and helps to pick up both shades at the same time and fits perfectly on your cheek bones.

Easily available.

Long lasting and lightweight.
Cons
Might only work for contouring cheeks for most people.
2. Maybelline New York V-Face Duo Contouring Stick
The Maybelline New York V-Face Duo Contouring Stick has a bronzing shade on one size and highlighter on the other. This product will provide a shimmery glow which does not look overdone at all and hence, it's perfect for using daily and bettering your regular makeup routine.
Pros
Has a smooth blending textured pigmentation.

There is no fear of having a greasy feel as the sticks provide a powdery finish.

Easy to use, so helpful to beginners.
Cons
Average lasting time, about 4-5 hours.
3. Clinique Sculptionary Cheek Contouring Palette
This palette comes in 4 different shades, each containing a trio of flattering shades. If you wish to play with colours and like to go beyond the nude shades, this is the best choice for you.
Pros
Is a tri-colour palette that enables subtle contouring.

Available in various glowing shades to choose from.

Provides a good amount of pigmentation.

It is versatile and long-lasting.
Cons
Might take some getting used to for blending the tri-colours.
4. M.A.C. Studio Fix Perfecting Stick
This Studio Fix Perfecting Stick by M.A.C. is the one for you if you like keeping things natural and subtle. With its round edge, you can use it flawlessly and up your contouring game with just a few swipes.
Pros
Long lasting, endures up to 8 hours.

Is hydrating and doesn't leave the skin dry.

Blends really well and gives a smooth creamy finish.
Cons
Might need a swipe of studio fix powder to avoid creasing.
5. Makeup Revolution Ultra Sculpt And Contour Kit
The Makeup Revolution Ultra Sculpt And Contour Kit is designed for the multi-taskers. It's an all in one kit which makes it super-easy to carry around. It provides gorgeous shades and if you're a woman who travels a lot, this product will be the perfect travel buddy.
Pros
Extremely pigmented, so low quantity use lasts long.

Smooth texture that gives a finished look lasting for 5-6 hours.

Shades include blusher, highlighter and matte bronzer.
Cons
Blusher shade isn't very effective or as long-lasting as other shades.
6. NYX Professional Makeup 3 Steps to Sculpt Face Sculpting Palette
The NYX Professional Makeup 3 Steps to Sculpt Face Sculpting Palette provides illuminating shades that will make your cheekbones pop without adding an overwhelming shine. If you are a professional at contouring, you will love this product.
Pros
Comes with matte as well as shimmery highlights.

Smooth and lightweight texture that lasts long.

Shades are subtle and natural.
Cons
Blending can be somewhat grinding, lacks desired smoothness.
7. Colorbar Flawless Touch Contour And Highlighter
The Colorbar Flawless Touch Contour And Highlighter is designed to imitate a naturally tanned look. Not only that, it is also very handy if you like to play with shades for reshaping your look. It is the right choice for you if you desire an effortlessly sculpted look.
Pros
Smooth texture of contour that blends effortlessly.

Matte highlighter enhances the contour's effect.

The packaging is durable.
Cons
The highlighter may be too dark for very fair skin tone.
8. L.A. Girl Velvet Contour Bronzer Stick
The L.A. Girl Velvet Contour Bronzer Stick is designed for being a super-friendly contouring product that will help you get into the contouring game without much effort. The chubby stick provides a light texture that you will fall in love with, in a single use.
Pros
Creamy texture that is easy to blend even for beginners.

The stick is round edged and easy to use.

Can help create a tanned took.
Cons
Stick might break if roughly used.

Might be too shimmery for daily use.
9. Makeup Revolution Ultra Contour Palette
The Makeup Revolution Ultra Contour Palette is one product that you will keep coming back to once you've used it. It will give you a naturally flawless look and leave people wondering what the secret to your makeup game is.
Pros
Includes 8 shades- 3 highlights, 3 contours, 1 luminizer and 1 bronzer.

Lasts for about 7 hours.

Easy to blend and build up.
Cons
Light shades and highlighter might start fading after 3-4 hours depending on skin colour.
10. Australis AC On Tour Contouring & Highlighting Kit
The Australis AC On Tour Contouring & Highlighting Kit is an absolutely amazing choice if you like to work a light hand on your makeup and keep things natural. The matte colours provide a soft and glowing finish that you will just adore.
Pros
Includes 3 highlighting and 3 contouring shades.

A light-handed application will do the trick.

Highly pigmented, so less quantity is required to apply.

Powders are smooth, not chalky.
Cons
Contouring can get tricky if more quantity is applied, as it is highly pigmented.

Works better with warm skin tone rather than cool skin tone.
11. Smashbox Step-By-Step Contour Stick
This Contour Stick by Smashbox is a product that deserves a spot in your makeup kit. The sticks provide a natural finish so effortlessly that you will grow to cherish. These crayons are carefree to work with. All you have to do is relax, this product has got your back.
Pros
Works wonders for creating a natural glowing shade.

Comes with a specialized sharpener.

The shades are lovely and make it really easy to map your face.

Long lasting, Moisturizing, smooth to apply and blend.
Cons
Expensive

More suitable for dry skin rather than oily skin.
So what are you waiting for? Shop your favourites and let your contouring game help you conquer the world, one day at a time.