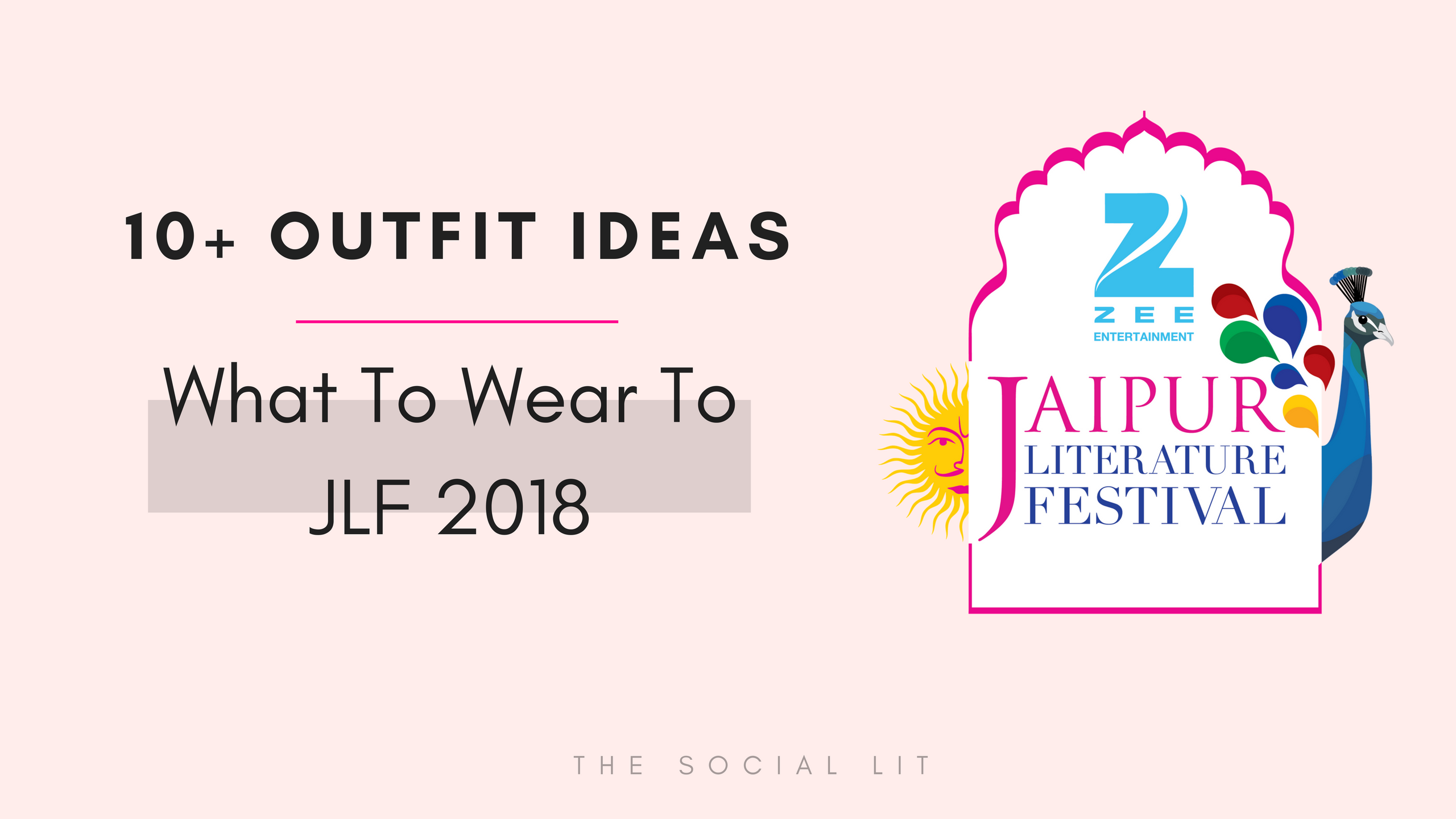 JLF week is finally here and the excitement is building up. Along with you, one and a half lakh other people are also getting ready for the most happening literature festival of the country. Sure, it can get pretty intimidating choosing what to wear to a mega event like this one, but you better pull up your socks and shuffle through your wardrobe well in time.
Fashion at Jaipur Literature Festival has changed over the years. From hippie sweats, fringe jackets, printed Kurtis and boho sarees to distressed denims, long-line coats, and fur ponchos, it's interesting to observe how the trends at literature festival have evolved through the years, taking a more refined and cultured form. Keeping in mind everyone's unique fashion preferences, we strongly believe that an event dedicated to literature deserves dressing up in smart casuals. However, striking the perfect balance between sophistication and trendy can get pretty challenging.
Since Jaipur Literature Fest has thrown people into a dilemma about what they should adorn, The Social Lit shares the most fashionable looks of some of the top bloggers of India. So ladies, are you ready for some serious fashion inspiration? Embrace your spirits and take a cue (or two) from these style-savvy women of the country.
1.Bodycon Dress + Single-breasted Blazer
This minimal yet cultured look is sure to step up your style game at JLF 2018. Olive has been the trending colour for 2017 and is sure to be revered even in 2018. The extra layer allows you to dress down when the heat from the crowd (or sun) becomes unbearable. Complete the look with a pair of comfy flats, sunglasses and subtle accessory.
2. Tie-waist, Fur Detail Jacket
If you're the Blair Waldorf of your girl gang and wish to indulge in some serious fashion this JLF, then settle for a feminine yet refined tie-waist jacket. Fur is a big hit this season so make sure there's some fur detailing around the neck or the arms. A hat and a printed scarf will lend an old-world charm to your outfit. Keep your shoes sharp and accessories on-point.
3. Longline Coat + Embroidered Pants
If you're looking for a  more relaxed yet urbane look, then here's your perfect pick. The melange of a contemporary longline coat plus a traditionally embroidered pant is simply invincible.  A camouflaging belt only adds to the overall appeal. Make sure you play your cards right when it comes to picking the colours.
4. Monochrome Pantsuit
Nothing says #girlboss like a monochrome pantsuit that is tailored to perfection. This classic white beauty, with all of its embroidered detailing, is ideal for an intellectual and social day at JLF 2018. Team it up with nude sandals and you'll surely steal the spotlight.
5. Longline Coat + Culottes
Culottes are probably the most comfortable workwear trend out there. Be it with a crop top, a turtleneck pullover, an overall or a longline coat, culottes can be paired in so many diverse ways, which makes styling them all the more fun. Take inspiration from this look that is comfy, refined and can be dressed-up or dressed-down according to the weather within seconds.
6. Minimal Jumpsuit
If we were to name one fashion trend that's super effortless to pull off yet super chic, then it's definitely a jumpsuit. Bonus? Jumpsuits literally never go out of trend. The trick with jumpsuits is to focus on the silhouette and how the fabric drapes over the contours of your body. Don't forget to carry a blazer for the morning and evening sessions.
7. Longline Trench Coat
This one has to be our most favoured look for JLF 2018. The longline trend coat with a tie-waist is so effortlessly gorgeous and perfect for the sometimes-cold-sometimes-warm climate of Jaipur Literature Festival. A deeper-hue scarf completes the entire look. Don't forget to carry your reflectors if you're lusting some Instagram-worthy clicks. Remember, it's all in the details!
8. Bomber Jacket + Longline Pants
Bomber jackets have always been a common parlance at JLF, but teaming them up with distressed or stone-washed denim can turn your look into a total fashion disaster. Take cues from this look and add a touch of sophistication and power to your entire look, by pairing your bomber jacket with a camouflaging longline pant. Break the monotony of a monochrome outfit with a neon crossbody. Take note, pointed shoes always seal the deal.
9. Suede Skirt + Longline Coat
If suede skirts are totally your thing, then team them up with a longline blazer and see-through stockings to complete the look. Make sure the lines are straight and the colors are well in harmony.
10. Checkered Culottes + Boots
Checkered culottes add a certain power to your appeal. Team them up with a bodycon sweater and you've secured yourself a sharp look. Make sure that you pick contrasting (and not camouflaging) colours.
11. Ruffled Jumper + Boots
If power dressing is not really your thing and you wish to stay a little minimally stylish this JLF, then opt for this ruffle jumper that is super feminine yet effortless. Moreover, it's the perfect time to show-off your treasured boots.
So what are you waiting for? Absorb the fashion inspiration and start styling your outfit for JLF 2018. Who knows, you may just secure yourself a spot on our upcoming 'best-dressed at JLF 2018' list.