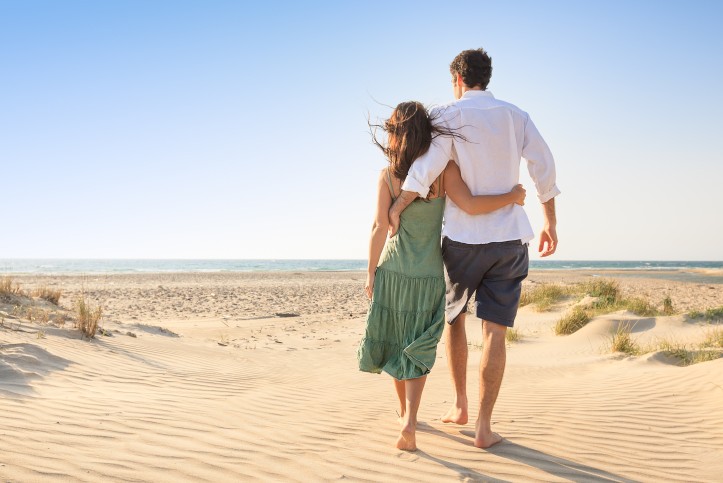 Love is neither a phenomenon nor a well-rehearsed script; neither is it a quest for peace nor an invitation for chaos. Every year a plethora of books are printed about love & marriage, and letters are exchanged. However, love is a feeling which captures your heart, mind and soul with such intensity that it drives you purely insane. But what really happens when you know that you are ought to spend every hour, day and year with the person who you think you are in love with?
For some, marriage comes off as a blessing and for the others, it's a living nightmare. But it all comes down to one line, "patience is the key when it comes to sustaining a marriage'. Give each other the benefit of doubt and enjoy your mistakes. Sure, there'll be days when you would long to be in their arms, but there'll also be those sullen days when you'd wish to be oceans apart from each other. But the trick lies in striking a balance.
A very famous survey conducted by brides.com reports that 71% of couples stay intimate with one another after a few years of marriage. The survey also suggests that around 62% of the couples wish that they made love to their better halves more often.
Here's a round-up of 7 hacks to maintain that spark and make your marriage a lasting success.
Stop Being Predictable
Predictability can suck the life out of any relationship, let alone marriage. To keep that spark alive in your marriage, it's essential to stay a little unpredictable and adventurous. Some ways to do this are- act playful, come up with interesting word games, keep the conversation fun and find fulfilling ways to enjoy your time together. Remember, you're only as interested as you are interesting.
Be Respectful Towards Their Opinions
Respect is the foundation stone for every relationship, be it old or new. A marriage with love but no respect is as good as a broken-winged bird who can't take a leap into the sky of hope. But respect is a two-way street. You've got to give respect to earn respect. So make sure you're mindful of the things you say and the actions you perform because every little step can go a long way in building a happy marriage.
Foster A Deep Friendship
There's no bliss greater than finding a deep friendship in your marriage. Make lame jokes and still laugh like it's the best joke the world can ever hear. There should be stupidity in the most mature moments too because believe it or not, marriage gets tough as we age; more responsibility surrounds us like rowdy wolves in a pack. So, start treating your marriage as an old friendship and not as a formality.
Be Inventive, Not Just In Your Ways But Also The Looks
Attraction is the key to sustaining intimacy in a relationship. Keep experimenting with you and your partner's looks. Pick your style (sophisticated, grunge, sporty and so on) and get all creative.
Stop Introspecting
Introspection is like that nosy aunt who keeps poking in every time you come up with creative ways to woo your partner. Block it right away. The one who keeps introspecting in a relationship always keeps waiting for the right time to strike the arrow and trust us, there's no right or wrong time. There are only moments, heartfelt moments. So seize every small-huge opportunity to make your special someone feel all the more special. Buy those flowers, rent that treehouse, take the weekend trip, just make sure you never fall short of efforts.
Don't Be Judgemental
Not every one is perfect and let's accept it: it's unfair to expect your partner to be as romantic as your favourite series' lead character. Just how 'good' exists along with 'bad' in life, same goes for marriage. So stop being so hard on your partner and give him some time to express himself.
Be Patient
Marriage isn't for the faint-hearted. Sure, there'll be times when you'd want to give up and run in the other direction. But believe me, you wouldn't want to end up in a wheelchair, toothless and work-less a few years from now. So stay patient and focus only on your blessings.
Marriage, friendship or any other relationship demands your complete effort to become a lasting success. There are no halfways. Either you are completely in or you are completely out. So make the most of your days with your better half, make them feel loved and cherished, you never know when it might get too late.