This season, the spotlight is on statement sleeves. From bell-shaped and cape to extra-long, flounce, ruffle and cold-shoulder, attention-seizing sleeves are totally in.
From assertive blazers to humble shirts and feminine blouses, you can find every piece of clothing embellished with statement sleeves. This trend has even moved into the world of power dressing, with successful women and empowered goddesses adorning sleeves that are larger than life.
So what are you waiting for? Hop on the fashion bandwagon. Here's a round-up of top 7 larger-than-life sleeves trends to invest in right now.
Bell Sleeves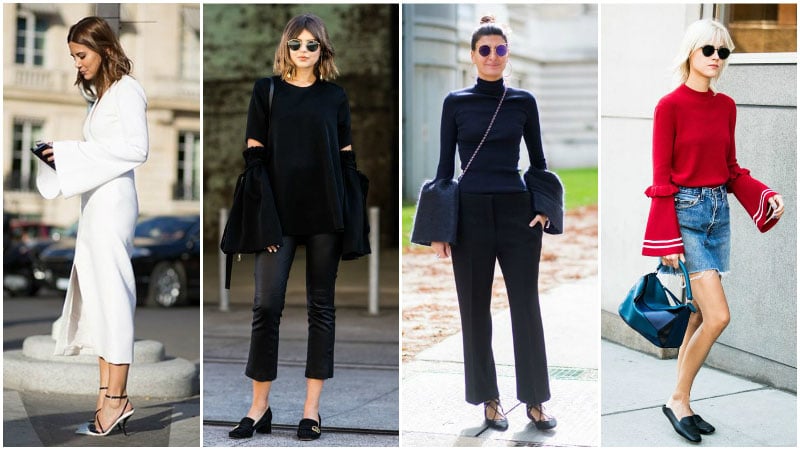 One look at this sleeve style can traverse you to the 70s. Fitted on the shoulder and flaring out wide towards the wrist, the bell sleeve is same as ever, yet completely unalike. Gone are the bohemian orientations, instead, the new bell sleeve is contemporary and outright feminine in essence. From work dresses to off-the-cuff tops and even knits, bell sleeves lend a certain dash of style to even the simplest of outfits.
How to Style: Opt for bell-sleeve styles that are a little extravagant. Extra-wide flares, flares that tie at the elbow and ruffle designs are all key pieces to invest in this season. A modest silhouette in a neutral color palette is all you require to polish this look. Make sure to keep the rest of your look subtle and minimal.
Extra-Long Sleeves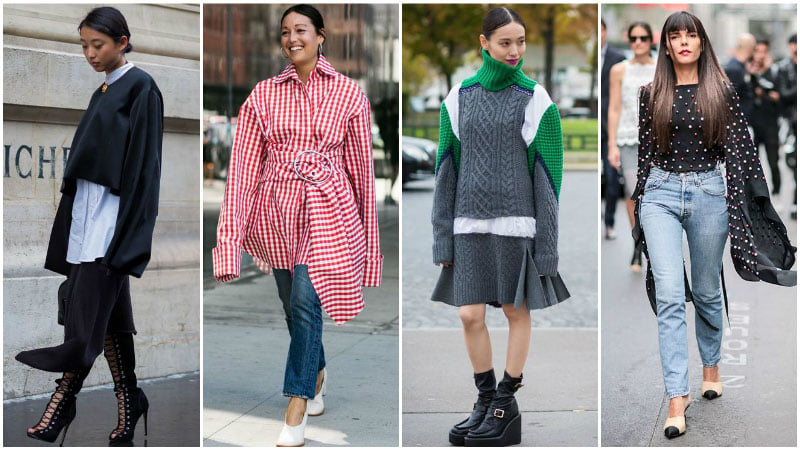 There's a thing about trends, they may not always seem to uphold a strict level of practicality, but they're surely awe-inspiring and experimental. Appearing oversized and pulled-out, extra-long sleeves are making a dapper "rough around the edges" statement for numerous fashion week outfits.  These sleeves are being embraced on delicate tops, button-up shirts, casual knitwear and even fashionable dresses as they continue to dominate the world of street style.
How to Style: Like other statement sleeves, extra-long sleeves are best paired with basic items, so wear yours with a pair of black trousers or blue denim. Besides, such long sleeves can pull the eye down and leave you appearing shorter than you are, so always wear heels.
Bishop Sleeves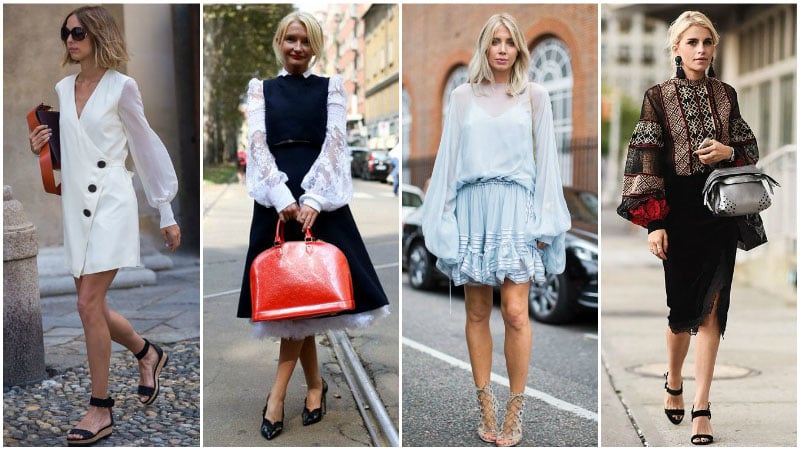 While bell sleeves are polished and chic, bishop sleeves are relaxed and feminine. Usually spotted on daily dresses, bishop sleeves enhance the outfits to which they belong while remaining a standout feature in their own light. The style balloons out towards the lower end before assembling into a cuff at the wrist.
How to Style: While buying bishop sleeves, look for sheer fabrics such as chiffon and lace designs. There are two great ways to style these sleeves. The first one features a tranquil, bohemian aesthetic of the sleeves, carrying the style, and fabric, through the complete outfit. The second contrasts the loose sleeves with sharp designs and clean fabrics to keep the look contemporary and more structured.
Flounce Sleeves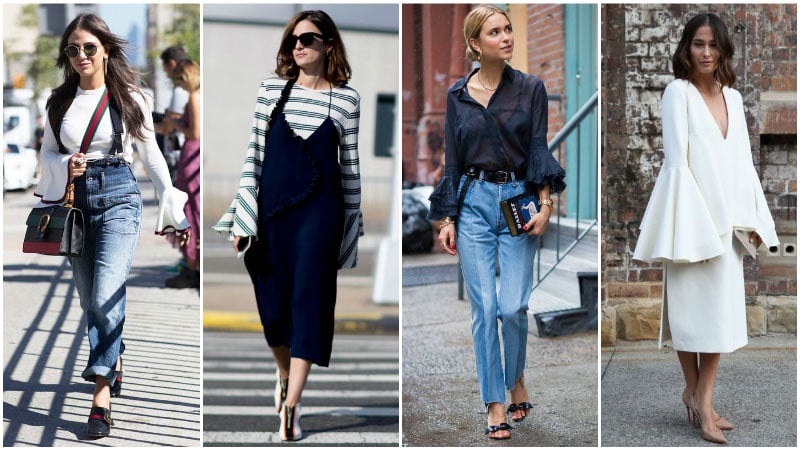 In spite of having a parallel silhouette to bell sleeves, flounce sleeves tend to be somewhat more delicate and feminine. The style is crafted by sewing a separate piece of circular-cut fabric to the sleeve, creating an effect that lends flounce sleeves their flare.
This season, flounce sleeves were seen in all sizes and hues. There were the small and modest designs that lightly flared out towards the wrist and then there were the vivid types that featured large flounces attached at the elbows. Whatever the size, both types are in style and statement-making in their own right.
How to Style: To pull off this trend effortlessly, pair tops and shirts featuring small flounces with straight fit trousers and low-heeled shoes. The large and dramatic flounce sleeves, on the other hand, are best reserved for standout dresses and times when you wish to stand out.
Cape Sleeves
One of the most fashion-forward trends, cape sleeves transform classic masculine silhouettes (think blazers) into super feminine yet sophisticated staples. Inspired by the AW17 suiting and power dressing trend seen in London, New York, Milan and Paris fashion weeks, cape sleeve blazers are a must own this season.
How to Style: Make sure that you invest in a cape sleeve jacket/blazer that has a sharp silhouette and strong shoulders to cover up for the relaxed, open sleeves. Pair this number with well-fitted bottoms and jeans. Avoid any palazzos or loose pants, unless you want to commit a fashion faux pas.
Ruffle Sleeves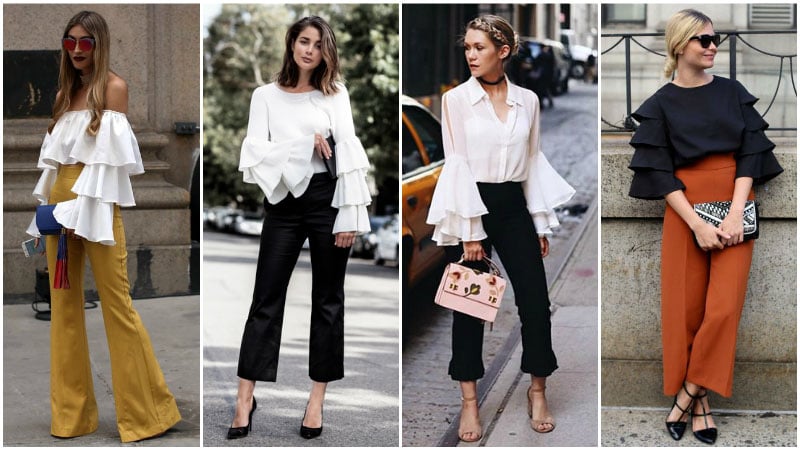 One trend that has made a huge mark this season is the layered ruffle sleeve. Flirty, feminine and romantic, layered ruffles are step-up from the flounce sleeves. These sleeves are loud, fun and attention-loving. You can opt from various sizes and amounts of ruffles for different variations on this trend. Whether you choose ruffles that completely cover the sleeve or ones that start from the elbow, these sleeves are all the statement you need.
How to Style: Ditch loud colors and patterns and opt for minimal black and white hues instead. Pair your ruffle sleeve shirt with simple designs such as cropped, straight-leg trousers. The minimal style will keep you looking feminine yet sharp.
Fur Sleeves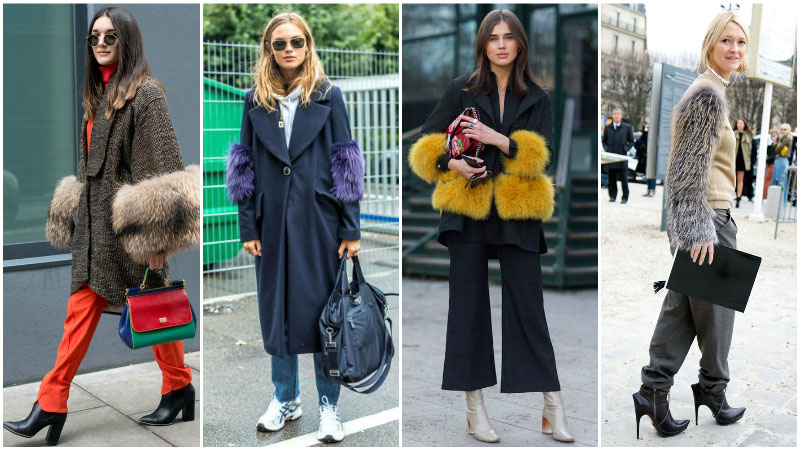 This sleeve trend is perfect to unleash in the cold months and one of our top favorites. Fur sleeves, while being fairly unique, have the winning factor that a statement piece should have.  The heavy dose of fluffy texture creates an instant focal point for the outfit and lends a certain luxurious vibe to your entire outfit.
How to Style: A great substitute for basic and dull designs, fur-sleeved coats will keep your fashion spirits high, even when you have to wear thermals. Just pair yours with modest fabrics (too much texture will clash) and you'll be set to combat the cold in style.